Hello beauties!
Discover the new Make Up Factory Riviera Flair spring 2016 Collection which features rosy and purple shades of matte and satin textures. A makeup look like the one the model is wearing the promo image is just something that I would definitely like to try out this spring. As soon as this collection hits counters, I'm going to check it out. How about you?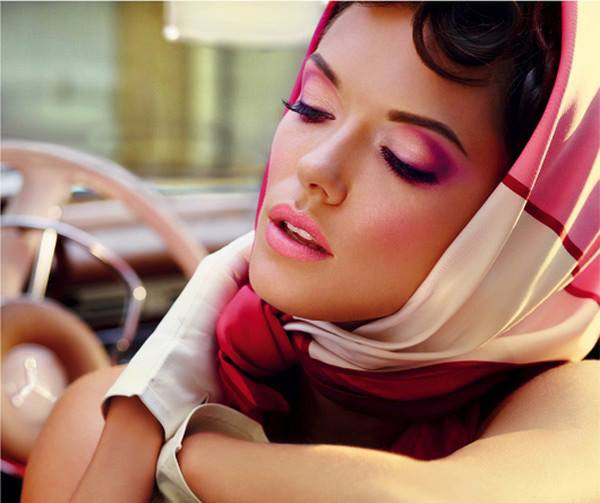 Dive into the southern European Dolce Vita lifestyle of the 50's. Silk scarves, big sunglasses and a perfect make up were the favorites of fashionistas picturesque Riviera back then. This spring radiant pink, exciting purple, fresh orange and subtle rose revive the feminine and stylish Italian look once more.
Availability
International Launch Date – February 2016 at Douglas, Muller
Romania Launch Date – February 2016
Make Up Factory Riviera Flair Spring 2016 Collection
Shimmer Pearls – New – €19.95
The 3in1 highlighting powder pearls with a delicate pearly shimmer give a radiant, fresh look. The pastel shades act correct color as part of this: Apricot conjures up a gentle, even complexion, lilac gently reflects light for a youthful glow and mint-green conceals fine irregularities and slight redness. The soft, velvety texture makes for an extra pleasant application. Perfume and paraben free. Skin compatibility is dermatologically approved.
No.10 Pearly Kiss – mint, apricot, lilac
Eye Lift Corrector – New – €9.95
The Eye Lift Corrector consists of a creamy eye shadow foundation and a slightly yellowish tint. This evens out the skin colour around the eyes for a smoother look. The concealer lightens the skin and covers redness and exposed small capillaries. Light reflecting pigments give skin a fresher and smoother appearance. The Eye Lift Corrector also increases the wear time of eye shadow. Free of perfumes. The dermatological tolerability was confirmed.
Matt Blusher – New – €13.95
The satiny soft texture of the Mat Blusher gives you a natural, fresh complexion. Since it contains no glitter and glimmer particles, it is perfect for natural contouring and modelling of the facial features. Thanks to the professional quality, it can be applied individually from delicate to intense.
Eyeshadow – New Shades – €13.95
No.32 Fashion Orange (Silky)
No.56 Just Purple (Matte)
No.58 Fuchsia Pink (Matte)
Diamond Stripes – New – €19.95
The glamorous shimmer of the powder eyeshadow makes it easy to create a breath-taking eye makeup. Use the five perfectly harmonised colour nuances either separately or in countless combinations. The silky texture makes it especially easy to apply the eyeshadow and shade your eyelids in brilliant colour. Fragrance and paraben-free. The skin compatibility is dermatologically approved.
Liquid Eye Liner – New – €14.95
Full Intense Mascara – New – €14.95
Defining Lip Liner – New – €13.95
Color Intuition Lip Balm – New – €13.95
Magnetic Lips Semi Mat & Long Lasting – New Shades – €14.95
No.140 Soft Pink
No.176 Brilliant Magenta
Nail Color – New – €7.95
No.149 Rosy Nude
No.395 Purple Summer
Enjoy more photos…