Hello sweeties!
A quick preview of MAC Spellbinder and Brow Sculpt Fall 2016 Collections comes from Debbie at BeautyScene. She posted yesterday a couple of sneak peek photos with some details regarding the upcoming MAC Fall 2016 Collections. These will launch in September and October 2016, but there are other products that will show up in July, like MAC Vamplify 2016 Collection while for the new MAC Retro Matte Liquid Lip Colors we will have to wait until January 2017.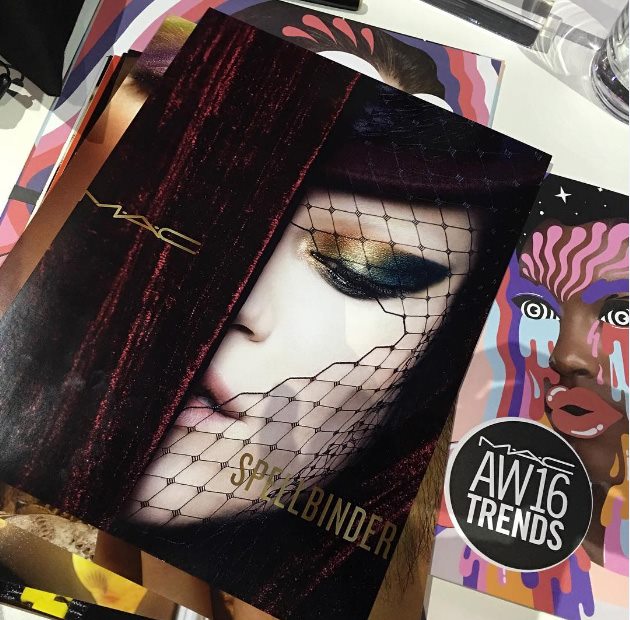 MAC Spellbinder shadows will be released in 8 colors, retailing for $22.00 each and if you check out Debbie's Instagram you can already see how they look like. Right after the jump I'm revealing the color story of MAC Brow Sculpt 2016 Collection so do check it out.
Availability
MAC Brow Sculpt International Launch Date – September 2016 at MAC Locations
MAC Spellbinder | U.S. Launch Date – October 2016 | International Launch Date – November 2016
MAC Brow Sculpt 2016 Fall Collection
Dramatic brows without the drama! Brow Sculpt elegantly adheres to your brow hairs shaping and gently filling in with matte colour. Its angled tip lets you size and shape your brows anyway you choose: use the flat edge for a natural diffused look or the pointed tip for a precise HD effect. Set your look with the built-in grooming brush. Naturally sculpted brows are just a sweep away.
MAC Brow Sculpt – $21.00 / $25.00 CAD
Omega – light ash blonde
Cork – warm blonde
Fling – taupe blonde
Taupe – light taupe
Brun – taupe brown
Lingering – medium brown
Spiked – deep brunette
Stud – deepest black brunette
MAC Big Brow Pencil – $21.00 / $25.00 CAD
Fling – blonde
Lingering – mid-tone warm brown
Coquette – mid-tone neutral brown
Cork – redhead
Spiked – rich brunette
MAC Brow Duo – $22.00 / $26.00 CAD
Blonde – omega/ soba
Redhead – espresso/ cork
Brunette – brun/ coquette