Hello beauties!
I got MAC Personal Statement Retro Matte Liquid Lipstick (unboxing video) right before Christmas, as a present from me to myself along with a bunch of other high-end products that I'm going to review shortly. I'm not usually excited about matte finishes but I was about this gorgeous color. In my video you can see me wearing this shade and since then I got to wear this new matte liquid lipstick a few times more and my first impression changed a little bit so that's why I decided to tell you my full experience in this review.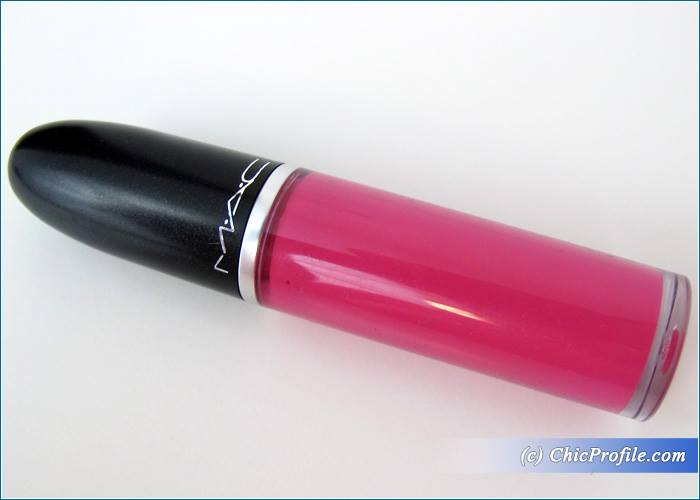 Availability
U.S. Launch Date – Now @maccosmetics.com, Nordstrom, Macy's
International Launch Date – January 2016
MAC Personal Statement Retro Matte Liquid Lipstick ($20.00/ €25.00 for 0.17 fl. oz.) is officially described as a "shocking pink." It's part of the newly launched MAC Retro Matte Spring 2016 Collection (info, photos) which features 15 shades.
I see it as a hot fuchsia pink with blue undertones and a matte finish. When I took the photos and swatches bellow the color wasn't completely dry on my lips (I apologize for that and I will update new photos) so you can see it has a slightly sheen right after the application but in about one minute it dries down to a completely matte finish.
It's richly pigmented, delivering an opaque color coverage with a smooth matte finish. I absolutely love the color (is a bright pink, how can I not) but I don't really like the application as I could notice a couple of streaks everytime, once the color dried down. It made my lips look dry right from the beginning, it emphasizes my lip lines and even though I tried applying a lip balm before it still looked a bit streaky.
This is just the thing that I don't like about matte formula lip colors, that they can really make your lips appear dehydrated.
The formula is liquid cream, more like a mousse, so is not runny on your lips and glides easily, delivering an intense color. I get some transfer whenever I drink something so I can see a light stain on the glass, while after I have a meal some of the color is still there.
The first time I've applied MAC Personal Statement Matte Liquid Lipstick, I've made the mistake of touching my lips against each other a couple of times so the color started to crumble and flake off in chunks a few minutes later. So, do not touch your lips until the formula is completely dry and it's better not to smile as well. The formula is lightly vanilla-scented but tasteless to me.
After 3 hours wear I started to feel my lips so dry so I couldn't resist more than 4 hours with this color on my lips. I still had a decent amount of color left at that time, but I didn't want to dehydrate my lips just for the sake of reviewing this shade.
Here is winter, we have snow so it's pretty cold outside and keeping a matte liquid lipstick on your lips for more than you have too, could really result in serious chapped lips. After I remover the color I applied a serious layer of the most moisturizing lip balm I had, as I honestly didn't experienced so far a more dryer formula.
This color reminds me of Illamasqua Forbidden Matte Lip Liquid (review, swatches) I used to wear in the summer about two years ago.
Enjoy more photos…