Hello pretties!
This season I've been hitting MAC counters pretty bad, leaving with a bunch of new products almost every week. Almost a month ago I showed you my newly purchased Vamplify colors and about 10 days ago I stopped to check out and swatch MAC Liptensity Collection (video on Instagram as well). I knew these were pretty intense colors so I didn't resist the urge to get me some but I wanted something different than my regular pink shades. I also saw the newly released MAC Versicolour Stain (info, photos) shades so I picked a shade out of those ones as well.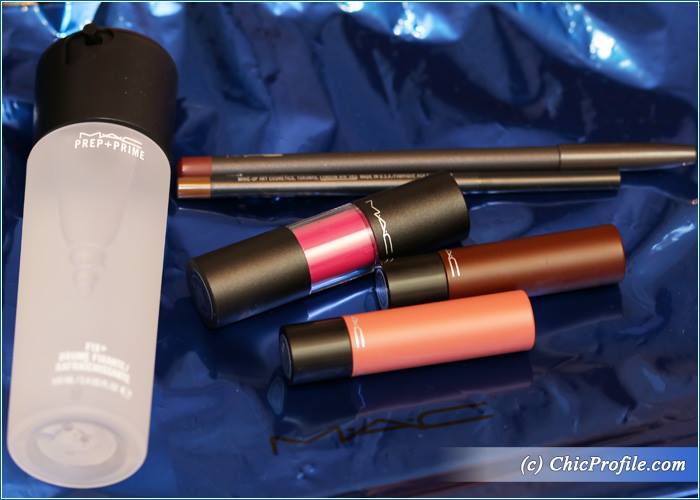 Availability
U.S. – Now at @maccosmetics.com
International & Romania – Now at MAC Locations
I've been starting wearing these colors since I got home so I already knew if I liked them by the next day. Before I'm going to start on those individual reviews I just wanted to quickly stop by and give you a preview of what reviews I'm preparing.
My beloved MAC Fix Plus (75.00 Lei for 100 ml) was almost finished so I had to get new supply and even though I bought a new Lingering Brows eye pencil only a month ago, I decided to pick up another. The funny thing with MAC Lingering Brows (73.00 Lei) is that last time that I finished I had enough product only for one brow so I had to use another pencil to line my other brow…that's a disadvantage because you can never know how much product you have left inside.
So I picked up two MAC Liptensity Lipstick (107.00 lei / $21.00 / €25.00 for 3.6 g / 0.12 oz) colors in Burnt Violet a dark plum and Doe a creamy neutral brown. The MAC Versicolour Stain (103.00 Lei / $24.00 / €23.00 for 8.5 g / 0.28 oz) I picked is in Preserving Passion, a beautiful deep wine color.
I almost forgot about MAC Vino Lip Pencil (71.00 lei 1.45 g / 0.5 oz) which goes so well with MAC Burnt Violet Liptensity but also with one of my new MAC Kabuki Magic Retro Matte Lipsticks (swatches, preview).
I shall post those reviews and lip swatches no latter than next week. What did you lovelies get from MAC counters lately?
Enjoy more photos…