Hello lovelies!
Another week, a new stop by MAC Cosmetics counter and this time I was to check out in person the latest collections and to swatch MAC Liptensity Lipsticks so I can pick a favorite. You can take a look here for swatches of all 24 MAC Liptensity Lipstick colors but it's so much better when you'll see these in person. When I picked MAC Burnt Violet Liptensity Lipstick I have already promised to myself that the second half of fall will be dedicate to more darker and edgy colors and I'll try to keep away from pink as much as possible. So far I was able to keep the promise to myself and most of my recent purchases included nude, plum or deep wine and burgundy colors. To tell you the truth I was excited about MAC Liptensity since I first received the info and somehow I kinda compared these with Guerlain La Petite Robe Noire Lipsticks (video, live swatches) only that they are so much more pigmented.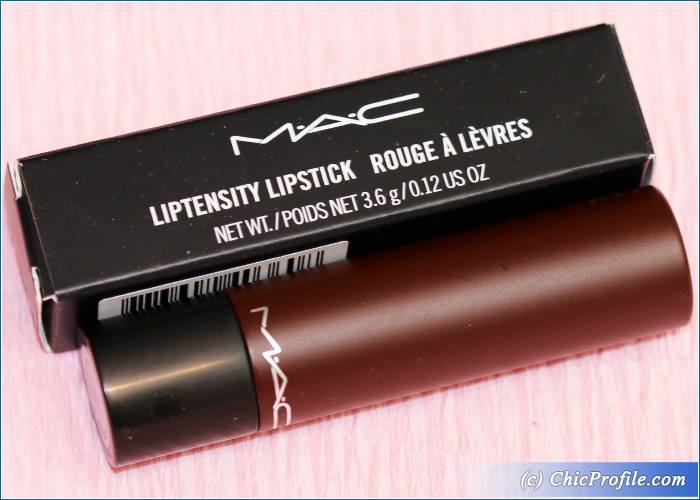 Where to buy:
U.S. – Now at @maccosmetics.com, Nordstrom, Macy's
International & Romania – Now at MAC Locations
MAC Burnt Violet Liptensity Lipstick (107.00 lei / $21.00 / €25.00 for 3.6 g / 0.12 oz)  is officially described as a dark plum. It's a deep, blackened plum with cool undertones and a creamy finish with a slightly natural sheen. Even though it looks like an intense and truly pigmented shade in the tube it delivers a semi-opaque color coverage on the lips.As much as I love this shade, the application didn't went that smoothly. Despite its creamier texture, it didn't glide easily across my lips and leaved an uneven color behind. The texture seem somehow to separate during the application and stick on some part of the lips more than on others and grain on the lips. Therefore the color didn't look uneven and I had to apply a second coat of color but I noticed so it instantly tended to settle into lip lines.
I did moisturized and scrubbed my lips before applying such a dark color, but the formula still tended to cling to the slips and didn't glide effortlessly. The formula has a sweet scent of vanilla with no discernible taste to me.
I swatched the majority of MAC Liptensity lipstick shades and I do like that they are so pigmented and the consistency starts to warm up on your hand and becomes more softer on the lips.
MAC Burnt Violet had a thick consistency, but without feeling heavy on the lips. I felt it a little bit tacky but I do admit it made it stay in place better throughout the day. I personally like the color and the light glossiness finish but the application is the tricky part.
On the bright side, I can say it does have a long-lasting formula as I had about 7 hours wear and it left a strong stain behind. In the end, after so many hours of wear I found the formula to be a bit drying and emphasized my lip lines.
Enjoy  more photos…