Hello beauties!
Even though MAC False Lashes Mascara was released for the first time back in 2010, I got to try out only recently. Back then it was featured as a limited edition in MAC & Marcel Wanders Collection (info, photos) and later on joined the permanent range.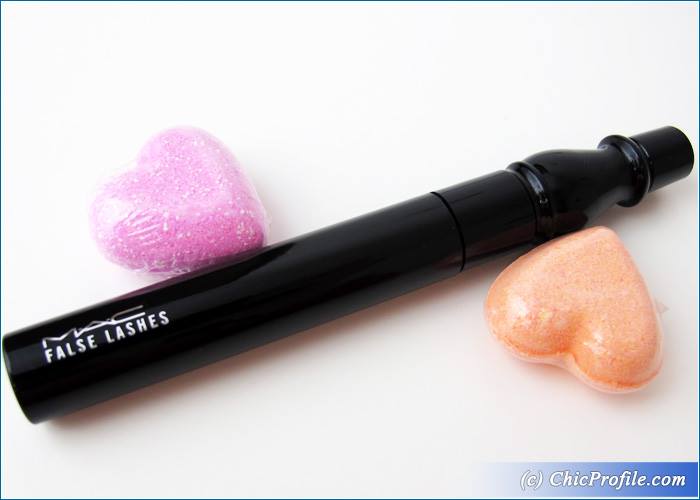 Where to buy:
U.S. & UK – Now at Nordstrom, Selfridges and online @maccosmetics.com
Romania – Now at MAC Locations
MAC False Black False Lashes Mascara ($22.00 / £19.00 for 8 g / 0.28 oz)
MAC says: "False Lashes Mascara adds dramatic volume, the rich, creamy, volumizing formula magnifies and multiplies the look of each lash, creating dramatically thick, long, curled, exaggerated lashes. The lush brush applies a deluxe dose of heavy pigment to the lashes and works in combination with the product to create incredible volume, length and density. The pigments in the formula are treated to allow for maximum colour payoff that remains true, deep, uniform and wears all day long. It's flake- and smudge-resistant, ophthamologist-tested and safe for contact-wearers."You know I rarely review a mascara, because even though I have more than a few in my collection, I don't like to open more than 3 or 4. A mascara can dry out very quickly when is not being used frequently so I feel that opening a new mascara without being sure that you are going to use it a least a couple of times a month, it will be a pity.
So last month it was MAC False Lashes Mascara to opened to tested. It's available in a single shade, False Black which is indeed a very dark black shade but nothing too dramatic or intense that I haven't seen before. Described as "heavy pigmented" lets me to believe this is truly the blackest black shade I can even encounter on MAC mascara range.  I've told you repeatedly that MAC Plush Lash is one of my go-to mascaras, especially for day-to-day makeup and a natural look,  and you've seen me wearing in so many of my makeup looks, so I still find that black to more intense that this one.
Indeed with MAC False Lashes Mascara you will get amazing long and curved lashes, even without using your eyelash curler. The photos I posted bellow were after I applied two coats of MAC False Lashes and without using my eyelash curler. I love that it lengthens my lashes and still makes them look pretty natural.
Usually 2 mascara coats are more than enough for me, but just for the sake of testing I tried 3 or 4 coats this time but I wouldn't recommend you doing that, unless you want spider-looking lashes. Two coats are just perfect, will give you sky-high lashes with a visible curl.
I definitely noticed a volume increase right after I applied the first mascara coat, just because my lashes were thicker, but I can't truly say that MAC False Lashes is a volumizing mascara.
The formula was not clumpy and dries down in about half of minute, which gave me enough time to apply 2 generous coats without being in a hurry. I felt my lashes lightweight and soft, so no clumping and crunchy feel.
For those who have short lashes, MAC False Lashes will definitely help out as I'm sure you are more interested in lengthening rather than volume.
The formula is pretty long-lasting, as my lashes look beautiful throughout the day, without any fall-out, smudging or budging. It's also pretty easy to remove the mascara, any gentle makeup remover will do the trick, so I didn't necessarily have to use an biphasic eye makeup remover.
This mascara comes with a fairly large brush, which for me is OK as I'm quite used to this type of brush, but if you have smaller eyes, it might not be your favorite. I find the brush is bigger than MAC Plush Lash Mascara, small than Estee Lauder Sumptuous Extreme Mascara and the same length as MustaeV Maxi Volume Mascara and Senna Voluptulash Mascara.
Enjoy more photos…