Hello beauties!
It's a miracle, I have curls! This is what I said to myself after I used Lee Stafford Rainbow Shine Wand for the first time. At first I knew I wanted this product just because it looks so awesome, rainbow packaging and everything. I didn't have too much confidence that it's going to show me results as well. But more about that later. I have before and after photos so you can judge the results. Now let's start from the top. Lee Stafford is an award-winning celebrity hairdresser who launched his own range of award-winning haircare products in 2001.
I was not familiar with his products, never tried anything branded Lee Stafford before but I did admire his Instagram page where everything is so pink. 🙂 How can I not, pink is my obsession.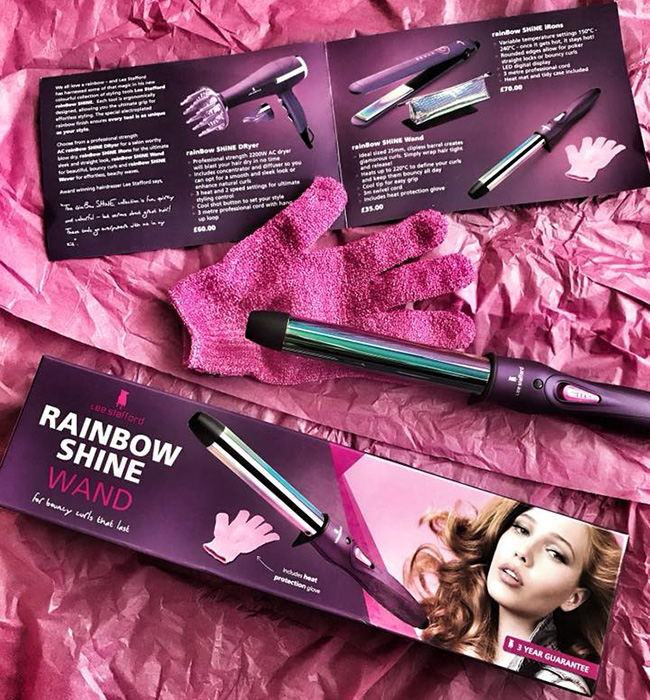 Where to buy:
Now at Boots, Ebay and Leestaffordelectricals.com
Lee Stafford Rainbow Shine Wand Review
Lee Stafford Rainbow Shine Wand (£35.00) has a special electroplated finish that makes this wand unique. Featuring a clipless barrel which is ideal for glamorous, bouncy curls, simply wrap tight and release for an effortless look that lasts all day.
Well, the wand looks good, the description is promising but I was still not convinced. I had my fair share of experience with curling products, wands, wavers and so on and all of them failed to show results. Gosh, I wish my hairdresser will be here to confirm that. I gave up curls a long time ago, straight hair for me (or frizzy)!
Features: 
25mm barrel creates big 'n' bouncy curls
Up to 220°C high heat gets hot, stays hot
Ergonomic soft touch finish comfortable to hold & style
Heat protection glove protect your fingers
3 metre cord salon length for ease of use
My thin, natural hair!
Until last year, I was a natural blonde all my life. My hair is very thin and doesn't work with any styling method, or better said the results don't last for more than 3-4 hours. Last year I dyed my hair for the first time (some white hairs were showing up). Actually I choose the Ecaille technique so I could still look natural. You see, I always knew I didn't have the patience to dye my hair every month, so Ecaille will allow me at least 6 months freedom from the hair saloon. To tell you the truth I had even more than that. I dyed my hair for the second time, this year in May and I still think it looks good (you tell me!). After dying my hair I got a bit of a volume, but still nothing about long lasting curls.
Why I was skeptic in the beginning!
I did my own curls back in the day, trying out different products but I gave up. I went to the hairdresser and once in a while I asked for curls, even though she already knew that I'll be having them only for a few hours. A tone of hair spray never helped. If there is a light rain and a humid climate I'm faced with an impossible mission. So, this being said, you can understand now why I was so skeptic about trying out the Rainbow Shine Wand. I was hoping that at least I would get my hair styled for special occasions where I didn't need to stay for more than four hours.
My experience with Lee Stafford Rainbow Shine Wand
With that in mind I gave it a try one day, right after I washed and dried my hair. Just out of curiosity I said to myself. I planned on going out afterwards anyway so why not enjoy my curls for a few hours at least.
When it comes to my hair, I like to keep it simple with the products so I only used Kerastase Keratine Thermique Smoothing Taming Milk on my clean, dried hair. Since I was going out in a sport outfit I wanted more of beachy waves, loose curls effect. Again, I was convinced they won't last longer than a few hours, but how wrong I was.
I curled my hair, piece by piece and getting some nice, bouncy curls as a result. I sprayed L'Oreal Infinium Hairspray (extra strong hold) after I was done curling each piece of my hair. At the end I went with my hands through my hair to loosen the curls and give them more of a messy look. One more mist of hairspray and I was ready to walk out the door.
Ten minutes later here's the result. I absolutely loved it. It was quick and easy to do it in the comfort of my own home. Since I have thin hair, it took me max 10 minutes with styling and everything. Now, I was curious to see how long the miracle was going to last.
You know I'm living in London, where there's a humid climate and a rain waiting to pour down on you almost every hour. I didn't have an umbrella with me at the time. I actually bought an umbrella last week. 🙂 When the climate is humid my hair goes frizzy and this is one the problems I had to deal with since I moved to London (upcoming post about my hair care routine).
I've been using only Kerastase products since I came here, more Kerastase than I was using back home, but still…frizzy hair. I recently discovered a miracle product but I'll tell you another day.
On that day, I kept checking my phone every 30 minutes to see if my curls are still there. I even took photos every hour to see how long the curls are going to last. Six hours later the rain began. Not a heavy rain, but enough to usually ruin my hairstyle. I had only my hoodie on and nowhere to hide as I was queuing for the British Museum. 20 minutes later, I was inside the Museum taking my first photo (the light was poor though). When I left the Museum I took more photos and I couldn't believe my curls were still in place. Yes, six hours later, they were still there, just a bit loose from the rain but I had noticeable curly hair. I covered my hair but I couldn't escape the humidity.
To have loose curls after six hours was a new record for me. Guess what, the next day I still got those loose curls. Amazing, honestly. It never happened before and especially on a humid climate such as UK. Two days later they were gone, but I didn't even care, I was happy with the results.
I used the Rainbow Shine Wand two times after that and same results. I get about 2 days which is more than enough for me considering the type of my hair. I'll post more photos on Instagram and mention Lee Stafford Rainbow Shine Wand everything I use it. 🙂
If you want to know more about my haircare routine and what products what products I'm using on this humid climate do let me know. I'll try to post more on this topic and go through the changes my hair suffered since I moved to London. The hard water here is my hair's biggest enemy. If you are living in a humid climate, I'd love to know what hair products are you using. Please share! 🙂
SHOP THIS POST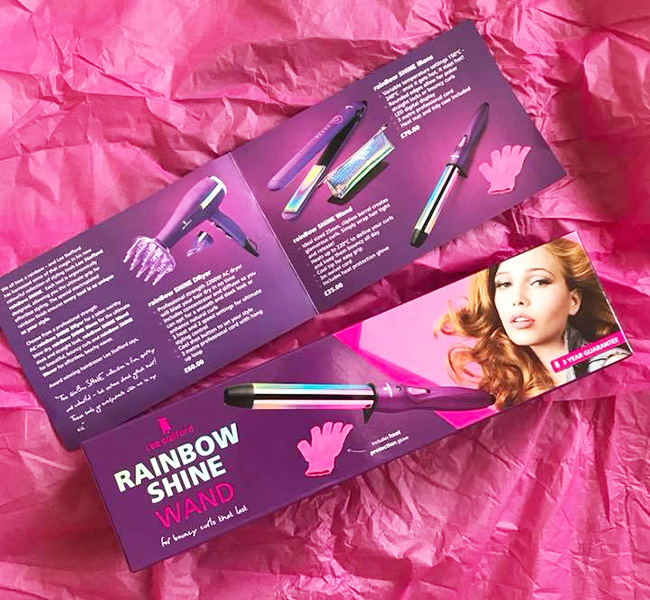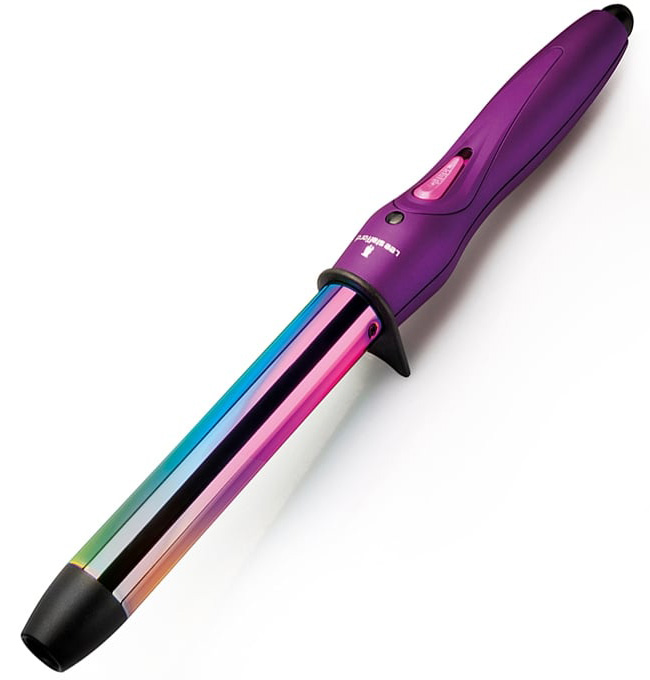 One hour later I've done my curls (London, humid climate)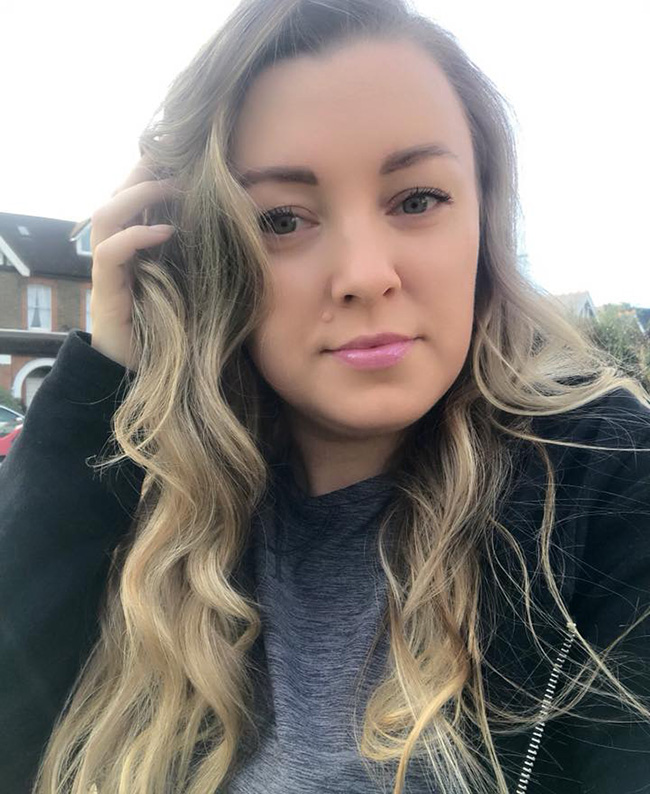 Six hours later and a quick London rain, my curls are still holding up!
My hoodie and no umbrella is all I had to protect my curls against the rain! I can't believe I still have curls! 🙂