Hello beauties!
Rainy day…traffic jam in the late afternoon… and me…trying to arrive on time for Lancome x Sonia Rykiel Fall 2016 Collection (promo photos / info) presentation. The invitation stated "Trends Seminar by Alexandru Abagiu, National Makeup Artist Lancome"…so I knew right away it will be awesome, not only because I would get to check out Lancome Fall 2016 launches and Alex would be sharing with us his knowledge, lots of useful makeup tips and how to make the best use of the new Lancome products using them in so many different ways, but because he is always teasing us news of upcoming Lancome's collections and I was sure I'd get to peek at some of the new products. I kept you updated on my Instagram page but there's more to be said…still.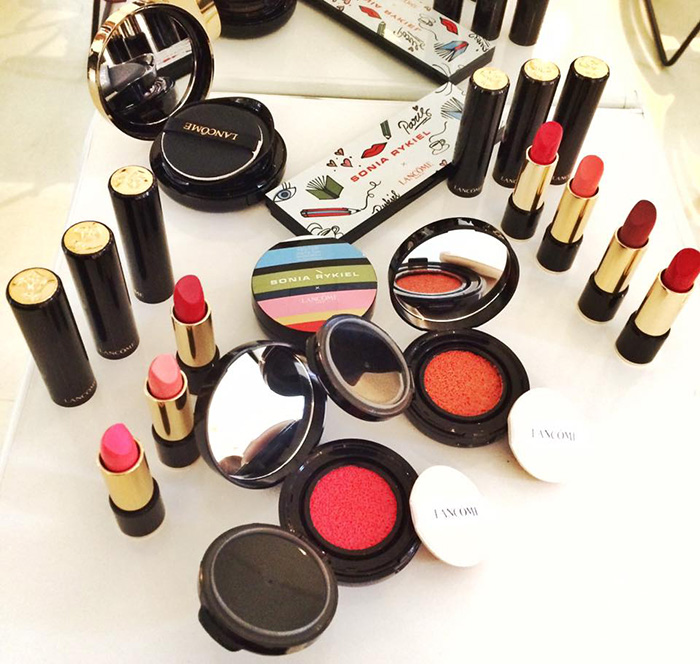 Everything was just like I imagined and more…Lancome Trends Seminar was filled with new info, photos, tips and tricks on how we should get the best use of our new products and honestly I'm so happy that Lancome is one of the first brands which started doing collections' presentations here in Romania in a different, better and more informative way. For me as a pro-blogger, a trend seminar, workshop or a presentation done by the brand's national makeup artist is such an inspiration for my new blog posts and I'm leaving not only with new knowledge but also with sneak peeks of the upcoming launches who all of us so much love.
Lancome x Sonia Rykiel Fall 2016 Collection is already available on the counters and not only those who are passionate about makeup should check it out but fashionistas as well, as the packaging is colorful and definitely up for the latest fashion trends, to accessorize your bag. 🙂
The two new Lancome Sonia Rykiel Palettes (302.00 Lei / €65.00) in Parisienne Spirit (my favorite btw) and Saint Germain host up to nine eye colors (3 of them hidden in the secret compartment). The packaging is colorful, vibrant and so joyful but I can't say the arrangement is new as Lancome released something similar last year as part of their holiday 2015 collection. I don't know if you remember but Lancome My French Noel Palette (review, swatches) had the same interior only that in the secret compartment were 2 lip colors and a base instead of 3 eye colors. The palette was wonderful, still one of  my favorites so the new ones will have to step up their quality game. 🙂
I'd imagine the new Lancome L'Absolu Rouge Lipstick (swatches, photos) collection would be there as well so I checked out a lot of the new shades and quickly noted a few favorites. I already told you how the brand revamped its classical L'Absolu Rouge (155.00 Lei / $32.00) collection after 25 years, introducing new shades and different finishes. The packaging is an absolutely win, elegant but with a modern twist and different way of opening than your classic lipstick. They did such a wonderful job with the packaging I'm telling you and I'm loving most of the shades, especially the ones with a creamy finish. Obviously I'm thinking about getting some of those pink and plum lipsticks by the end of the month, so I'll return to show you my picks.
Alex always had a way of convincing me to try out new Lancome products and especially their cushion makeup items which are a dream come true. So it happens that seeing up close the new Lancome Teint Idole Ultra Cushion Foundation (info, photos) and how it effortlessly glides across the skin covering imperfections in a full coverage but with a natural touch, made me want it even more.
Did I tell you about the branded Sonia Rykiel Lancome Cushion Blush Subtil (199.00 Lei / €45.00) that looks so fresh and vivid when you apply it on the eyelids as a color and how it emphasizes the entire eye makeup? Well it is a versatile product and can be used in so many ways, not only as a cheek color, but on the eyes and lips as well. Even the boldest blush color can be worn by the lightest complexion as the cushion formula is so easy to blend out or you can build up the color and intensify it for those with a medium or dark skin.
Overall the event lasted a few good hours and I will always postpone my chorus in the name of beauty to attend seminar's like this one, where you don't just drop by, say hi, have a drink and be gone in 15 minutes, but find out a lot more about the new products and use the info as an inspiration for the "so many upcoming blog posts".
I know I may be in trouble for saying this…but I got to peek at the new Lancome Glow Subtil Silky Creme Highlighters (swatches, info) I told you about back in June and I'll be making more comments and show you some backstage photos and swatches in a new article. Being an inquisitive beauty bloggers pays off as I got to see the upcoming Lancome Miracle CC Cushion Color Correcting Primers (info, photos) I've been spotting on international websites for months now…they are definitely something…so I know I will be getting them, just need to finish the ones in my palette right now.
Enjoy more photos…