Hello pretties!
As you've already seen on my Instagram account, yesterday I attended Lancome Trends Seminar by Alexandru Abagiu, National Makeup Artist Lancome. Besides the novelties of fall 2016 which I already showed you, I got to peek at the new Lancome Glow Subtil Silky Creme Highlighters (info, photos) that blogged about since yearly summer and Color Correcting Primers Miracle CC Cushion (info, photos). I can't help blogging about these awesome new products, even though I know they are still being kept secret for now but the information is out there internationally and in some countries they are even available for purchase.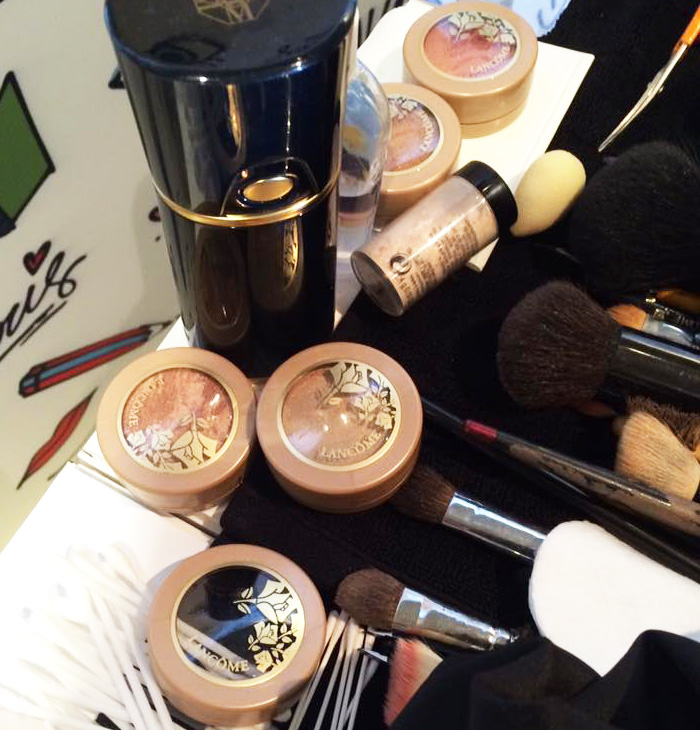 So…there they were….staying hidden on Alex's makeup table under a black cloth, when he announced he'll be using a new product, due to be launched summer 2017. He picked it up and used it to highlight the model's cheekbones and I knew right away (I've been sitting in the first row during the seminar) judging from the packaging and the intensity of the color that we were shown one of the five new colors of Lancome Glow Subtil Silky Creme Highlighters.
Availability
Romania Launch Date – Summer 2017 (TBA the exact launch date)
U.S. Launch Date – Now at Sephora
One thing is to see them perform their magic, glowing on the skin and another is to feel the texture underneath your fingers, sense the formula and swatch them on your own skin. These are absolutely amazing I'm telling you. They come in 5 shades ($30.00 each) and I'm guessing the price will be around 130.00 Lei. Once I swatch them, I was in love….the formula is so silky, a perfect combination between cream and powder, melting on your skin with a cooling effect. I instantly thought of a combination between Colour Pop Blushes (review, swatches) with their super smooth, creamy and silky texture and the cool sensation of Illamaqua Gel Colour Blushes (review).
Shades:
01 Gold Lights – pure gold
03 Rosegold Lights – rose gold
04 Amber Lights – bronzed gold
05 Buff Lights – champagne gold
06 Glowing Lights – gold mine
The shade I swatched, shown right bellow, was so intense and pigmented offering a nice shine without any glitter. It looked beautifully applied even on my light skin and didn't emphasized any of my pores…was charming. If these are launching next summer it's totally worth getting them, but I'm hoping I can get them sooner if I travel abroad and make a new stack next year.
Now moving on to the other newness which is Lancome Miracle CC Cushion Color Correcting Primer ($39.50). They are four color-correcting primers (Green, Yellow, Pinky Peach, Purple) in a cushion compact. Alex did a little demo for me and picked up the Green one to neutralize redness and it worked like a charm. They have a pigmented formula with a buildable coverage to spot correct imperfections or all over correction. They are formulated with pine extract to correct uneven skintone, glycerin for hydration and glow, and it leaves a fresh, cooling sensation on skin. Just layer it under your foundation for a non-cakey, transfer-free, skin-perfecting result.
01 Green – neutralizes redness
02 Yellow – removes signs of fatigue, redness and corrects imperfections. Suitable for any skin type.
03 Pinky Peach – conceals dark spots and dark circles
04 Purple – refreshes dull skin
Enjoy more photos…