Hello beauties!
The new Lancome Fall 2015 Makeup Collection expresses the most fascinating incarnation of the Parisian. They say you are not born a Parisian but you can become one. Paris is one of the most romantic cities in the world and I felt that everytime I was there so for the upcoming season Lancome reveals a new chic makeup line.
Model, music producer and Lancôme's Parisian muse, Caroline de Maigret is a truly multi-talented woman. She entered the world of fashion rather by chance, though it now seems the most natural of directions: being sought out by the world's greatest designers, inspiring them… but fashion is not enough for Caroline.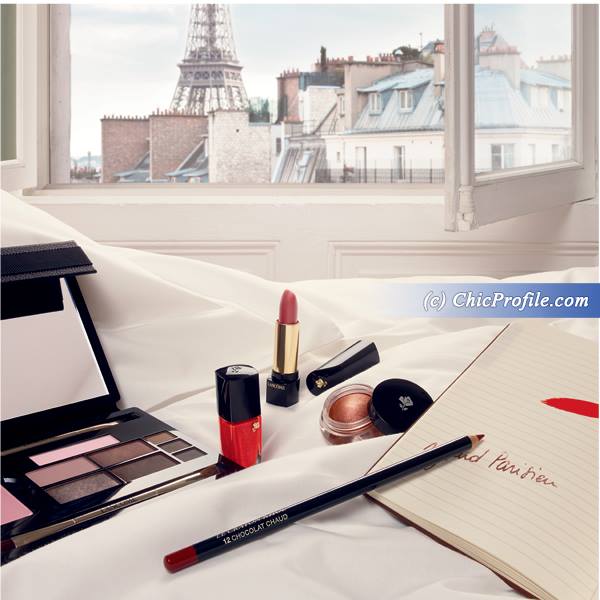 Caroline de Maigret included in this collection all the essentials a women needs for a gorgeous autumn makeup look. You will find in here everything you need for an autumn weekend in Paris, a day at the office or weekend mode. If you are thinking a coffee on a terrace, a professional metting, a night out in city of Paris or a brunch in the sun, the new Lancome Autumn 2015 Collection got you covered.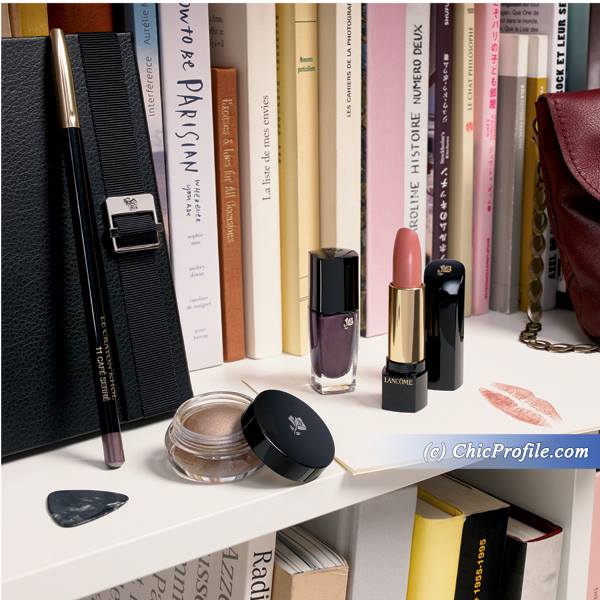 Availability
Romania Launch Date – Fall 2015 at Sephora, Douglas, Marionnaud, Kendra
U.S. Launch Date – end August 2015
Lancome Parisian Fall 2015 Collection
Mes Incontournable de Parisienne – New & Limited Edition
Pebble grain leather, grosgrain ribbon and a silver buckle embossed with the Lancôme rose: the palette designed by Caroline de Maigret channels a very Parisian sense of ambivalence.
4 eyeshadows: a matte rosewood, an iridescent bronze, an intense brown and a warm, subtly scintillating taupe, for a faux-nude make-up result with just right dose of light and intensity.
1 illuminator: its very pale pink illuminates and refreshes.
3 brow powders: light for women with blond or light brown hair, medium for chestnut brunettes and redheads, dark for true brunettes… Shades ranging from the lightest to the most intense and above all blendable shades to achieve the most natural of results. A must-have to define and structure the brows.
1 blush : rich and creamy, it is applied with the finger to instantly melt into a fresh flush, with a silky velvety finish on skin. Its light-infused pink pigments fuse with skin for a sheer effect. The light oils allow for melt-in application, leaving nothing but a thin, comfort-wear film.
2 expert brushes:
– Liner and Shadow Brush features a flat tip to apply and blend the shadow for an elegant smoky eye, as well as a firm bevelled tip to apply monochromes or eyeliner.
– Eyebrow Brush includes a brush to structure the brow and a bevelled tip to accentuate the line. It can also be used to apply eyeshadow like a liner to lids.
Hypnose Dazzling – New Shades – 121.00 Ron
No.165 Brun Acoustique
No.205 Brun Cabas
No.305 Brun Biblioteque
Lancome Hypnose Palette
Lancome Blush
Vernis in Love – New Shades – 75.00 Ron
Gris sur les Toits
Cuir de Nuit
Rouge Bistrot
Crayon Khôl
Café Serré – iridescent brown
No.13 Bordeaux Corsee
No.12 Chocolat Chaud (Hot Chocolate)
Lancome Grandiose Burgundy Mascara
L'Absolue Rouge – 145.00 Ron
No.165 Rouge Grand Coeur
Rose de Ville
Rose de Peau Nue
Teint Miracle – 217.00 Ron
Enjoy more photos…