Hello beauties!
How could I have forgotten to write the review for Lancome Nuit Mordoree Hypnose Palette (video, live swatches), I don't know, especially since I played with these shades a couple of times since I got it a couple of months ago and even did a makeup look. It was released as part of the fall collection but as I'm looking closer to the shades I can't help seeing this palette as a summer one as well, since we know Lancome released in the past its famous eyehadow palettes inspired by the French Riviera (two years in a row if I'm not mistaken) where blue and teal shades were matched with gold, bronze and coppery tones.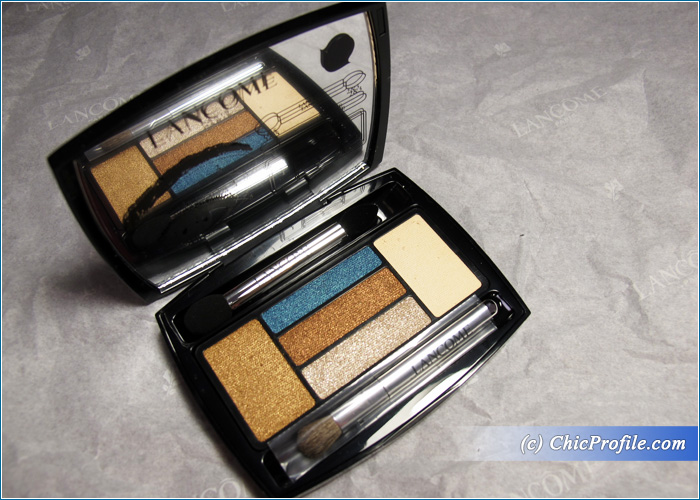 Lancome Nuit Mordoree Hypnose Palette (€49.00 / 262.00 Lei for 4.3 g / 0.15 oz) is a limited edition 5 eyeshadow palette which was released back in the fall. There is not much information about this palette online as I believe it wasn't available worldwide.
The eyeshadows don't have individual names so it's quite hard to try and properly describe every shade but I'll give my best. The packaging on the other hand is very nice, neat and elegant as the black shiny palette with the Lancome golden rose embossed on the top, has a magnetic closure which clicks when shut and gives it that extra style. Inside the palette there's a compact-sized mirror which is very handy on the go for retouching your makeup and on the mirror itself there's attached a mini makeup tutorial suggesting you how to achieve Lancome Nuit Mordoree look by using the eyeshadows inside in a specific order. The two mini makeup tools available inside, a duo-ended sponge brush applicator and a mini blending brush are a nice addition but I can't say I would use them along with the palette. I did use them once just for the sake of review and the blending brush doesn't do too much blending while the sponge applicators are just regular ones.
Now, returning to the Lancome Nuit Mordoree colors I would say the only matte finish one is the very light beige champagne one, while the rest have a shimmer finish. The cool-toned deep sea blue is the least shimmery while the champagne one is the most intense. I must say the other two copper shades are quite similar, both warm toned and shimmer finish, slightly the first one (which is the largest copper shade in the palette) looks more intense because of its high metallic sheen.
They are medium pigmented, not very intense or rich, but they blend easily. They are a bit dusty while on the same time they feel quite smooth when swatched.
Overall I can't say I'm impressed with the color combination from this palette as it is nothing very exciting and I'm used to palettes like these from Lancome, especially near the summer season. Indeed they are a nice choice for fall, summer or whenever you feel like wearing a shimmering coppery makeup with a touch of teal. I find myself using the light white shade with a matte finish more often as it can be easily paired with every shade for blending in or over the crease or even though applied on the brow bone for luminosity.
The palette fits in the palm of your hand so it's quite small and ideal for traveling or take it with you in a small purse. Other than this it presents just a nice addition to your makeup collection but nothing that you couldn't resist buying in the store.
Enjoy more photos…