Hello beauties!
The other day I attended the opening of our newest mall, Park Lake and got to check all the beauty stores. My heart started beating faster when my eyes spotted the new fall 2016 collection of Lancome L'Absolu Rouge lipsticks I so much praised in my past articles. I admit, I never was a lipstick gal but once in a while I can deny my lips the luxurious touch and intense color of a lipstick.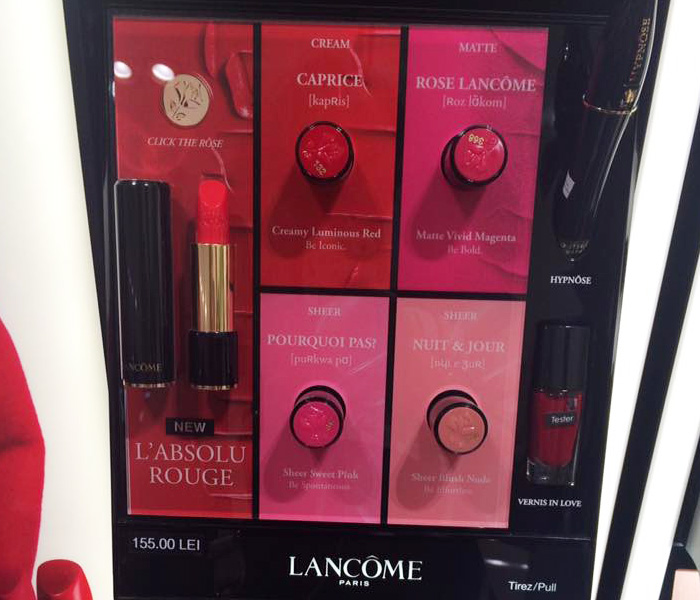 Availability
Romania Launch Date – September 2016 at Sephora, Douglas
International Launch Date – September 2016 
Lancome L'Absolu Rouge Lipstick – New & Permanent – $32.00 / 155.00 Lei
Lancome reinvents the classic L'Absolu Rouge and comes out with a new packaging, formula and offers a variety of 86 shades with threw finishes ranging from matte, creamy and sheer.
Once I found myself in front of the Lancome counter I started swatching some of the colors and choosing different finishes. There are so many colors to choose from that is almost impossible not to fimd a favorite. I for instance I appreciate purples and nudes and I go crazy over pinks.
For those who want to make a statement a matte finish red would be ideal, while for an everyday look you can pick up a less intense color with a sheer finish and end the day with a sophisticated creamy lip shade and a plus of shine.
All the shades I swatched, applied so smooth with a good color payoff and some of them show a natural shine. I didn't test them on my lips but when I removed them with a cotton pad they left a stain which made me believe they can have a long lasting formula as well.
I picked up a few favorites so I will return with reviews to show you what I got. In the meantime I let you enjoy the photos I took at Sephora.