Hello beauties!
Lancome Grandiose Mascara was a newness back in the fall of 2014 when it was launched but actually it came into my life only the end of 2015. Since I'm not keen in opening mascaras unless I'm planning to use them, my black shade of Grandiose Mascara waited patiently in my makeup drawer for a few months. I've been a fan of Lancome Mascaras (review, photos, swatches) for years and the classic Lancome Hypnose has been my go to mascara throughout my adolescence so trying out now the new Grandiose should be terrific.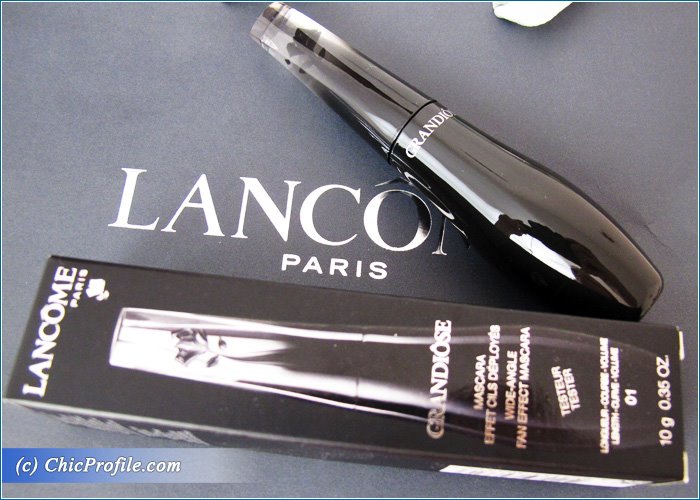 Availability
Romania – Now at Sephora, Douglas, Kendra, Debenhams
International – Now at Sephora, Selfridges, Nordstrom
Lancome Grandiose Mascara (155.00 Lei / $32.00 / £25.00 for 0.35 oz) is available in three shades: Black, Brown and Sapphire.
I have to admit I haven't test it yet, so this is just a preview with some detailed photos and swatches, followed-up (soon I hope) by a detailed review with before and after photos as well.
Everyone seems to be delighted with the formula, the color is described as an intense black and the before and after photos are quite convincing.
I do like the packaging, which is indeed a bit different and stands out from the other mascaras, probably also because of the exquisite rose design encapsulated in the lid. It is very easy to hold, feels a little bit heavy but you can definitely get a good grip. The wand is impressive and unique, just taking the shape of a swan neck which promises to provide exceptional length, lift and volume to all your lashes. I admit I'm quite curious what it can do for those tiny lashes. 🙂
The specially designed, elastomer-molded brush perfectly deposits formula on each lash, while smaller bristles effortlessly coat even short lashes from root to tip for ultimate volume. The smudge-free formula features Lancôme's rose cell extract, which nourishes and smooths lashes while providing infinite buildability. This high-gloss, clump-free mascara leaves lashes fanned out with maximum length, and it is designed with long-wearing, flexible polymers, which allow for easy removal.
After spending a few days with this mascara I'll be able to give you more details and tell you if I really like it. How about you lovelies? Have you tried this one yet? 🙂
Enjoy more photos…