Hello beauties!
This season Lancome launches a couple of new and limited edition products and shades and I'm talking about Color Design Matte Lip Crayons and L'Absolu Rouge Velours' Liquid Matte Lipstick. These products are launched separately from Lancome Parisian Fall 2015 Collection (info, photos).
Availability
U.S. Launch Date – Now at Nordstrom and online @nordstrom.com
Lancome Color Design Matte Lip Crayon – New & Limited Edition – $24.00
Catering to the "It Girl" inside us all, Color Design Matte Lip Crayon's modern matte formula has a pigment-enriched, lightweight, creamy finish that won't dry out your lips. The slim crayon effortlessly contours and perfects your lips, revealing a stunningly silhouetted pout while keeping blurred lines, dehydrated lips and dull color a thing of the past. Its rich color impact stays comfortable over time while a unique blend of waxes provides structure and glide.
Shades:
Berry Haute
Bite the Bullet
Contain Yourself
Drive to Pink
Lipstick Avenue
Nothing to Wear
Only Wine Will Tell
Oui, Monsieur
Partners in Crime
Sought After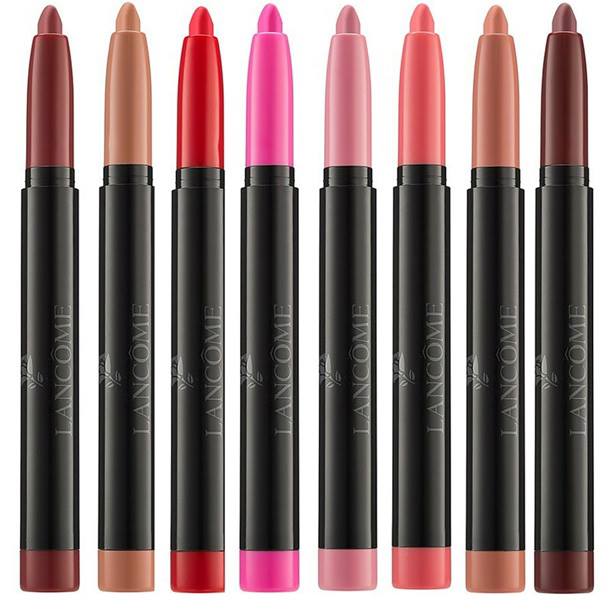 Lancome L'Absolu Rouge Velours' Liquid Matte Lipstick – $30.00
L'Absolu Rouge Velours is a liquid matte lipstick with a beautiful velvety finish. It contains a unique combination of soothing oils, waxes, velvety gel and matte pigments, which give it its intense color and six times more pigment than a gloss. Long-lasting and comfortable to wear, the lipstick is easy to apply.
Shades:
No.172 D'Etincelle
No.193 De Caprice
No.197 De Grenade
No.362 De Peche
No.363 De Petale
No.373 De Magenta
No.375 De Framboise
No.385 De Pourpre