Hello beauties!
Lancome launched the new Absolue Collection which represents a response to the ultimate desires of the most demanding women.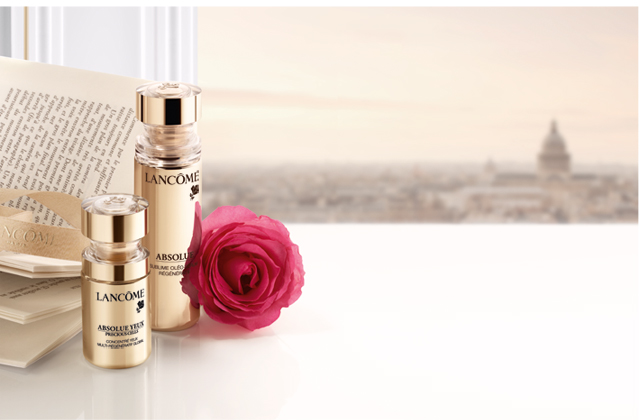 Performance that draws its secrets from Nature, the source of precious and incredibly effective molecules. And it is precisely in Nature that Lancôme finds the inspiration for its greatest discoveries. It was thus to Nature that the House turned to unlock the secrets of ultimate regeneration. This led to Absolue, Lancôme Research's ultimate luxury, Nature refined by Science, an encounter that no-one before had dared to dream of with such power. It marked the arrival of High-tech molecules.
Precious and powerful active ingredients… Lancôme has created exclusive regenerating duos combining cutting-edge molecules with ingredients derived from a long selection process from among the most active and precious substances that Nature has to offer. These include white Iris and white Jasmine extracts, along with Malus Domestica extract. And for the first time, Lancôme has placed oils with astonishing properties and instant benefits at the heart of a new serum.
Exclusive transformable textures. An absolute search for a multisensory experience, in which pleasure drives performance. Each dual and generous texture transforms on contact with the skin to ensure optimal absorption and nutrition. A featherlight sensation and addictively luxurious texture for an instantly recognisable signature effect on the skin: an incomparably fresh and dewy glow.
Availability
Now at Sephora, Douglas and online @lancome-usa.com
Lancome Absolue Collection 2014
Absolue Sublime Regenerating Oleo-Serum – 30 ml – $185.00/ 855.65 Lei
Now the first step in the Absolue skin care ritual, Absolue Oleo-Serum is the exceptional alliance of Oleo-technology and Lancôme Science in terms of regeneration. Combining the unique properties of Lemon essential oil and Camellia and Babassu* oils with the regenerating power of Pro-Xylane™, Absolue Sublime Regenerating Oleo-Serum has been designed
to help reinforce the substance of the skin, for skin at the height of its beauty all day long.
Absolue Sublime Regenerating Oleo-Serum's regenerating power is presented in a decidedly precious jewel-box with a transparent lid set off with gold and engraved with Lancôme's iconic Rose: gold and rose, the new striking and unmistakably feminine aesthetic signature of the Absolue Collection.
Absolue Premium βx Regenerating & Replenishing Care SPF15 – 50 ml – $190.00/ 784.29 Lei
One of the regenerating duos in the Absolue range, the alliance of white Iris extract and Pro-XylaneTM at the heart of Absolue Premium βx cream was assembled by Lancôme to optimise the skin's regenerating potential and completely restore its comfort and nutrition. The result is younger-looking, deeply nourished, plump and glowing skin that is strikingly more beautiful. Sensory as ever, Absolue Premium βx is a delectably velvety and incredibly comfortable cream.
Absolue Premium βx is contained in a white frosted glass casing with a shiny gold lid, a distinguishing mark of the Absolue range. The jar itself is hidden in a matte gold pack that opens like a sacred box to reveal it to best effect.
Advanced Regenerating and Repairing Care SPF15 – 50 ml – $190.00/ 784.29 Lei
White Jasmine extract is the secret ingredient in Absolue Precious Cells, as always in combination with Pro-XylaneTM, the signature molecule in the Absolue range. The regenerating benefits of this duo are supplemented by Flax extract and Malus domestica extract, a fruit renowned for its extraordinary longevity and preservation abilities. Absolue Precious Cells is the ultimate ally for women looking to fight the appearance of the most marked signs of ageing. The skin is intensely regenerated; it is firmer and wonderfully radiant; even the most marked wrinkles are reduced.
Absolue Precious Cells' divinely comfortable silky texture provides a unique feeling of softness, as if on contact with a flower petal. Its delicate jar offers a highly sophisticated contrast between its matte gold casing and its gilded lid, the signature of the Absolue range.
Absolue L'Extrait Regenerating Ultimate Elixir
Launched several months ago, Absolue L'Extrait has already been heralded as a phenomenon and is ushering in a new cosmetics era in the world of beauty. A miracle cream, the ultimate elixir of regeneration, the most advanced experience of Absolue regeneration. With two million Lancôme Rose stem cells* per jar, Absolue L'Extrait Regenerating Ultimate Elixir represents unprecedented luxury skincare that offers total skin regeneration.
Absolue L'Extrait is the ultimate beauty experience: an addictive, surprising and magic texture with a unique fragrance. Because sensory delight is a key signature of the range, Absolue L'Extrait's pearly pink cream transforms into a sensual elixir on application. It nestles in a black jar with impenetrable reflections, a homage to Nutrix, the first replenishing cream by Lancôme's founder, Armand Petitjean, in 1936. Absolue L'Extrait comes with a marvellous massage petal at the heart of
a two-fold beauty ritual; the black portion is for applying the cream-elixir, the cooler golden section for the massage.
Enjoy more photos…