Hello sweeties!
About L.O.V. Cosmetics I posted only two times before as it's a new brand which entered the beauty market earlier this year. Apart from their permanent collection, next month we get to check out L.O.V. Winter 2016 Exclusive Collection which brings a bunch of new products and shades. So far L.O.V. is being available in only three countries, but I'm hoping that next year they will expand and bring their products to more European countries, after all we are still talking about Cosnova here. 🙂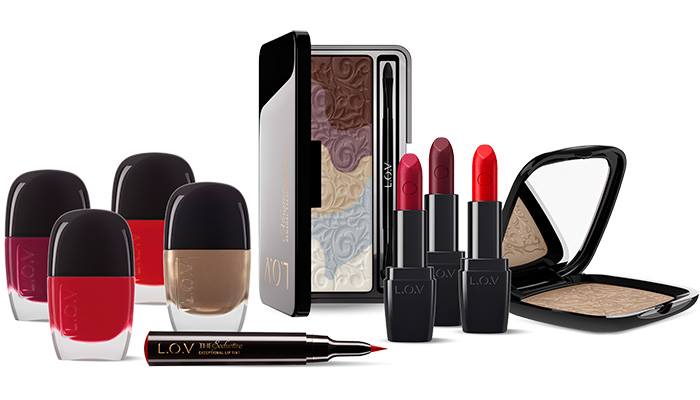 "She loves to present herself in the best possible way and express her femininity. She is aware of her appeal and knows how to enjoy the moment. The night belongs to her." With the second Exclusive Collection, L.O.V is presenting a selection of limited products for a grand appearance. Shimmering nail polishes, elegant eye make-up as well as highlighter for a perfect glow – these products are sure to turn any woman into the queen of the night."
Availability
Germany, Switzerland & Austria – November 2016 at Drugstores and online @kosmetik4less.de
L.O.V. Winter 2016 Exclusive Collection
Sensual Eyeshadow Palette – Limited Edition
An elegant color combination as well as shimmering textures turn Magnificent into a perfect companion for the festive season and ensure an unforgettable look. Pure seduction for a casual flirt or the greatest love of all.
Velvet Gold Powder – Limited Edition
A shimmering highlighter for sparkling effects on the face and neckline. Pure elegance for the queen of the night.
Mattappeal Satin Nail Lacquer – Limited Edition
Four intense colors with silky-matt or metallic effects for an elegant look in the evening.
100 Femme Fatale
110 Hide & Seek
120 Dark Seduction
130 Golden Moment
Satin Kiss Lipstick – Limited Edition
A long-lasting and at the same time pampering lipstick in intense, silky-matt colors for glamorous lips in the evening or during the day.
100 Femme Fatale
110 Hide & Seek
120 Dark Seduction
Exceptional Lip Tint – New
Kiss, Kiss. THEseductive sets irresistible accents on the lips and adds a touch of glamour to the face of every woman.
Enjoy more photos…