Hello beauties!
L.O.V. Summer 2017 Makeup Collection is incredible! You just have to take a look at the new L.O.V. makeup products and let me know what you think! I couldn't help noticing the striking resemblance between L.O.V. Magnetic Loose Eyeshadow and MAC Spellbinder Shadows (review). I don't know anything about the quality of these new ones by the packaging imitation is just…uh! They are described to behave just like the famous MAC Spellbinder Shadows?! The texture always moves back into its original design so sounds like we found our dupe. If you haven't got the chance to shop the limited edition MAC Spellbinders then you surely must take a look at L.O.V. Summer 2017 Makeup Collection.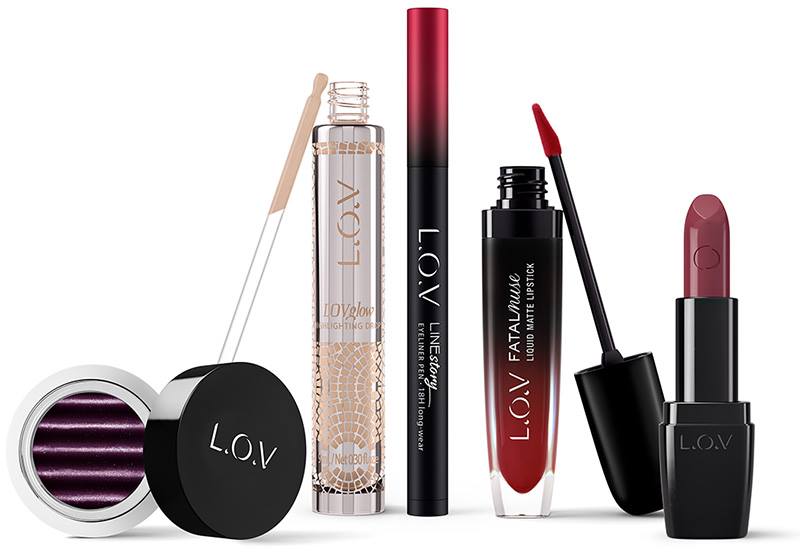 Sensuality meets upon perfection, passion upon precision, seductive textures upon smart details! Inspired by women for women, L.O.V presents its new must-haves. The update of the L.O.V Collection inspires with innovative formulas, exciting shades and iridescent statement look. Feel the color!
Availability
International Launch Date – July 2017
L.O.V. Summer 2017 Makeup Collection
Eyetraction Magnetic Loose Eyeshadow – New & Permanent
Revolutionary eyeshadow: A loose and at the same time velvety soft texture, which is kept together magnetically. For perfectly staged eye make-up: Applied with a dry applicator, the velvety soft texture creates an expressive metallic effect – applied with a moist applicator, it has a unique foil effect. Irresistible power of attraction: The texture always moves back into its original design. The eyeshadow can also be applied on the lips using a moist brush for a unique metallic effect, which can be further intensified with a touch of lipgloss.
Shades:
500 MESMEReyes
510 METALfusion
520 METALight
530 Magnetize Me
540 MagnetEYES
550 Positive Attraction
560 METALLURE
570 Cosmic Gravity
580 MAGNIfic
590 Magnetic Moondust
Unexpected Eyeshadow – New Shade
231 Ballet Dream – soft iridescent cream shade
Sophisticated Eyeshadow – New Shade
430 Athena Scent – shimmering bronze tone
The Glacious Long Lasting Stylo Eyeshadow
Creamy eyeshadow in a pen-shape with a high concentration of pearl pigments. Light cooling effect upon application and maximum wearing comfort.
960 Lust Of Quartz – warm copper (New)
970 Graphite Whisper – cool stone grey (New)
Loviconyx Eyeshadow & Contouring Palette
Intensive color release and long wear. Luxurious, creamy formula. Five new, perfectly aligned and glamorous shades of nature: from dark moss to sand to deep brown.
830 A Garden Party With Kate
Eye Pencil – 12H Long-Wear
Automatic pencil with an instant and intensive color release – which lasts up to 12 hours. Silky, light formula that is easy to apply.
241 Lazuli Imperial – matte petrol
261 Graceful Jade – shimmering jade
Eyeliner Pen – 18H Long-Wear
Guarantees a smooth and accurate line thanks to its particularly soft felt-tip. Texture with pampering aloe vera. Long-lasting effect – lasts up to 18 hours.
Royaliner Eyeliner Pen – New
Elegance meets upon high performance. Incredibly easy handling thanks to the innovative brush-tip.
110 Grey Allure – seductive grey
120 Brown Elegance – elegant brown
Long Lasting Nail Lacquer
The nail polish formula with an innovative polymer technology ensures an intensive and high-shine color finish without chipping –
for up to seven days. Perfection with just one application: The high-performance brush guarantees a simple, smooth application and intensive coverage with just two coats of nail polish.
101 Magnifying Melon – soft melon
131 Tangerine Treasure – fiery tangerine
261 Iconic Indigo – seductive indigo
Liquid Matte Lipstick – New
Innovative mousse texture, which unites intensive color with a semi-matte finish. Long-lasting formula with cottonseed oil for smooth, supple lips. Ten expressive shades with an elegant, matte product design.
700 Daring Confession
710 Secret Obsession
720 FATALnude
730 Confession
740 Fiery Envy
750 Excessive
760 Provocative Confidence
770 Extrovert
780 Bold Attitude
790 Dark Revenge
Caring Volume Gloss
An elegant, glossy finish and gentle care in one. Weightless, light texture with nourishing tsubaki oil and vitamin E.
131 Dusty Pink – rose
181 Sensual Cerise – berry
Color & Care Lipstick
Intensive, long-lasting colors. Enriched with kendi oil and Hyaluronic FILLING SPHERES.
503 Miriam's Rosewood – delicate rosewood
542 Cindy's Dark Berry – dark berry
Color & Care Lip Pencil
For perfectly defined lip contours – long-lasting and smudge-proof. Prevents lipstick color from feathering
542 100% Cindy – dark berry
Healthy Glow Blush
Soft color and a naturally fresh look for the contours of the face. Unique texture with moisturizing hyaluron.
041 Radiant Rosewood
061 Graceful Rose
HD Matte Bronzer – New
Weightless bronzing powder with moisturizing hyaluron. Elegant HD matte finish without a shimmer effect. A new intensive shade for a sun-kissed complexion.
Highlighting Drops
Valuable highlighter fluid for an instantly radiant complexion. Accurate dosage and application thanks to the handy pipette. Versatile use – as an all-over highlighter to emphasize specific areas or mixed with liquid foundation for an extra-portion of glow.
010 Moonlight Dream
020 Sunlight Glow
Enjoy more photos…