Hello pretties!
Jouer Unicorn Lip Creme Liquid Lipstick is my first product from this brand. I know it is an old and limited edition release but I got it last month. Actually while I was browsing Cult Beauty for new offers I found Jouer Unicorn on sale. Since I was curious to try this brand and the product was discounted by 50%, I said why not. At the moment I have my eye on their High Pigmented Pearl Glosses.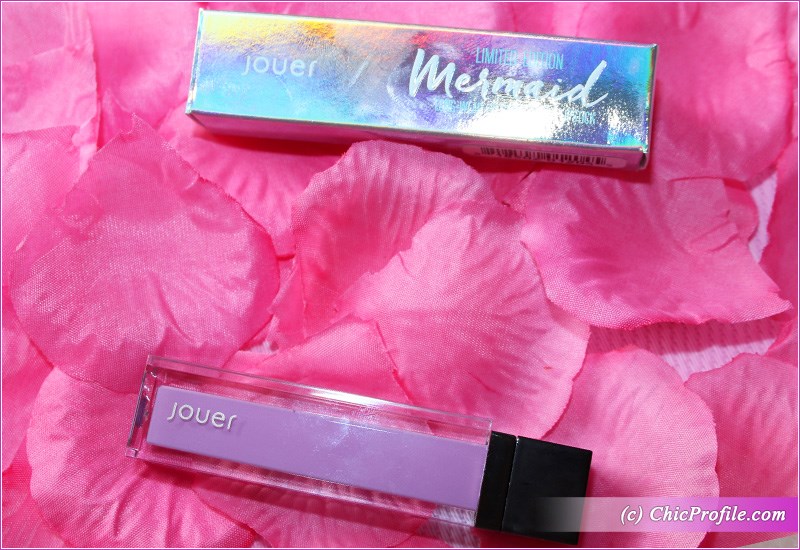 Where to buy:
U.S. – Now at Nordstrom, Beautylish, Dermstore
UK – Now at Cult Beauty (On Sale for £7.50 from £15.00)
Jouer Unicorn Lip Creme Liquid Lipstick Review
Jouer Unicorn Lip Creme Liquid Lipstick ($18.00 / £15.00 for 6 ml / 0.21 fl oz) is neon lilac with cool undertones and a matte finish. The color is bright, pigmented and comes very strong on the lips. It's definitely a great color for Spring or Summer but I don't think it will complement all skin colors.
The color dries down to a matte finish. The formula though, is not so friendly. I would say it's creamy and spreads across the lips easily but that's just about it. The application was problematic as the color applied on patchy and looks streaky. I tried to even out the color with a second layer (I waited for the first layer to dry) but it still didn't improve the look. You can take a look at the close up photos as I think they speak for themselves.
On that day my lips were perfectly normal, not dry at all. I even tried Joeur Unicorn Lip Creme on another day when I made sure to apply a lip balm and let it sink into my lips. Whatever I did to improve the way that it looked on my lips was useless. I still got that streaky effect. On the other hand I can understand that a light purple is not the easiest color to wear on the lips.
The formula felt dry on my lips, not super drying but still I had an uncomfortable feeling wearing it. When I drank something the color transferred onto the glass or cup. The formula is sweetly scented and lingered on my lips for a while.
The consistency is a light cream and could feel weightless on the lips but the formula is drying. I honestly bought this shade because I like how it looked and it was also on sale. Paying the full price for this quality wouldn't have been pleasant at all. Maybe this formula just didn't work for me but if you have any tips on how to apply it and make it look better just let me know.
I definitely want to try some other Jouer lip products and see what I think about them. As I said I have my eye on some of their new Pearl Glosses.
The packaging was also not very flattering for me. The black cap is too short and small so you can't really get a good grip when you use the applicator. I did wore this shade a couple of times for review sake but I wouldn't do it again.
SHOP THIS POST