Hello beauties!
Presented earlier in a sneak peek post, Illamasqua Hypnotica Summer 2016 Collection is launching this week in a flash of color. Not to many products, I have to admit, but they are so colorful and cheerful, just right for summer.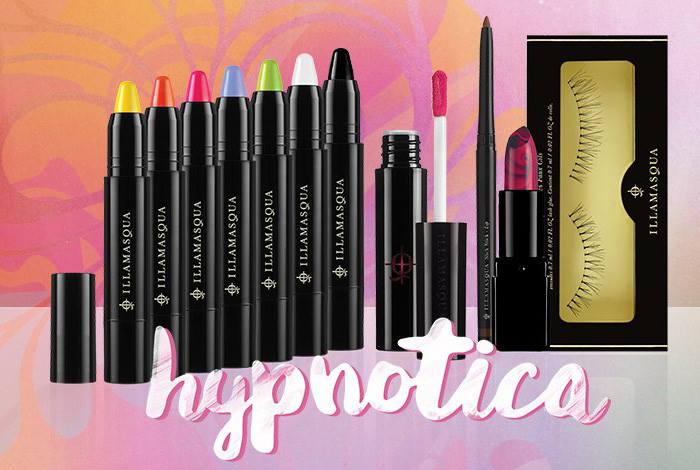 An explosion of colour, creativity and fearless self-expression. Illamasqua's spirited new collection celebrates the diverse ways of expressing our individuality by being bright, bold and fearless while conjuring feelings of fun, freedom and unity.
Availability
UK & International Launch Date – 2 June 2016 online @illamasqua.com
Illamasqua Hypnotica Summer 2016 Collection
Sketch Sticks – £15.00
A multi-use crayon with powerful pigment pay off. Sketch Stick allows you to get creative with colour with its creamy texture allowing for easy blending. The faultless way to add a splash of colour to any look.
Fly – hot pink
Free – cornflower blue
Trace – bright orange
Higher – bright yellow
Spirit – pure white
Haze – jet black
Trip – acid green
Lava Lips – £19.50
Colour intense, marbled lipstick designed with a unique recipe of our highly pigmented Lipstick shades. Carefully matched, these colour duos effortlessly blend together on application to create a new vibrant lip colour with a smooth, satin finish. Colour combination at its finest.
Lip Lure – £19.50
Long lasting, colour intense liquid lipstick with a beautiful, glossy finish. Lip Lure in Virtue glides onto lips smoothly and provides comfortable, continuous wear. The slender shaped sponge applicator allows for precise application and its rich pigment provides ultimate colour pay off.
Pow – bright pink (glossy finish)
Slick Stick – £18.50
A colour intense, retractable lip crayon in the shade 'Dream' that creates long-lasting definition. This creamy, water-resistant liner glides over lips effortlessly and once set it does not shift. Use Lip Slick Stick to enhance the lips and to prevent colour bleed or apply across the entire lip to create a colour-intense lip colour.
Dolly Lashes – £11.00
Handmade and cruelty free, Illamasqua False Eye Lashes are the go to for adding subtle volume and length to your natural lashes. Apply Dolly to the lower lash line with the latex-free glue provided for a flirty, fun enhancement.
Enjoy more photos…