Hello lovelies!
After playing with my new Huda Beauty Solstice Summer Highlighter Palette for the past week, I'm ready for the review. I've become addicted to Huda's products lately, so I'm not afraid to admit it. Everything began with the Rose Gold Palette (upcoming review) and continued slowly but surely with a couple of Liquid Matte Lipstick and Lip Strobe shades. Once I heard about the launching of Huda Beauty Solstice Summer 2017 Collection (swatches) I knew I was going to get it.
The new highlighter palette features four shades, just the like the previous releases and with the same texture. So if you are familiar with Huda's highlighter palettes, buying the new Huda Beauty Solstice Summer Highlighter Palette is just a matter of taste. This is my first highlighter palette from her, but I did swatch the previous two variations in the store before getting this one.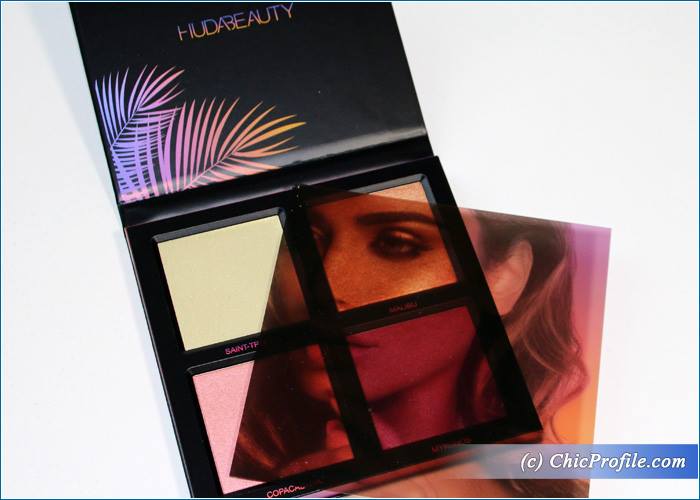 Where to buy:
UK – Now at Selfrdiges, Harrods, CultBeauty
U.S. – Now @shophudabeauty.com
Huda Beauty Solstice Summer Highlighter Palette (£40.00 / $45.00 for 30 g / 1.06 oz) features three shades of pearlescent powder and one creamy hue. For me the combination of colors was absolutely irresistible. As you know I'm addicted to pink and purples so I had to have this one. All the four sculpting and glow-giving shades are inspired by the world's most glamorous, sun-drenched destinations. I already had a summer vacation in Mykonos and Saint Tropez so I'm looking forward to check out the others.
One I started swatching the palette right there at the counter I instantly felt in love.
Huda Beauty Solstice Sumer Highlighter Palette Shades
Even though yellow is not my thing, Saint-Tropez just felt amazing. It was so incredible creamy, just like I was dipping my hands into soft butter. I absolutely love the creamy texture and the pigmentation was on point. The formula melts into your skin and gives you a beautiful, intense glow. Satin-Tropze is glimmering true yellow with an intense metallic shine. The color is so rich and pigmented so apply it with care. For this formula I like to use my fingers and gently pat the color on the apples of my cheek. Be careful not to pick to much color, because it looks really intense. It's easily blendable and buildable at the same time. A light skin tone like me, prefers to apply it with a light hand.
Malibu is described as a brilliant bronzed. I see it as a light-medium, bronze with subtle coppery undertones and a brilliant shine. It's rich, intense and pigmented and instantly shows off on the skin. This shade will complement any skin tone and color as it is so summery. Has a very soft, powder texture that is finely milled. Applies effortlessly and adheres well onto the skin. It has a buildable coverage so if you are a darker skin you can easily make look more intense.
Copacabana is my second favorite shade from this palette. I see it as a duo-chrome pink, but depending on how the light hits, the color changes. It has the same velvety formula that applies on so smoothly. Adheres well onto the skin and will work for both light and darker skin tones. I like to use it as an eyeshadow as well, using a flat brush to pat on the color.
Mykonos is by far my favorite shade and I think many of you out there were impressed by it. A holographic purple-lilac highlighter? It is something that I wanted to try and let me tell you it looks beautiful. I wish I had my summer vacation already as I bet these shades look even better on sun-tanned skin. The texture is soft, lightweight while the color is buildable and easily blenadble. It looks absolutely beautiful as an eyeshadow, applied on your lid.
You can create a 3D effect with the colors from this palette but applying the lightest one on top of your cheek bones and easily start to the blend the others as you go down on your cheekbones (but don't pass over the contouring line). I've seen a couple of girls wearing the combination of all four shades and the entire makeup looked stunning. I have to try it as well, but more later on when I'll get a tan.
Huda did an amazing job with this palette! I was really bored with the traditional highlighter colors and the summer is the perfect season to add a little bit more color. The packaging is really nice as well. It comes as a cardboard palette, which can barely fit in the palm of my hand.
Right on the packaging you can see the 3D effect of the colors and how they are mixed together. I love playing with the palette in my hand and moving it into different angles of light so I can see the colors on her cheeks an eyes changing. Then you can really see that 3D effect look that you can create with this palette.
SHOP THIS POST
Enjoy more photos…