Hello beauties!
Since I came to London, I've been completely and irremediable fallen in love with Huda Beauty products. It's so much easier to fall into addiction when you can see them in person and swatch them at the counter. I've been keeping up with the Huda Beauty launches since I came here, shopping for her summer 2017 collection and then again the Desert Dusk Palette.
A launch that many of you waited includes the new Huda Beauty #FauxFilter foundation along with the Complexion Perfection primer and Face, Buff & Blend Brush. I'm looking forward to checking out these products, but I won't buy anything until I'll take swatches in the store. I will definitely share them with you on Instagram so make sure you are following me.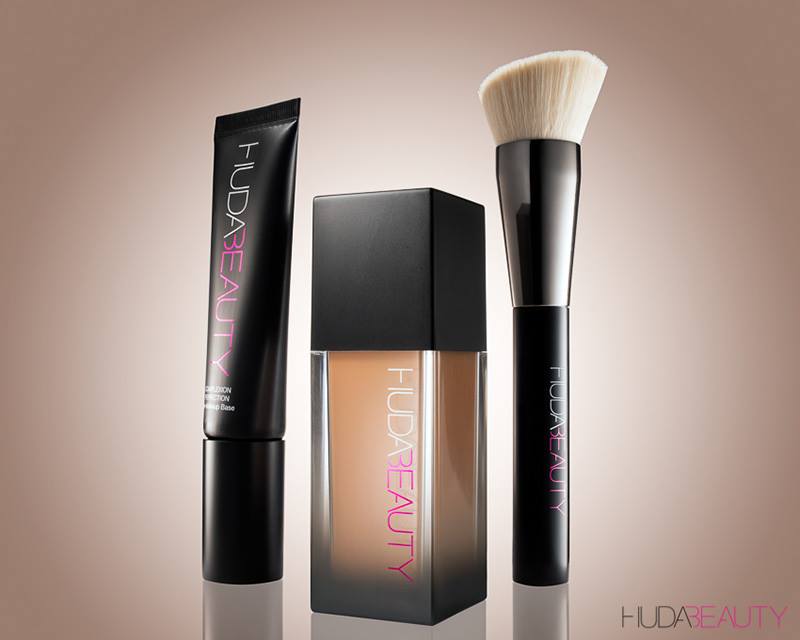 Availability
U.S. Launch Date – Preview now at Sephora
UK Launch Date – Pre-Order Now at Cult Beauty | October 2017 at Selfridges, Harrods
A velvety smooth liquid foundation that delivers full coverage and an airbrushed finish for a second-skin look. #FauxFilter Foundation is packed with ultra-refined pigments that visually erase blemishes, conceal hyperpigmentation, smooth skin, and blur imperfections. The formula blends seamlessly, creating a second-skin look with just one pump. The shade range includes the perfect color for every skin tone and ethnicity. Founder Huda Katan devoted two years to developing a broad color spectrum of rich shades, ranging from fair to beige to olive and everything in between.
Shades:
Milkshake 100B
Angel Food 110N
Vanilla 120B
Panna Cotta 130G
Cashew 140Y
Crème Brulée 150G
Shortbread 200B
Chai 210B
Custard 220N
Macaron 230N
Toasted Coconut 240N
Cheesecake 250G
Latte 300N
Amaretti 310G
Tres Leches 320G
Butter Pecan 330N
Baklava 340G
Dulce De Leche 350G
Machiatto 400G
Brown Sugar 410G
Toffee 420G
Gingerbread 430N
Cinnamon 440G
Chocolate Mousse 450G
Mocca 500G
Cocoa 510R
Nutmeg 520G
Coffee Bean 530R
Hot Fudge 540R
This silky-smooth formula works to visibly blur the appearance of pores, fine lines, smoothing look of skin for a fresher, longer lasting, and more flawless makeup look. It harnesses the benefits of rosehip oil to create a creamy texture that hydrates the skin. This product can also be used as a lightweight moisturizer to leave skin soft and supple without feeling oily or greasy.
A high quality synthetic brush specifically designed to let you achieve the most seamless, airbrushed complexion with ease. The ultra-soft synthetic bristles on this brush are designed with a semi-slanted flat top to cover the maximum surface area and fit into the natural curves and contours of the face. The brush is built with a densely packed combination of crimped and straight bristles to provide a controlled application and create a flawless, airbrushed finish.
SHOP THIS POST
Enjoy more photos…