Hello pretties!
Every year around summer Guerlain releases a new a limited edition XXL bronzing powder. The 2016 edition is represented by Guerlain Terracotta Terra Magnifica, a real beauty and truly a collector's item. Just like it happened with the previous Guerlain Terracotta editions, this one will be available exclusively only to some beauty stores, as I remember last year here in Romania it was brought by Sephora. The fragrance of Guerlain Terracotta Terra Magnifica is a mixture between freesia and orang blossom, with a blend of tonka bean and vanilla notes. As a dry down you'll sense white musk as a velvet touch to its addictive fragrance. The sense are awakened, transported to a faraway land.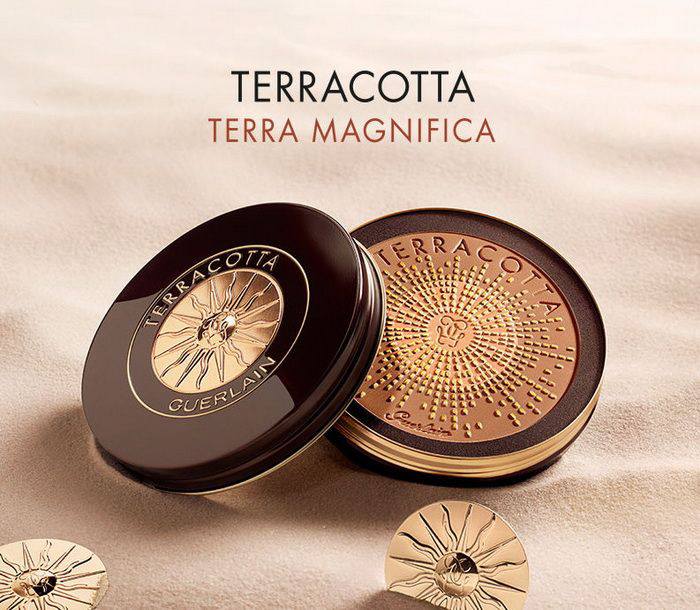 Just looking at its gorgeous sunny facets makes me desire this product so much, but in the same time it's seems to beautiful to spoil the pattern. This year's edition of Guerlain Terracotta bronzing powder comes in a collector precious case which is reusable when the powder is finished.
Availability
International Launch Date – June 2016
Guerlain Terracotta Terra Magnifica – New & Limited Edition – €65.00
Guerlain Terracotta powder, the reference in bronzing powders, is available in a "Contrast & Highlighter" limited edition, Terracotta Terra Magnifica. Irresistible, in a XXL size for a face and decollete use, and with a new packaging design, the Terracotta bronzing powder duo is the most desirable summer's collector : the combination of the best-selling Terracotta shade 03, which naturally warms all complexions, and a sand shade with a slight gold shimmer.
The colours can either be blended together to warm the complexion and enhance the natural radiance of the tan or applied separately to sculpt and highlight the volumes of the face. On the skin the result is impeccable and remains so, all day long.
Enjoy more photos…