Hello lovelies!
I'm always on the lookout for a great foundation and the advantage of being a beauty blogger makes that search easier as I get to test products from different brands. You already know what my current favorite foundation is, but when Guerlain announced the launch of Parure Gold Foundation, a new fluid foundation SPF 30 with a totally new formula inspired by pure gold, I knew I had to try out and see for myself if the bar was radically raised in terms of radiant make-up results. It's well known that the previous version of Guerlain Parure Gold launched in 2009 has become a bestseller in Asia and I'm already addicted to a famous Asian brand and always demanding that perfect porcelain complexion when I apply a foundation so testing the new 2015 Guerlain Parure Gold Fluid Foundation was mandatory.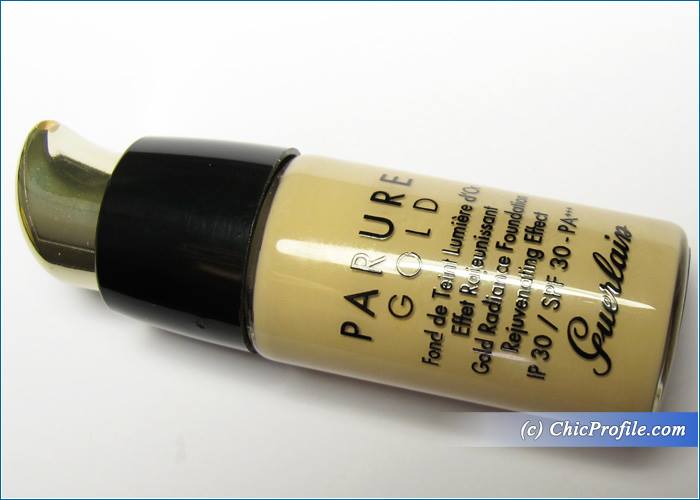 Availability
Romania Launch Date – 1 October 2015 at Sephora, Kendra, Douglas
International Launch Date – October 2015
Guerlain Parure Gold Fluid Foundation SPF 30 (388.00 lei for 30 ml) has a new light, fluid formula sprinkled with a thousand and one gold particles. It has a medium coverage and a natural luminous dewy finish which makes the skin appear fresh and radiant.
I'm trying to find the perfect words to describe the new Guerlain Parure Gold Fluid Foundation as the first time I use it, was after a night of 3 hours sleep, followed by a day when I had an event where I must look at my best. That was the perfect time for me to test the new formula of 2015 Parure Gold Foundation and see the difference on my complexion.
The fluid texture blended easily and evenly on my skin, banishing imperfections, evening out my skin tone and cloaking my complexion in a luminous veil. The iridescent pigments gives the skin a unique glow and infinite radiant. Only one pump of this foundation was needed to brighten up my dark areas, erase signs of fatigue and diminish marks of tiredness.
It feels so soft and lightweight on the skin, just like feather caressing my complexion with its silky texture. I noticed how it instantly managed to smooth out fine lines but it also works out on wrinkles so it's a foundation that addresses women over 30's as well. It's non-greasy, gives a super fresh unique glow and even after 5 hours wear it didn't leave my complexion looking oily. It latest on my complexion the entire day without fading, looking cakey or oily so I'm really impressed with the great job Guerlain did on this formula.
The collagen and elastin booster*. Exclusive technology based on a key ingredient, hexapeptide, a synthetic peptide that contains arginine, glutamic acid, glutamine and methionine. It stimulates key proteins in elasticity and skin cohesion* for flawless, comfortable skin. And as before, the formula contains extract of myrrh, that precious resinous balm, a legendary plant with regenerating properties.
I will not be reviewing the packaging as I got Guerlain Parure Gold Fluid Foundation SPF 30 in a deluxe sample bottle.
Enjoy more photos and a makeup look…