Hello beauties!
Guerlain Nahema Smack Maxi Shine Lip Gloss is one of the two colors featured in the new Guerlain Bloom of Rose Fall 2015 Collection (color story, photos) which is available now at department stores. The other day I reviewed Guerlain Candy Hop Gloss D'Enfer (photos, lip swatches) which is a more natural shade so today I want to tell you my impressions about Guerlain Nahema Smack.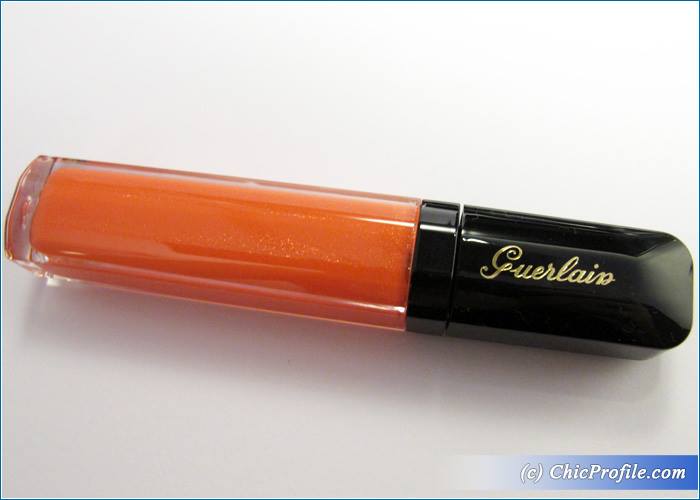 Availability
U.S. – Now at Sephora, Nordstrom
Romania – Now at Sephora, Douglas
Guerlain #442 Nahema Smack Gloss D'Enfer Maxi Shine Lip Gloss ($30.00/ 150.00 Lei for 0.25 fl. oz.) is a vivid, medium orange with warm undertones and fine gold shimmer. It has a semi-opaque color coverage and an intense glossy shine.
Guerlain Nahema Smack changed my natural lip color but it kept a natural translucency which makes the color wearable even for those with fair and light skin tones. It is a fun pop of color, not very intense so you can wear it on a daily basis especially if you appreciate that gorgeous wet lips effect. The feels lightweight, non sticky or tacky and glides evenly and easily across the lips. I felt my lips moisturized from beginning to end and even after the color was gone they still felt smooth and hydrated.
Thanks to its intense shine, lips will appear fuller and the formula doesn't sink or emphasizes lip lines so it's really comfortable to wear. This color is more pigmented than Guerlain Candy Hop which is more for those who like a natural rosy lip color.
I also had about 4 hours and a half wear with this formula so it lasted a little longer than the other shade. After the color was gone I still had some shimmering particles on my lips. The scent is absolutely wonderful, but I've already told you all about it when I reviewed Guerlain Candy Hop Gloss D'Enfer so please check it out to see how complex its fragrance is.
The packaging looks chic and elegant as Guerlain Nahema Smack Lip Gloss comes in a thick transparent plastic tube with a black cap and gold Guerlain letters embossed on it, while on the inside we find a doe-footed applicator.
Enjoy more photos…