Hello lovelies!
As I told you in a previous article when I was announcing the launch of Guerlain My Super Tips, this skincare line was created to simplify women's life and give the opportunity of those who haven't tried Guerlain skincare before to do it now. Once you try Guerlain skincare you just can't go back and the new Guerlain My Super Tips Collection features five heroes of everyday care for instant beauty results. I've been waiting for this launch for quite some time now and I'm so thrilled to let you know that starting two days ago, I have the entire collection in my possession and I've been started to use the products.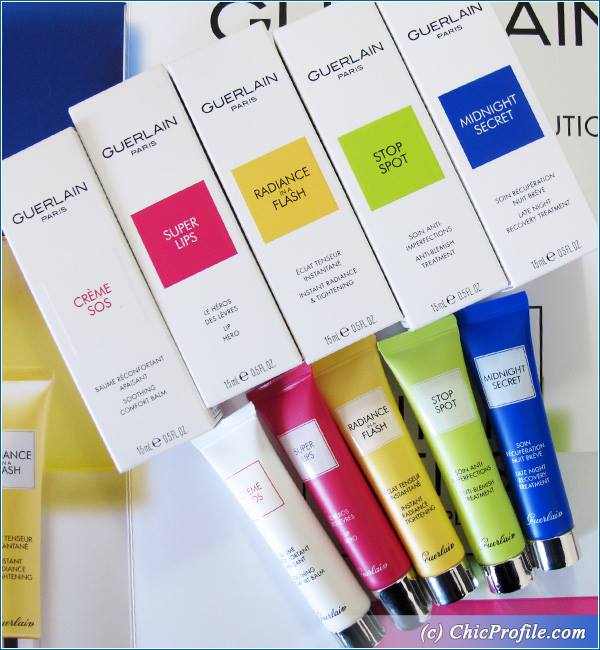 Where to buy:
France – Now at Guerlain counters and online @guerlain.com/fr
Romania – May 2016 at Douglas, Sephora
U.S. – Now at Nordstrom, @guerlain.com
International Launch Date – May 2016 at Sephora
I'll be back with individual reviews for each product, but for now I just wanted to give you a preview along with my first impressions regarding these mini skincare heroes.
First of all is the price that will attract new customers as for the first time Guerlain is lowering its prices (and the quantity of each product obviously) and gives a great opportunity to try out its skincare products. Each one of these babies targets a certain skincare need and retails for the price of $29.00 / €29.00 / 150.00 lei for 15 ml.
Since I first heard about this collection I knew I would be trying all of the five products but I was especially enthusiastic for Guerlain Midnight Secret. Why this one in particular? Because I have a tendency to work during the night and sleep during the day and even worst sometimes….I get only 4-5 hours of sleep.
Guerlain Midnight Secret is like a late night recovery treatment which has a secret formula that promises to help recover from lack of sleep. It's true that for a few weeks now I've managed to sleep during the night at least 5 days a week but this cocktail of effective ingredients is just what I need to help me reduce the appearance of puffiness and smooth away visible signs of tiredness. I actually started using this one 3 days ago and I do have the impression that I look more rested, with a revitalized complexion and a much more smoother skin. Last night I got only a few hours of sleep but thanks to Guerlain Midnight Secret you can hardly tell it.
I love the fact that all of them come in 15 ml tubes, so they are easy to keep close by, through it in your purse if you want to take them with you or just as easily pack them for a getaway weekend or a short vacation.
The second product that got my interest straight away was Guerlain Stop Spot, an anti-blemish treatment which is exactly what I need in that period of the month when my complexion starts to misbehave. I did give it a try yesterday and this morning as well, and locally applied it over a couple of blemishes I had and around my nose where I have redness. Guerlain Stop Spot is a direct evolution of the original Creme Camphera created in 1870, with a high concentration of purifying camphor that effectively targets redness and blemishes. It doesn't look transparent on the skin as it does have a bit of color, but adaptable to every skin color so it easily manages to instantly camouflage skin imperfections.
Guerlain Super Lips is described as a lip hero and I saw it as a luxurious lip glossy-balm. I'm actually wearing it as I'm writing this article and it's so comfortable to wear, not to mention it give a pretty nice sheen, more like a wet lips effect. It has an incredible rich and hydrating formula, with grapeseed extract that makes my lips softer and smoother. I actually took advantage of this one last night, after a photo session of my latest lip products where I got to do a lot of lip swatches. It instantly comforted my lips and made them look plumped while feeling comfortable and hydrated. I'll be using more of this product over the weekend and come back to you with a detailed review next week.
Guerlain Radiance in a Flash was the next product I was curious to try out, especially since I was considering paring it with Guerlain Midnight Secret whenever I lack sleep and radiance in my complexion. After a night when I can't get too much sleep a fresh, luminous and radiant complexion is just what I need to  look perfect. It has light golden particles that will instantly illuminate facial features. It ads radiance in a blink of an eye as it's a radiance-boosting and beauty-enhancing treatment that you can apply morning or evening with a touch of powder to moisturized skin.
Guerlain Creme SOS is a soothing comfort balm, which I admit I would have prefer to use it more in the cold season. I feel it's more suitable for those with dry and tight skin rather than combination to oily, as it's an ultra-nourishing cream with a formula that provides long-lasting hydration, while immediately soothes and comforts skin affected by tiredness, stress and external conditions (sun, cold temperatures, etc). You can choose to apply it locally to the affected area or all over your face, morning or evening.
Enjoy more photos…