Hello beauties!
About two weeks ago I announced on Chicprofile Facebook profile that I will return with news about upcoming Guerlain summer 2016 launches. One of the launches that I'm most excited about is Guerlain My Super Tips Collection which is available now in France but will hit international counters next month. Why I'm super excited about this new skincare collection? Because each product comes at a very affordable price while still keeping the amazing effects and quality of Guerlain skincare, but also because we are talking about five skincare products meant to give you immediate visible effects. My favorites so far and the ones that I'll definitely be purchasing are Midnight Secret and Stop Spot.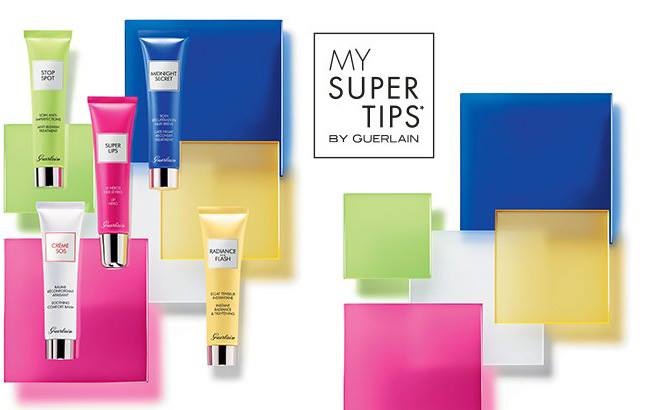 I'm usually blogging during nighttime and I lack sleep so a product just like Guerlain Midnight Secret seems to be created just for me. Considering the prices in Romania will retail for under 200 Lei for each product I think they are really affordable considering you will get the full treat and quality of Guerlain products. Follow me after the jump for more details!
Availability
France Launch Date – Now at Guerlain counters and online @guerlain.com/fr
Romania Launch Date – May 2016 at Douglas, Sephora
International Launch Date – May 2016
Guerlain My Super Tips 2016 Collection
Guerlain Midnight Secret – New & Permanent – €29.00 for 15 ml
It's bascially sleep in a tube. You simply apply this at night right before you go to bed knowing that you need to be up in a few hours. That's when magic happens! The blend of 8 active ingredients makes you look like you got 8 hours of sleep! When you wake up, your skin is super hydrated and your complexion is fresh and radiant.
Guerlain Stop Spot – New & Permanent – €29.00 for 15 ml
This is a highly concentrated powerful anti-inflammatory antiseptic cover up. It's universal colour helps to conceal any unwanted blemishes on most skin tones. The formula reminds me of an industrial strength concealer but it also calms inflammation,camoflages imperfections and purifies blemishes.
Guerlain Super Lips – New & Permanent – €29.00 for 15 ml
Attends to dry and damaged lips. This lip hero is incredibly rich and hydrating. The formula is not sticky at all and the scent is a subtle mix of bergamot candy and a little madeleine. The grapeseed extract helps you get back your soft, smooth, plumped lips in one little hot pink tube.
Guerlain Creme SOS – New & Permanent – €29.00 for 15 ml
This creme does exactly what the title states — SAVE OUR SKIN! Bascially use it any time you need your skin to be rescued. Whether thats from the weather, stress, tiredness, pollution, you name it! It acts to sooth, defned and rebuild the skin. Winter is coming Australia and I know a few dry spots that would love this.
Guerlain Radiance in a Flash – New & Permanent – €29.00 for 15 ml
Saved my favourite till last, the face lift in a tube. Once applied it delivers smooth, tightened, lifted, radiant skin AKA «The Cinderella Effect». It immediately reveals a healthy smooth complexion! The formula is very lightweight and has a rosy gold pearlescense to it.
Enjoy more photos…