Hello beauties!
Guerlain My First Nail Polish is the star color of Guerlain La Petite Robe Noire Spring 2016 Collection (nail color swatches) and the lightest one from all. I got four of the new Guerlain La Petite Robe Noire nail polishes and this is the last one I'm reviewing.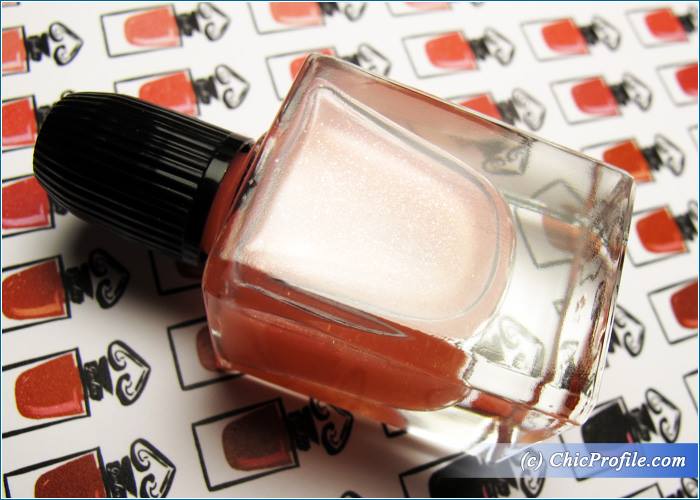 Where to buy:
Romania – Now at Sephora, Douglas
UK – Now at House of Fraser
Europe – February at Sephora, Douglas
Guerlain  (003) My First Nail Polish (115.00 Lei / €23.00 for 8.8 ml  / 0.29 fl oz) is a very light, sheer peachy rose with silver shimmer. It has a natural, semi-sheer color coverage in two coats and offers a touch of sparkle as a finish.
I see this color as one fitted for a day to day manicure, but with a touch of shimmer which makes this color a bit more special than the ordinary light and sheer ones.
It has a very well balanced formula between thick and thin so the application went flawlessly without bubbling, streaking or pooling around the edges of the nail. I choose to apply only two coats but you can easily try to build up the color just a little bit with three coats.
It dries down quite fast, under 5 minutes, and provides a natural shiny finish.
The formula is lightly scented with La Petite Robe Noire fragrance and persists on the nails for about 24 hours from the application.
This time I didn't take "after 5 days wear" photos as you know I'm usually doing, as I simply forgot. The formula lasted on my nails without chipping or fading, but I did have minor tip wear. The fact that this color looks so natural and has a light opacity, it makes the tip wear less visible.
Enjoy more photos…