Hello sweeties!
As I'm writing this article about Guerlain Mon Guerlain Florale launching for Spring 2018 I'm realizing something. Oh ups! I totally gave you the scoops on the launch of Guerlain Mon Guerlain fragrance back in the Spring of 2017 but…I forgot to review it. Actually I got the fragrance but it was during that time that I was preparing to move to London when things went crazy. During those two months before my move to London, I postponed so many reviews. Unfortunately many products have remained un-reviewed and Mon Guerlain fragrance is one of them. I will totally have to do it soon as I still have the photos in my laptop.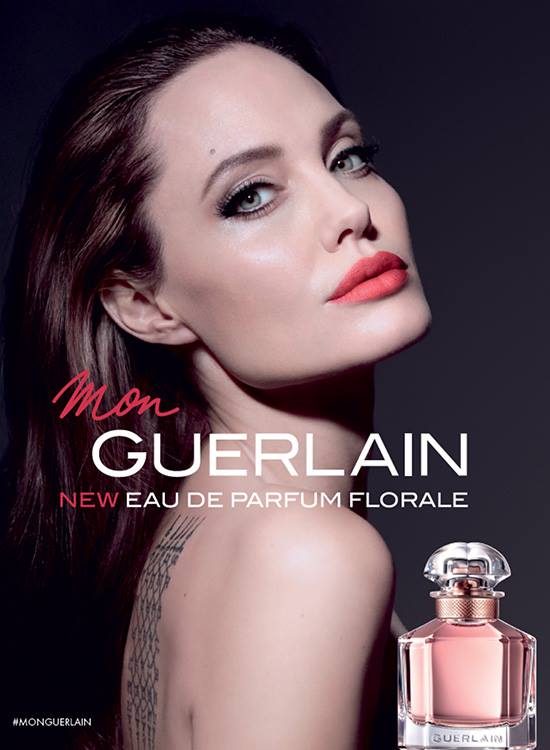 Availability
UK & US Launch Date – Spring 2018 at Debenhams, Nordstrom
Guerlain Mon Guerlain Florale Spring 2018
Actress Angelina Jolie is featured on the ad campaign for Guerlain Mon Guerlain Eau de Parfum Florale. The new version is more floral and airy than the previous one. It has more Peony notes and Sambac Jasmine. I honestly can't wait to sniff the new Mon Guerlain Florale.
Top Notes: Carla Lavender, Bergamot
Heart Notes: Sambac Jasmine, Paradisone, Neroli, Peony
Base Notes: Iris, Sandalwood, Vanilla
The new Eau de Parfum Florale keeps the same bottle as the original fragrance. The only difference here is its new rose-gold color. Guerlain Mon Guerlain Eau de Parfum Florale will be available in 50 ml and 100 ml.