Hello sweeties!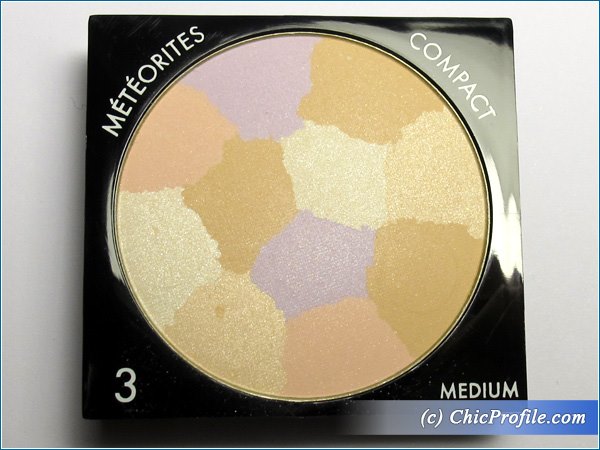 Guerlain transformed its famous Meteorites Perles into a compact so this season as part of Guerlain Les Tendres 2015 Spring Collection (info, photos) we have three variations of new Guerlain Meteorites Compact. To achieve this new beauty product the pearls were finely pressed to form a mosaic of light-enhancing and corrective shades that will give your skin tone just the right amount of light and correction. In the preview article I showed you swatches, photos and told you that #02 Clair was my favorite as it was the one meant for fair and light skin tone while #03 Medium was for medium skin tones and #04 Dore was mostly suitable for medium to darker complexions. The thing is that I got for testing and review purposes the shade #03 Medium and I was pleasantly surprise to see how well it looked on my light skin as well.
Availability
U.S. – now at Nordstrom, Saks, Neiman Marcus, Sephora
Romania – now at Sephora, Douglas, Marionnaud
Guerlain Medium (03) Meteorites Compact ($62.00/ 269.00 Lei for 0.35 oz.) is officially described as a "beige and champagne colors" that "unify while peach dots add a perfecting touch." It's a new translucent compact powder which contains a mosaic of shades ranging from white, nudes, light pink, beige and light violet that appear to have a fine shimmer in the pan while swatched or applied on the face it turns into a soft sheen, a luminous sheer translucent white that brightens up the face instantly.I haven't tried Guerlain Clair (02) Meteorites Compact yet so I just might for the sake of being able to tell the difference. So far I'm extremely happy with the luminous effect that this powder delivers while it also gives a smoother appearance by minimizing pores. I have a combination skin type and you can probably guess I'm concerned with oiliness and shine on my T-zone but Guerlain Meteorites Compact doesn't give me any concerns, it just ads luminosity without making my complexion shiny even after a few hours wear. I like how the skin looks fresh and seems to have that natural beautiful effortless glow. It also helps blur imperfections and minimizes the effect of pores so I also like to wear it on bare skin not only as finishing powder.
When I wear it alone on bare skin (definitely after my skin care routine) I like to dust it all-over the face and trust me is looks beautiful and natural, it doesn't make my face look shiny or shimmering on the contrary it gives me a soft, smoother appearance.
I also like to wear it as a finishing powder after I've applied my foundation or even better after Guerlain Meteorites Baby Glow (upcoming review) as a finishing touch to my makeup. Make sure that you apply a setting powder prior to this step if you have a combination or oily skin type but if you have normal-to-dry skin then you can skip it and just move straight to applying Guerlain Meteorites Compact. I tried both variants and for me personally the best option when I get an extra hour of wear out of my foundation is when I also use the setting powder.
This Meteorites Compact is lightly scented with a violet fragrance that just smells so fresh and it's noticeable in the pan but once I apply it on my skin I can't say I feel the scent anymore. To apply Guerlain Meteorites Compact I like to use a kabuki brush or a powder brush, mixing the shades together in the pan and applying it with a light hand on my skin, gently all-over the face.
Enjoy more photos…