Hello lovelies!
I was super excited about the launch of Guerlain La Petite Robe Noire Collection (promo photos / info) so last week when I got to see it up close and swatch all the colors, I felt like I was in heaven. I was surrounded by pure sweetness, blushing colors and super pretty packaging, not to mention lots of pink and lilac shades that I've been looking forward to seeing for a few months. Check out the swatches of Guerlain La Petite Robe Noire Lipsticks and I'm sure you'll instantly fall in love as well. They are available in 20 permanent shades, but I got to swatch only 17 of them and decided to bring home with me 5 colors to begin with (2 more upcoming reviews). I received these as testers for review purposes, courtesy of Guerlain Romania, but I'm planning on reviewing the entire collection this week, so keep checking out my blog.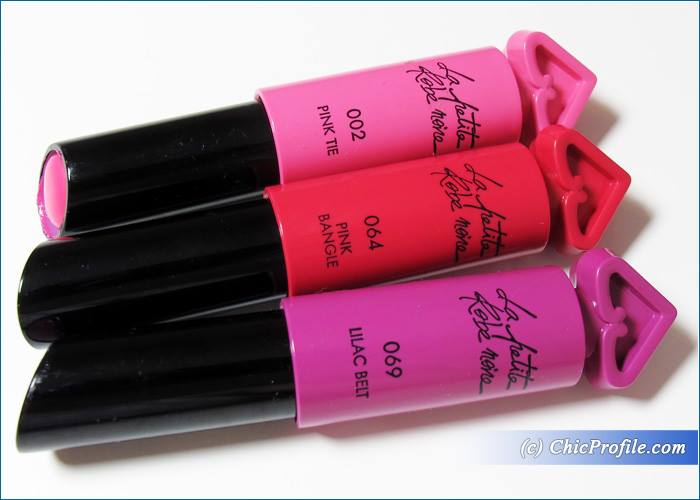 Where to buy:
Romania – Now at Sephora, Douglas
UK – Now at House of Fraser
Europe – February at Sephora, Douglas
Guerlain La Petite Robe Noire Lipsticks (145.00 Lei / £21.50 / €29.50 for 2.8 g / 0.09 oz) come in a unique packaging inspired by the very famous La Petite Robe Noire fragrance. All the lipsticks have a deliciously perfumed and delicately flavored formula, which smells amazing in the tube but also when applied and have a sweet taste as well. I find this collection to be so seductive and irresistible, while the colors vary from pink, pink and red to nude and purples, so there you have a complete spectrum of colors.
I for instance, I'm mesmerized by these pretty Guerlain lipstick gems, which are named the new Delicious Lipstick, as indeed they have a sweet taste and floral fruity scent with accents of bergamot, rose and raspberry. The fragrance is so addictive and I'm telling you, I found myself, several times opening the lipstick case just to sniff it again.
I'm definitely going to purchase some of these shades, but at first I want to try and review them all so I can decide which shades I'm going to purchase.
They all have shiny textures with a lightweight feeling and a formula that is so moisturizing and hydrating, coating the lips just like a lip balm. All the shades have a buildable coverage (as shown in the swatches bellow) thanks to its thin film, so it's up to you if you want to layer it only once for a sheer color or build it up for a more intense and sophisticated finish.
Guerlain (069) Lilac Belt La Petite Robe Noire Lipstick is a medium lilac-blue with cool undertones and a ultra-shiny finish. Applied in one layer the color is semi-sheer, but still changed my natural lip color. It has a super shiny finish, that makes lips appear fuller, fresher and with a natural radiance. This is one of my favorite colors from this collection so I'm definitely going to purchase it, as I want it in the original packaging. The formula is lightweight creamy, just like a lip balm and provides the most needed hydration for the lips. It glides amazingly well onto the lips without emphasizes lip lines. It doesn't feel sticky or tacky at all, on the contrary my lips feel so smooth and soft.
I just love this color and I've wore it several times during the past few days, as you could have probably seen in my latest Periscope broadcast. Over the past few days I did a lot of lip swatches, so in the end it was a pleasure to test Guerlain La Petite Robe Noire Lipsticks as they have a formula that was so gentle and repaired my lips thanks to its cocktail of fine oils. I had about 6 hours wear with the color before it started to evenly fade away. When I layered the color several times on my lips for a more intense color coverage and I had a meal, I noticed that in the end I still had a pretty decent amount of color left on my lips (just a medium color coverage).
Guerlain (002) Pink Tie La Petite Robe Noire Lipstick is the cutest pink ever that I spotted right from the beginning and I knew I had to try it. It's a medium blue-toned baby pink with a super shiny finish. It has the same amazing lightweight texture with a hydrating formula. The color is so innocent and sheer if you apply only one layer, but you can easily build it up for a more intense color payoff. It won't be completely opaque on the lips, as it keeps that translucency, but will change your natural lip color and add a fresh pink hue. I just love wearing a pink lip, and this is a color that will look perfect for a fresh, day to day makeup look. It glides effortlessly on the lips just like all the others I've tried and it lasts on me for about 6 hours. Once the color wears off it doesn't leave a stain.
Guerlain (064) Pink Bangle La Petite Robe Noire Lipstick is a sheer pink with red undertones and a gorgeous shiny finish. It has a semi-sheer color coverage applied in one layer, but it can be easily buildable up to a medium coverage. Its the kind of color that would look great on anyone, especially those with fair and light skin tones. It's a gorgeous pink shade that will dress your lips in a shiny texture and a moisturizing formula. I just love the innocent look of this color, perfect to be combined with a nude or fresh spring summer makeup look. It's a color that is not to bright so would be perfect for daily wear, like going to school, an interview and even at the office. It makes lips appear fresh, much healthier and plumped and it doesn't sink into lip lines. I had about six and half hours wear with this formula, without getting a lip stain.
Enjoy more photos…