Hello beauties!
I'm back with more shades of the new Guerlain La Petite Robe Noire Lipsticks to review, as promised. The other week, I got to swatch 17 out of 20 available shades and I brought home with me several colors to review, as courtesy from Guerlain Romania. Check out swatches of Guerlain La Petite Robe Noire Delicious Lipstick and let me know which one you like, because I personally, have more than 3 favorites already. I'm lucky to have the possibility to review all the shades and then decide which ones I'm going to purchase, as I would definitely love to get them in the original packaging.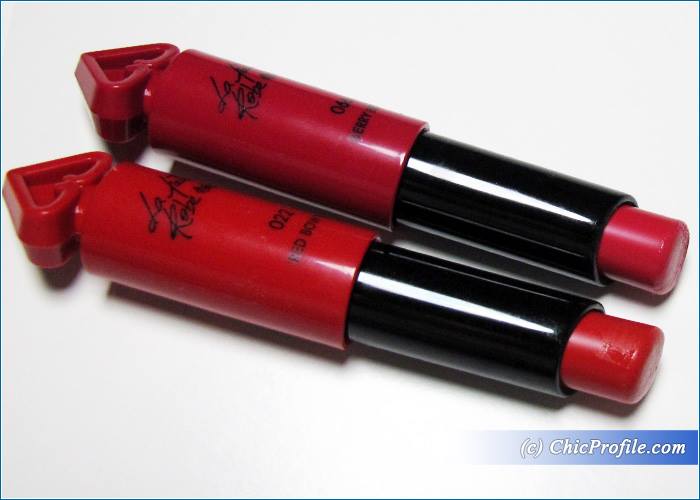 Where to buy:
Romania – Now at Sephora, Douglas
UK – Now at House of Fraser
Europe – February at Sephora, Douglas
Guerlain La Petite Robe Noire Lipsticks (145.00 Lei / £21.50 / €29.50 for 2.8 g / 0.09 oz) have this unique feminine packaging inspired by the legendary Guerlain La Petite Robe Noire fragrance, which is absolutely irresistible. All the lipsticks have a fruity floral scented formula with accents of bergamot, rose and raspberry, but they also have a sweet unforgettable taste. With this collection, Guerlain is also targeting a much younger audience. Considering all the colors will be joining the permanent range, I would say is no hurry in purchasing them, at least until you have seen all my reviews. The spectrum of colors vary from pink, peachy, red, purples and nudes so there's a shade for everyone.
Guerlain (066) Berry Beret La Petite Robe Noire Lipstick is a medium reddish berry with warm undertones and ultra-shiny finish. It has a sheer-to medium color coverage when applied in one layer, but it be easily buildable up to a semi-opaque coverage. The shiny finish it just gives your lips a luminous glow, healthy aspect and makes them look fresh and plump. The formula is very lightweight and nourishing just like a lip balm, but with a touch of color as well. The consistency is super light and jelly, resembling the previous released Guerlain Kiss Kiss Rose Lip Balms (swatches, photos). This color was quite pigmented, considering the formula resembles a lip balm, and I consider it to be more intense than Guerlain Pink Tie and Pink Bangle La Petite Robe Noire Lipsticks (review, swatches). I had six hours wear with this color, without leaving a stain behind. After I had a meal, I was still left with a nice even hue on my lips, that I didn't feel it required any touch ups, but the color wore way completely after 2 more hours.
Guerlain (022) Red Bow Tie La Petite Robe Noire Lipstick is a bright orange-red with warm undertones and a super shiny finish. I felt it was more red than orange, but still a bright shade that will be suitable for every skin tone, without looking too bright on fair or pale skins. I find this was the most pigmented shade applied in one layer, from all the ones I've tried so far (Pink Tie, Lilac Belt, Pink Bangle, Berry Beret) and when intensified it was opaque on the lips but with a luminous shine.
It's a seductive, elegant color, very appropriate for a sophisticated evening makeup or even paired or a cat-eye look or pin-up makeup. The formula is moisturizing and hydrating and it leaves my lips feeling smooth and soft from beginning to end. It's a real pleasure to layer the color and see how it becomes more intense with each layer applied. It glides smoothly across the lips, without emphasizing lip lines. It gives such a luminous, fresh glow, that create the impression of fuller lips with a fresh, healthy appearance.
I had about 7 hours wear with this color just because it was more pigmented than the others. Once the color wore away it didn't stain my lips and it wore off evenly.
Enjoy more photos…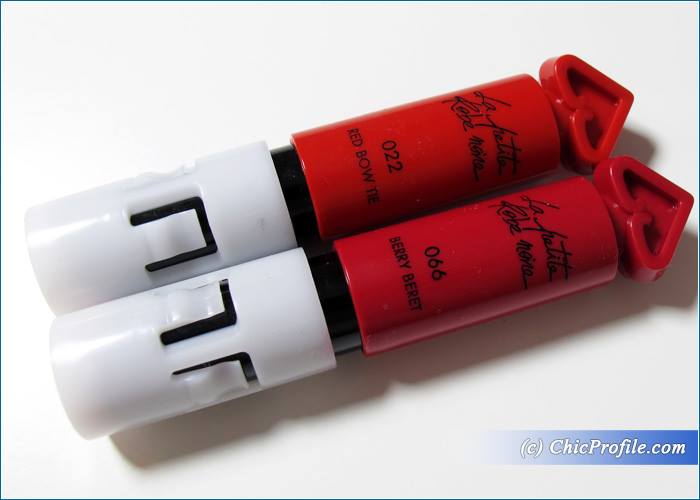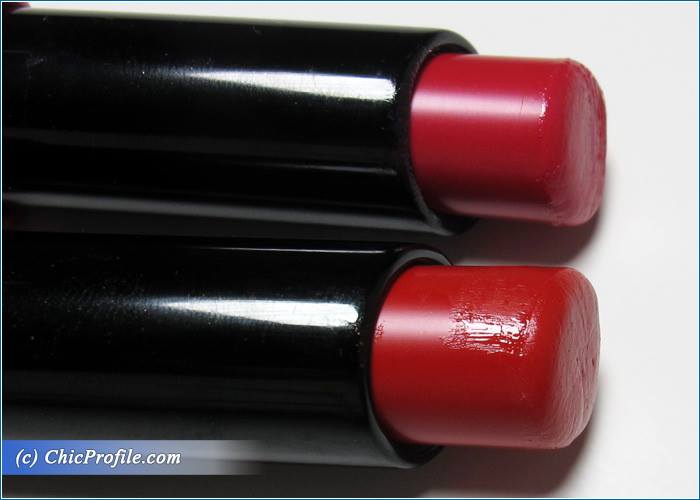 Guerlain Berry Beret La Petite Robe Noire Lipstick Swatches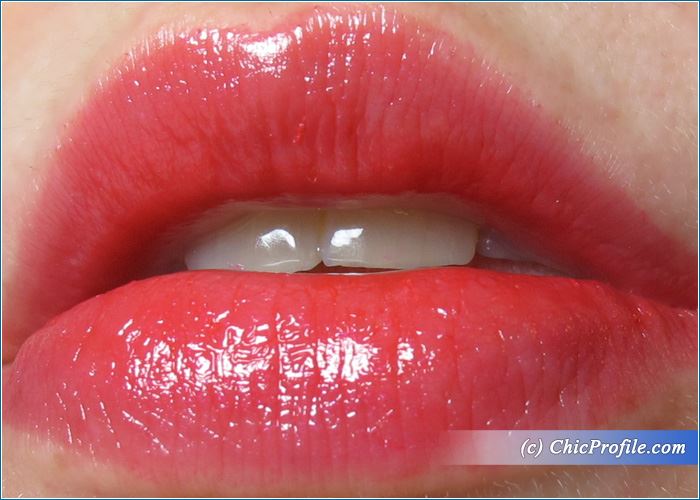 Guerlain Berry Beret La Petite Robe Noire Lipstick Lip Swatch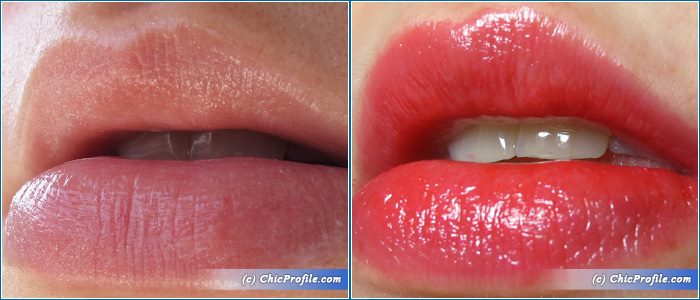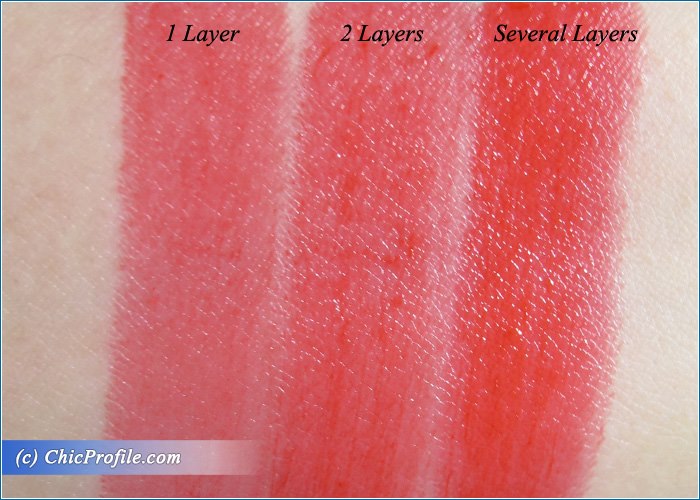 Guerlain Red Bow Tie La Petite Robe Noire Lipstick Swatches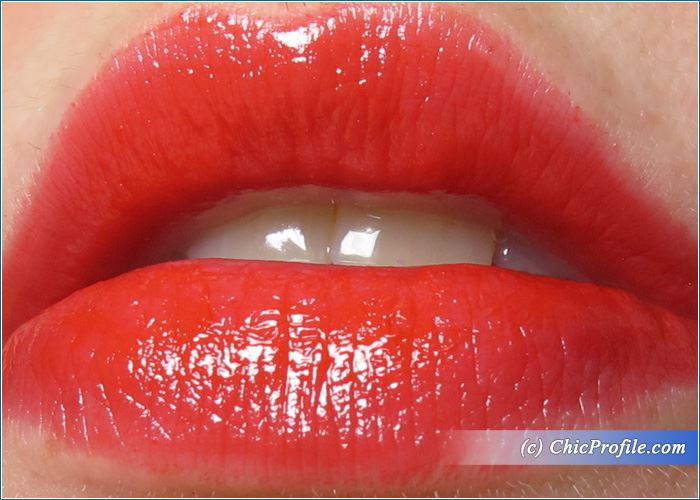 Guerlain Red Bow Tie La Petite Robe Noire Lipstick Lip Swatches