Hello beauties!
It's hard to think about Christmas Collections when I'm in vacation, sitting by the pool as I'm writing this post. I was waiting for Guerlain Holiday 2017 Collection official information for a while now. Actually, since the brand hosted the Press Event for this collection and the first sneak peek photos surfaced on Instagram. It's not a huge makeup collection but it has some gorgeous, limited edition, collector's pieces. I will definitely splurge on this collection since I'm liking everything it has to offer so far. Comparing to what other luxury brands are releasing for Holiday 2017, Guerlain is surely one that got the attention of many. I don't want to keep you waiting any longer so let's begin. I want to get back in the swimming pool ASAP! 🙂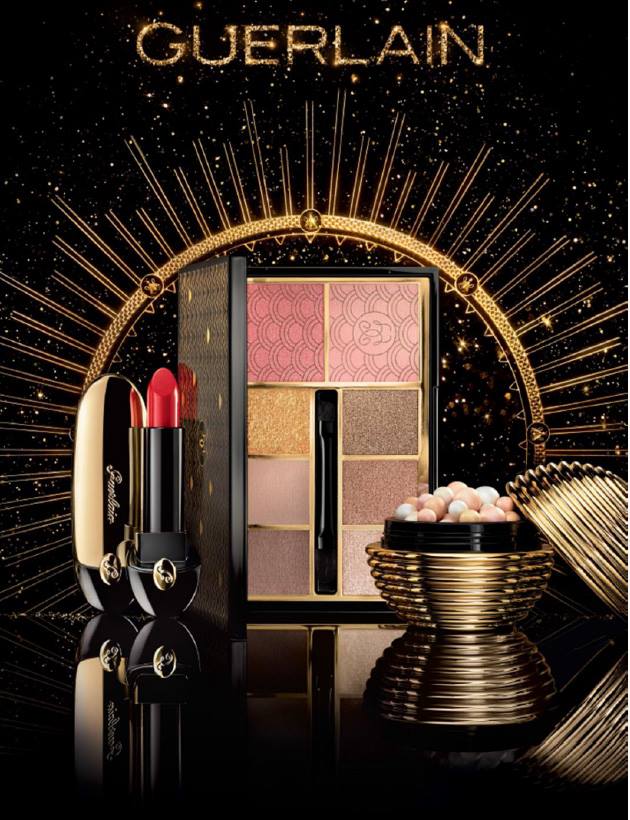 Availability
UK Launch Date – end October 2017 at Selfridges, Debenhams, Harrods
U.S. Launch Date – beginning October 2017 at Nordstrom, Neiman Marcus, Saks, Sephora
International Launch Date – November 2017 at Sephora, Douglas
Guerlain Holiday 2017 Collection
In his book A Moveable Feast (Paris est une fête), Ernest Hemingway overflows with love for the city of Paris. This year, Guerlain is celebrating the festive spirit embodied by the American Bohemians who settled in Paris during the artistic whirlwind of the twenties. The party begins in Paris, Guerlain's capital city, at 68 avenue des Champs-Elysées, the legendary address for lovers of beautiful things, and spreads its light all around the world.
Guerlain Gold Palette – New & Limited Edition – $80.00

In a lacquered compact with stylised palm leaf motifs inspired by Art Deco style, nestled in a black and gold case, the new Guerlain Gold Palette offers a complete make-up set (face, eyes, brows and lips) to create a Gold & Chic look that's a must for spending New Year's Eve with the Great Gatsby. Its Wet & Dry texture lets you intensify the colours each time you wet the brush. The shades can be applied on their own or layered, dry or wet, for a buildable result rising in a crescendo, from day to night. Just like changing your outfit for evening, the Guerlain Gold Palette offers an invitation to play with colour intensity and accents to create a host of unique looks.
Guerlain Gold Pearl Meteorites – Limited Edition – $65.00

This refined box in the style of an antique jewel holds the delicate Météorites pearls. For the first time this year, they come in golden colours (white, yellow, pink, champagne). This unique combination enfolds the complexion like a beautiful piece of jewellery that lights up the face. The Gold Pearl Météorites bathe skin in a halo of light, revealing all of its radiance.
Terracotta Gold Light – New & Limited Edition – $60.00

The Gold Light collector's edition is the Terracotta promise of a bronzed complexion enveloped in an iridescent veil. This sun-kissed highlighter, nestled in a reusable Art Deco jewel case, leaves a fabulous glow on skin of any colour. Shine during the day and dazzle at night.
Rouge G – Limited Edition – $55.00

Cast in a gold and black Fine Jewellery pack that reveals a mirror on opening, Rouge G adorns your lips with an incandescent stroke of colour. This season, Guerlain has designed two exclusive (limited-edition) shades for its star lipstick. Ultra-pigmented, creamy and plumping, it lets us play with different intensities and stays true on our lips all night long.
822 Glamorous Cherry – this red illuminates the complexion of brunettes
823 Flaming Red – creates an intense effect for blondes
Gold Light Top Coat – Limited Edition – $26.00

The Gold Topcoat enriched with golden sparkles adds a customised finishing touch to any look. Applied to the tips of lashes or the corner of the eye, its magnetic accents illuminate the eye area.
SHOP THIS POST