Hello beauties!
A beautiful makeup begins with a cleansing routine and this I believe is the most important step towards a healthy looking complexion. I've already announced a few months ago the upcoming launch of Guerlain Beauty Skin Cleanser Fall 2015 Collection (preview, personal photos) and I even had the privilege of testing the new Guerlain Eau de Beaute Micellar Solution and declared it my favorite right on the spot. As a combination skin type I prefer using skincare products with a light formula but this time Guerlain releases an exclusive skin cleanser collection which contains 5 products specially formulated for different skin types so you can have the best cleansing experience.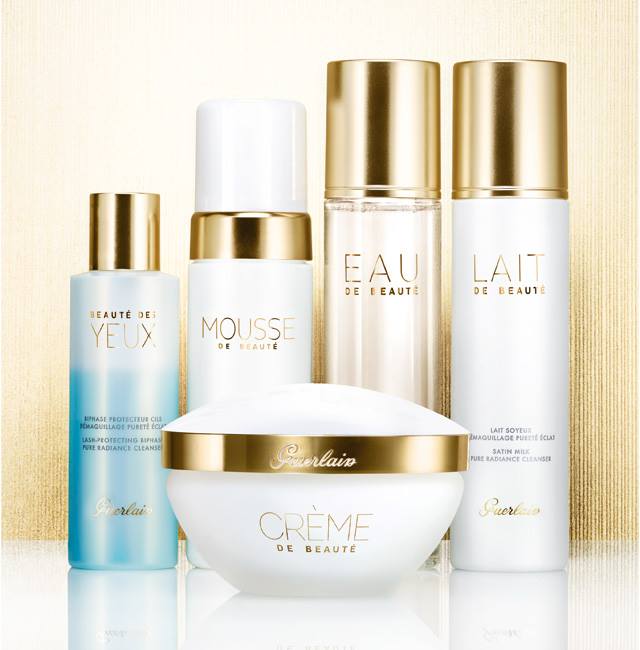 Guerlain Research is revealing the Beauty Cleansers line and bringing a real skincare dimension to make-up removal. The debris of the day vanishes at a touch and skin recovers its radiance and can breathe. True to its reputation for being passionate about fine raw ingredients, the House of Guerlain has chosen nigella flower, the symbol of perfection and serenity, for its Beauty Cleansers. A treasure from the Lands of the Orient, nigella flower with hypnotic blue petals boasts wonderful antioxidant and anti-inflammatory properties known since Antiquity.
A key ingredient in the Beauty Cleansers' formulas, nigella flower neutralises upstream the chemical oxidation reactions caused by pollution and UV rays. By renewing the level of glutathione (an antioxidant found naturally in the skin), it reduces cell oxidation and limits free radical production. Cell activity is reactivated. Freed of impurities, the skin can breathe again and reveals a vibrant glow.
Availability
Romania Launch Date – 15 July 2015 at Sephora, Douglas, Marionnaud, Kendra
U.S. Launch Date – 1 July 2015 at Nordstrom and online @nordstrom.com
International Launch Date – July 2015 at department stores and Guerlain counters
Guerlain Beauty Skin Cleansers Fall 2015 Collection
Guerlain Eau de Beauté Miceller Cleansing Water – New & Permanent – $59.00 / 243.00 Lei for 200 ml / 6.7 fl oz
The first essential skincare step, Eau de Beauté concentrates all the effectiveness of a make-up remover, cleanser and toner for quick and effective cleansing in just one step. This unique, almost gel-like liquid is applied with a cotton pad to refresh the skin like beneficial dew. Its micelles – surfactant molecules – gently cleanse and trap the slightest impurity and every last trace of make-up on the face and eyes, while toning the skin.
Guerlain Lait de Beauté Satin Milk – New & Permanent – $59.00 / 243.00 Lei for 200 ml / 6.7 fl oz

Lightweight and yet incredibly silky smooth and enveloping… Lait de Beauté removes all types of make-up with incredible results, whether on the face or eyes. Its generous texture melts under the fingers, leaving the skin satin soft and extremely comfortable. Skin is radiant, smooth and supple.
Guerlain Mousse de Beauté Gentle Foam Wash – New & Permanent – $59.00 / 243.00 Lei for 150 ml / 5.0 fl oz
The ideal complement to make-up removal, this luscious airy foam perfectly purifies the skin. Rich and dense, it gently cleanses and clarifies the complexion. It transforms into a silky cream on contact with water. Skin is soft, smooth and radiantly translucent. Its moisture levels are maintained*.
Guerlain Beaute des Yeux Lash-Protecting Biphase – New & Permanent – $55.00 / 222.00 Lei for 120 ml / 4.2 fl oz
This extremely fresh biphase oil gently cleanses eyes that are sensitive due to wearing contact lenses. It offers instant comfort and an amazing feeling of cleanliness. Its beauty secret? A fortifying active ingredient that strengthens the lashes* for eyes that are more beautiful with each passing day…
Guerlain Creme de Beaute Pure Radiance Cleansing Cream – New & Permanent – $78.00 / 335.00 Lei for 200 ml / 6.7 fl oz
More than a century after Crème Secret de Bonne Femme, Guerlain presents a new cleansing cream, Crème de Beauté, a make-up remover that offers the ultimate in sensorial cleansing. The richness and generosity of this creamy balm make each use a moment of pure bliss for all skin types.
The beauty step:
More than a mere cleansing technique, this ritual has been specially designed to offer skin a real moment of relaxation. Using a cotton pad soaked in water or Eau de Beauté, sweep over the eyelids to remove make-up. Apply Crème de Beauté in broad smoothing strokes from the middle of the face outwards, over the cheeks, forehead and neck, not forgetting the nose. Lather with water, massaging the skin with the fingertips in small circular movements. Dampen a soft cotton pad and remove impurities or rinse thoroughly with water for more intense cleansing. A moment of pure well-being, this massage is a real beauty ritual to soothe the skin and lift away deeply embedded impurities.
Enjoy more photos…