Hello beauties!
Guerlain Beaugrenelle Ecrin 6 Couleurs is a new and limited edition eyeshadow palette featured in the new Guerlain Bloom of Rose Fall 2015 Collection (info, photos) and contains a set of colors that range from nude, silver and navy blue. If you are fan of the brand you must have noticed the eyeshadow formula of the past Ecrin 6 or 4 Couleurs Palette, which was not the best so I was really eager to try out the new Guerlain Beaugrenelle Palette and see how it performs.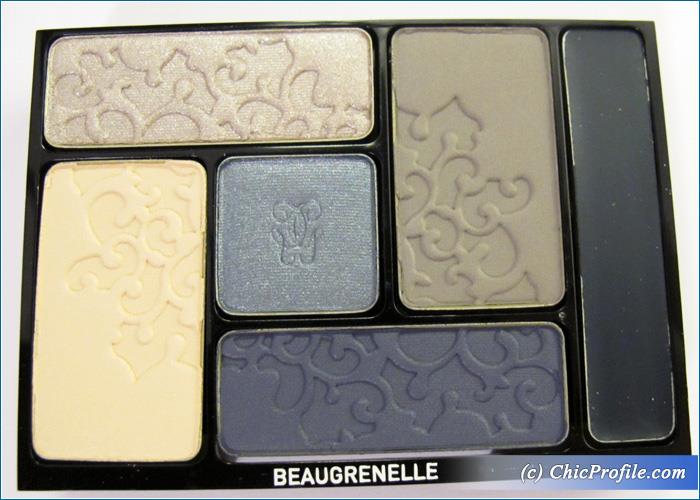 Availability
Romania – Now at Sephora, Douglas, Marionnaud, Kendra
U.S. – Now at Nordstrom, Sephora, Macy's, Neiman Marcus
U.K. – Now at Selfridges, House of Fraser, Harrods
Guerlain Beaugrenelle Ecrin 6 Couleurs Eyeshadow Palette (408.00 Lei / $93.00 for 7,3 g/ 0.25 oz) contains five eyeshadows and a dark blue eyeliner. I've already used this palette in several of my makeup looks so I'll be posting new makeup tutorials where you can see how these Guerlain Beaugrenelle eyeshadows look combined and blended together.
Beaugrenelle #1 is the lightest shade from this palette, a nude, bare skin skin shade, very light warm beige with a semi matte finish. For me it was so difficult to provide a swatch of this color as it was almost matching my skin color. I like to use this shade for blending, on my brow bone or everything I choose a "no makeup, makeup look" and I want to look as natural as possible. The formula felt soft and silky and it was so easily blendable but I definitely had to use an eyeshadow primer to make the color show a little bit. I had about 7 hours wear with this formula.
Beaugrenelle #2 is a light beige-taupe with a silver touch, gold pearl and a strong frosted finish. The color has a sheer-to-medium color coverage when applied over an eyeshadow base, otherwise it's semi-sheer, with mostly noticeable sparkling rather than color. The formula felt a little bit dry and it took a few layers to build the color. I had around 7 hours wear before it started to slowly fade.
Beaugrenelle #3 is medium, cool toned grayish brown with a matte finish. I found this eyeshadow to be the best of the entire palette as its texture is so smooth, silky and soft to the touch that is a real pleasure to swatch it or apply it effortlessly on your lid. It had a good color payoff, being mostly opaque when applied over an eyeshadow primer, it blended easily on the skin without any fall-out. Being a matte finish and such a medium cool toned gray, I like to combine it with other nude shades and wear it on the lid or blended into the crease. It's a versatile shade that can work its way into a day or night time makeup look. I had almost 8 hours wear with this formula.
Beaugrenelle #4 is the star color of this palette, situated right in the middle but unfortunately this had the lowest quality of them all. It's a muted, medium grayish-blue with a pearly-metallic finish. It has a medium color coverage when I applied it over an eyeshadow primer, but on its own I found it to be semi-sheer. It doesn't adhere well onto the skin so you must definitely use a primer before applying it. It blended easily but the more I blended the more it started to loose its pigmentation. This one wore on me for a little over 6 hours.
Beaugrenelle #5 is a dark navy blue with cool undertones and a matte finish. It has a good color payoff, looks intense and pigmented, especially applied over an eyeshadow primer which also facilitates an even application, without fall-out. It wore on me for 8 hours.
Beaugrenelle #6 is a dark black navy blue with a matte finish. It's a cream eyeliner that applies a little bit unevenly so I choose to wear it underneath my lower lash lash line and then smudged with a brush. I like to apply Beaugrenelle #5 shade on top of it and you'll see me wearing it in my upcoming makeup tutorial. It wore on me for almost 9 hours.
Enjoy more photos…