Hello beauties!
I want to mention Gucci Guilty Sensual Massage Gel today as it's a product that got my totally by surprise…when I least expected. The other month when I was shopping at Douglas (see what I got, photos) for some new beauty and skincare items I was telling you that I was pretty impressed with the complementary gifts that I received. Among those gifts was Gucci Guilty Sensual Massage Gel along with black cosmetic pouch that you see in the photo bellow.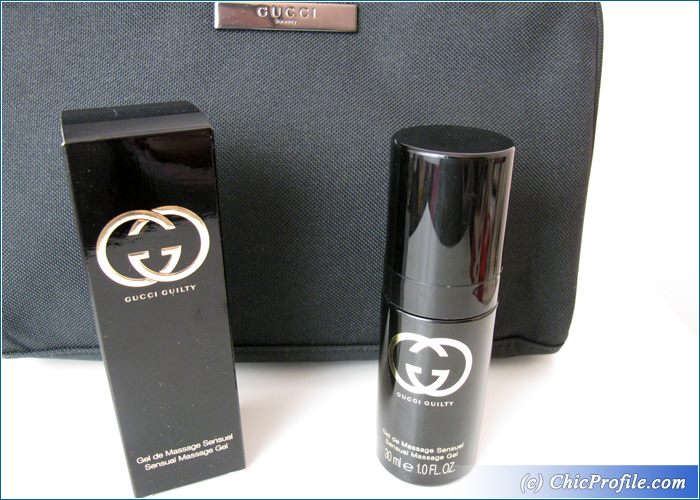 Where to buy:
U.S. – Now at Macy's (as GWP with a Gucci fragrance) and online @ebay.com
Romania – Now at Douglas (as gift with purchase)
Internationally this massage gel is received with a purchase of Gucci Guilty fragrance but it was not my case, as I was shopping only for Guerlain and Clinique at the time. It was a nice surprise though, to check out this product as it comes in a heavy black opaque bottle which hosts 30 ml / 1.0 fl oz of product. I do like the packaging, very classy, dark and mysterious at the same time and the bottle reveals a pump applicator which is quite nice to use.
It's a transparent gel with a very light and almost creamy texture, that glides on smoothly across the skin, embracing it in the Gucci Guilty fragrance.
This is obviously a product that would go great with the entire Gucci Guilty fragrance and bath & body line as it will pro long the scent. It has a pretty intense fragrance, which persists on the skin for the entire day.
I personally  like to apply Gucci Guilty Sensual Massage Gel after I take a bath and simply caress my entire body with its scented formula. It does make my skin feel so soft and smooth, without any oil or greasy residue and sinks quite quickly into the skin.
I even applied it on my neck two times and I didn't feel the need to wear any perfume that day.
Enjoy more photos…