Hello beauties!
As you know summer season approaches so today I want to show you a couple of Golden Lip Glosses that will look great on every skin tone, especially if you have tanned skin. These shades that I picked will make your lips look fuller as they have an intense shiny finish without being sticky or tacky but they will also give you a natural summery look. You can wear pair a golden lip gloss with a natural makeup, an Arabic look or when you choose to wear peachy and coppery shades.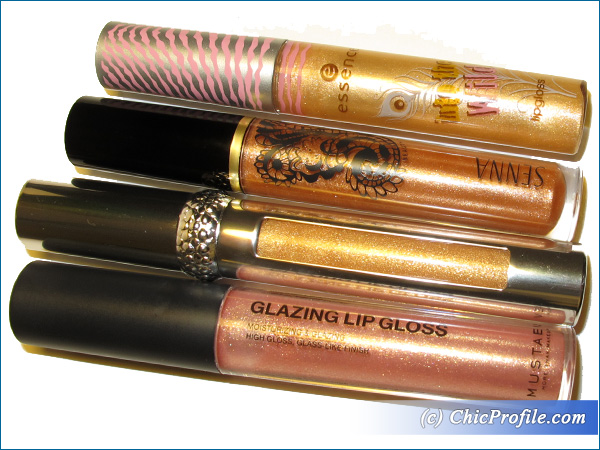 Since summer is just around the corner I like to wear glosses with a semi-sheer color coverage, with an intense shine and lots of golden and silver particles. I'm loving that mirror-like effect on the lips, that makes them look fuller and plumed. If you have smaller lips,  wearing a light lip gloss shade with an intense glossy finish and shimmer will really help you create the effect of bigger and fuller lips.
MustaeV Golden Peach Glazing Lip Gloss (review, swatches, photos) ($18.00 for 4.5 ml) is a light peach with a golden pearl that provides an intense shine. It has become my go-to lip gloss shade when I want a natural look where my lips are the center of attention as they look fresh, healthy and glossy.
La Prairie Firefly Glace Cellular Lip Colour Effects (review, swatches, photos) ($40.00 for 7.5 ml/ 0.25 oz) is a light true gold with peachy and gold shimmer. This color delivers an intense shine and feels lightweight and comfortable on the lips without being sticky or tacky. It has a very moisturizing formula which also contains Vitamin C and Aloe Vera.
Senna Sunstone Lip Lacquer (review, swatches, photos) $20.00 for 0.14 fl oz/ 4.28 ml) is described as a sparkling golden amber. This is a slightly darker shade but which still looks natural on the lips providing a semi-sheer color coverage. It feels lightweight on the lips without feeling sticky at all. It contains ingredients like Shea Butter, Grape Seed Oil, Jojoba Oil and Mango Seed Butter infused with mega vitamins so your lips will never get dry while you are wearing this shade.
Essence Beat The Heat Lip Gloss (8.5 ml/ 0.28 fl oz) is a limited edition shade which was released quite some time ago. It is a light gold with a pearly and shiny finish. This could be a great option for a summery lip color and can be applied over a nude lipstick as well to give it a plus of shine and sparkle.
Here are some swatches so you can decide if these shades are something you will consider wearing this summer…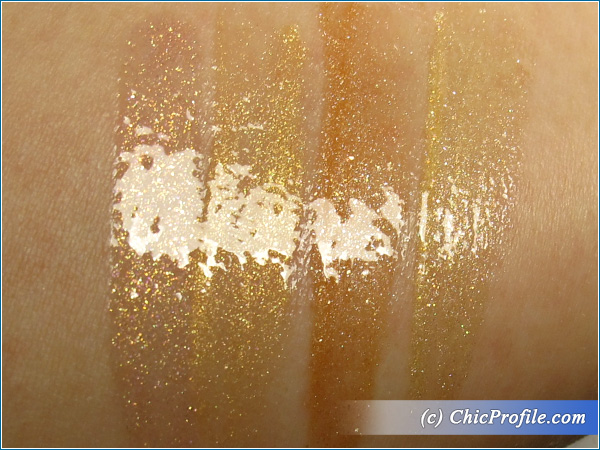 Swatches from L to R: MustaeV, La Prairie, Senna, Essence