Hello beauties!
I have exciting news to share with you today as I had a closer look at the new limited edition Givenchy Vinyl Fall 2015 Collection (info, promo images). I was looking forward to seeing this collection up close and to be able to swatch it for you, as the concept of vinyl seems to interesting, mysterious and appealing at the same time. I'm really excited about the idea of a Givenchy collection presented in a shiny aura so I invite you to discover it right after the jump.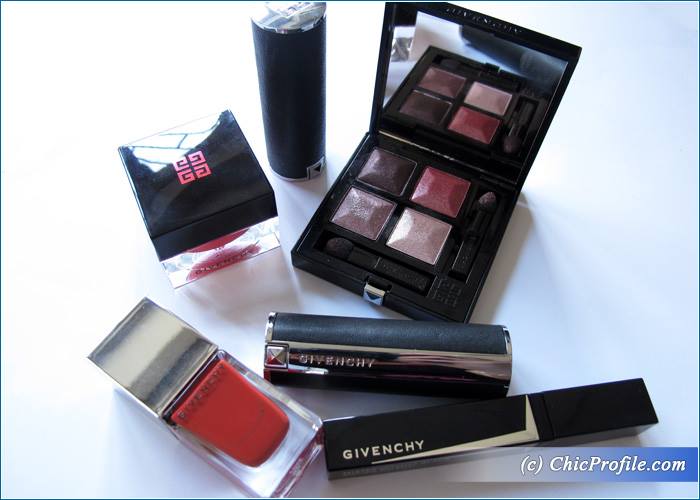 Availability
Romania Launch Date – September 2015 exclusively at Sephora
UK Launch Date – end August 2015
Givenchy Vinyl Fall 2015 Collection
Metallic Reflection Palette – £38.50 / 250.00 Lei
Mister Intense Black Mascara Top Coat – £20.00
Blush Memoire de Forme in Rose Delicat – £26.00
Liner Vinyl Brush Tip Eyeliner – £23.50
Gloss Revelateur Intense – £21.50
Le Rouge Givenchy Rouge Acajou No 318, Givenchy Rouge Intense 319 – $36.00
Le Vernis Givenchy Rouge Acajou No 28
My eyes first stopped on Givenchy Metallic Reflection Palette which features four eyeshadows with a shimmer finish and a new Metal Aquarelle formula with aluminium powder pearlescent particles, which are coated in a thin layer of silica. Bellow you can swatches (without an eyeshadow primer) of these eyeshadows which have a extremely metallic base and provide an intense shine, but there's that dark red color that is leaning more towards a satin finish. I'm hoping to review this palette next week so I'll revealing more details and photos soon.
Mister Intense Black Mascara Top Coat promises to coat the lashes, making them look more dense without clumping them or adding any thickness and can be applied over your mascara, acting just like a top coat.
Givenchy Blush Memoire de Forme in No.01 Rose Delicat is a pop-up jelly blush in a fresh cool-toned rosy shade with a juicy finish which is meant to enhance your complexion. I love its flattering rosy hue that can be easily blended in the skin and suitable for every skin tone.
Le Vernis Givenchy No. 28 Rouge Acajou seems like a classic elegant red and it's also available in a limited edition.
Le Rouge Givenchy in No.318 Rouge Acajou and No.319 Rouge Intense are two new limited edition red shades with high color payoff, that applies smoothly and look opaque on the lips. There is a warm and a cool toned shade, they are both intense, rich and pigmented and have a subtle matte finish. The leather packaging is classy, refined and elegant.
Enjoy  more photos…