Hello cuties!
The new collection of Givenchy Rouge Interdit Vinyl for 2016 is almost ready to hit counters here in Europe. Keeping the same trendy, chic and modern style, the new Rouge Interdit Vinyl lipstick colors are bold and vibrant.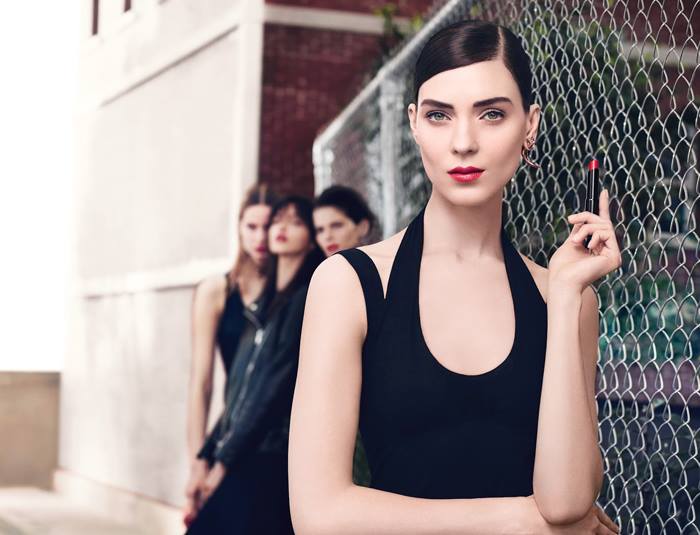 Interdit Vinyl is more than a lipstick: It is an expression of style, it's chic and fancy, fashionable and unique, luxurious and urban at the same time. It becomes a sign of recognition for beauty addicts, who are not afraid to establish their own style rules. Welcome to the clique of Givenchy-insiders, where boldness is written on the lips.
Availability
Europe Launch Date – 1 February 2016 at Marionnaud
Givenchy Rouge Interdit Vinyl – New & Permanent – $33.00 / €33.00
The formula of the new Givenchy Rouge Interdit Vinyl, contains black rose oil, an equally mysterious as fascinating, valuable and rare ingredient that supplies the lips with moisture and keeps them ultra smooth. In addition silicone resin, which coats the lips surface with a fine, soft glossy film that feels like a second skin. Together, both ingredients give lips a spectacular vinyl shine combined with maximum color impact. No less astonishing is the effect of soft focus, which compensates for minor irregularities and reflects the light, so Rouge Interdit Vinyl is overwhelming for every angle.
Noir Revelateur, the most interesting nuance from the entire color spectrum is absolutely mysterious. Wonders of the pigment chemistry, due to its composition this universal lipstick reacts depending on the pH of the lips and delivers different colors, between purple and plum, offering the lips a fascinating sensual and unique transparent effect. It can be combined and used as a top coat with any other lipstick, while it darkens the color, creating a much stronger and intense effect. You can turn every bright summer lip shade into a dark, mysterious winter shade while every daytime lip color turns into a refined evening hue.
Shades:
Nr. 1 Nude Ravageur
Nr. 3 Rose Mutin
Nr. 4 Rose Tentateur
Nr. 6 Rose Sulfureux
Nr. 8 Orange Magnetique
Nr. 9 Corail Redoutable
Nr. 10 Rouge Provocant
Nr. 11 Rouge Rebelle
Nr. 12 Grenat Envoutant
Nr. 13 Rose Desirable
Nr. 14 Violine Troublant
Nr. 16 Noir Revelateur
Enjoy more photos…