Hello beauties!
Givenchy Les Saisons Makeup Summer 2016 Collection is so beautiful as it contains limited edition products that are meant to give skin a luminous, bronzy but natural look. Metallic finishes and jelly textures are what Givenchy Les Saisons 2016 is all about. The new Givenchy Mister Radiant Blush looks amazing and I can't wait to give it a try, while Givenchy Poudre Bonne Mine is perfect to achieve that natural, sun kissed complexion effortlessly.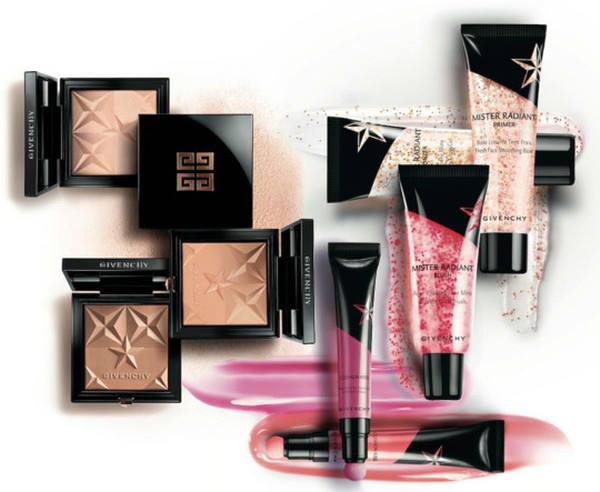 Availability
U.S. Launch Date – March 2016
UK Launch Date – April 2016
International Launch Date – May 2016
Givenchy Les Saisons Makeup Summer 2016 Collection
Givenchy Poudre Bonne Mine (Healthy Glow Powder) – New & Limited Edition – €52.00 / £36.00
This gorgeous bronzing powder it gives a luminous healthy glow with a soft metallic finish.
Shades:
Moonlight Saison
Premiere Saison
Douce Saison
Ambre Saison
Extreme Saison
Givenchy Mister Radiant Bronzer Healthy Glow Gel – €42.00
Givenchy Mister Radiante Premier Fresh Face Smoothing Base – €42.00 / £25.00
Givencny Mister Radiant Blush (Healthy Glow Brush) – €42.00 / £25.00
Is a water-gel based formula which comes in a fresh pink shade.
Givenchy Cushion Kiss Baume Gloss Douceur – €27.00
Shades:
01 Coral Kiss
02 Berry Kiss
Givenchy Khol Couture Waterproof Eyeliner – €20.00 / £16.00
Shades:
01 Black
02 Chestnut
03 Turquoise
04 Electric Blue
05 Intense Green
06 Purple
Enjoy more photos…