Hello lovelies!
I received this deluxe sample of Giorgio Armani Red to Go (402) Ecstasy Lacquer when I did some shopping for Armani makeup (preview, photos) about two months ago at Selfridges. I showed you back then what products I brought home with me that day as I was really interested in trying out the new Giorgio Armani Ecstasy Lacquers (info, photos) and some newness from their holiday 2015 collection. I got to swatch a couple of them right there at Armani counter and I instantly fall in love with Maharajah (506) Ecstasy Lacquer (review, swatches). Even though my Red to Go shade is a travel size sample, it would have been a pity not to review it and tell you more about its formula and especially show you how gorgeous it looks on the lips.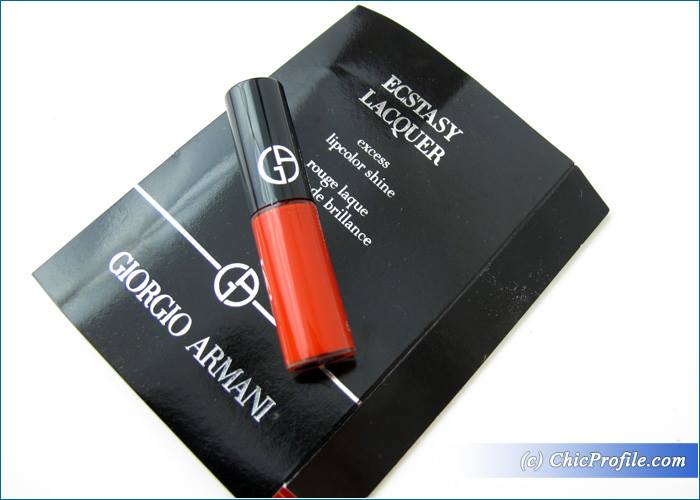 Where to buy
U.S. – Now at Sephora, Nordstrom, Saks Fifth Avenue and @giorgioarmanibeauty-usa.com
UK – Now at Selfridges
Giorgio Armani Red to Go (402) Ecstasy Lacquer ($38.00 / £27.00 / €32.50 for 0.20 fl. oz.) is a fiery, intense orange-red with warm undertones and  a high-shine finish. The color is almost opaque in one layer and easily buildable up to full opacity if you and one or two more layers (let the lacquer dry between applications).
Even though I can't say I'm super excited about the color (you know me, a true fan of pink) I can't deny its beauty. It's truly a classy, very elegant and glamorous shade which will definitely get you noticed and make you feel so confident and seductive.
The beauty of Giorgio Armani Ecstasy Lacquers is that you can wear them as you like, with a semi-opaque coverage in a single layer or get a more intense and pigmented color as the formula is buildable.
Truly an interesting product I would say, the first one I've ever tried and I'll tell you why. It has a watery texture, but feels very creamy and lightweight on the lips and actually works like a 3-in-1 product. The texture dries down quite quickly on the lips and thickens, resembling a gel-like formula, but it's still amazing lightweight not to mention that gorgeous high-shine finish. My lips felt smooth while the lacquer did made me look fuller as it doesn't sink into lip lines at all. It doesn't feel sticky or tacky at all and after the lacquer dried down is like sealing your lips with a gorgeous intense rich and super shiny color.
The formula has quite a strong floral scent that is still noticeable on the lips for about 1 hour wear.
The Ecstasy Lacquer is one of kind lip product, as it delivers the shine of a lip gloss with the color and hydration of a lipstick and wears for hours on end just like a lip stain.
I had about 8 hour wear with color and when it wore off it left an even stain. I could still feel my lips lightly hydrated and soft. If you like this kind of color, I would definitely recommend you give it a try, as I don't know you will ever be disappointed.
Enjoy more photos…