Hello beauties!
Estee Lauder The Ultimate Makeup Kit or also known as Give Every Shade Palette for Holiday 2015 (promo photos) is a limited edition release which contains 3 customizable palettes featuring 10 shades each, two Pure Color glosses and one full size Intense Kajal Eyeliner. I personally got this set in early November while I was in London because I didn't see it available here at Sephora and I didn't even believe it will be available.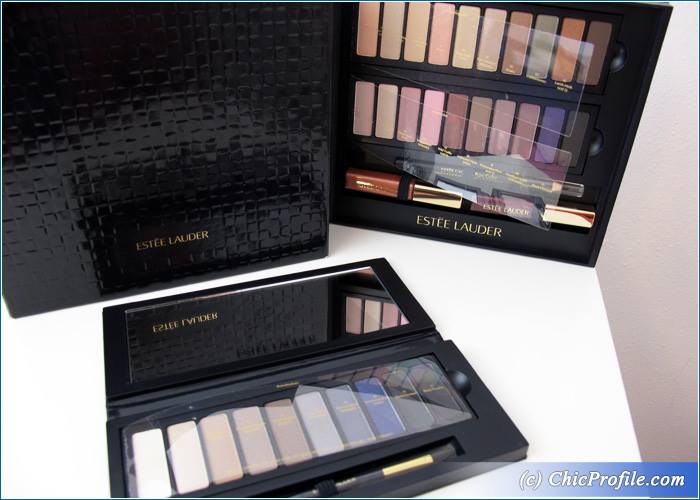 Availability
U.S. & UK – available in a limited edition at Estee Lauder Counters
Estee Lauder The Ultimate Makeup Kit ($49.50 / £55.00) features three palettes in Smoky Skies, Tempting Nudes and Steel Orchid, along with a card that reveals two makeup tutorials ( one for day using subtle shades and the other one for night using bold colors) for each palette, but also two deluxe sample size Pure Color Lip Gloss shades in Plum Divine and Praline Paradise, along with a full size Blackened Black shade of Pure Color Intense Kajal Eyeliner.
For the past few weeks, I've been playing with all these palettes and tried to create the looks featured in the card that came with the kit. The first palette I tested was Estee Lauder Steel Orchid and if you know me well enough by now is not easy to guess why…because it has pink, purple and nude shades combined.
Right from the start I'll tell you that I believe this kit is a great deal for its money considering you get 30 Estee Lauder Pure Color Eyeshadows which comes in 3 palettes, that you can easily switch between each other and place them in the original palette that comes with the kit which also features a mirror and a dual-ended eyeshadow brush.
Estee Lauder Smoky Skies Palette contains a variety of shades from the lightest one to beige and browns while ending with smoky colors like blue, gray and black. Obviously this palette is more suitable to use it if you want to create a smoky or intense eye look, perfect for a party or night-time appropriate makeup. The colors swatches in the photos bellow were applied without an eyeshadow primer but the darkest shades were not so intense and pigmented as I would want. They applied well, without any fall-out but they were not so intense as I would like them to be. The palette offers a variety of textures as well from satin to shimmer and matte
Shades:
Sugar Cube (Satin)
Waves
Sepia Sand (Satin)
Tempting Mocha (Shimmer)
Wild Truffle (Matte)
Silver Bell (Shimmer)
Peacock Blue (Shimmer)
Nocturnal Blue (Satin)
Black Chrome
Black Chrome
Estee Lauder Tempting Nudes Palette features as the name itself suggests only nude shades from the lightest to darkest ones in matte and satin finishes. This is the perfect palette to use if you want to create a day to day look which is office appropriate or any other look that requires a natural makeup. The first 5 shades which are the lightest have also a semi-sheer to medium color coverage while the darker ones are a bit more pigmented. They all apply easily and evenly, without any fall out but they tend to fade a bit after 8 hours wear.
Shades:
Ivory Slipper (Satin)
Sugar Biscuit (Satin)
Sandbar Beige (Matte)
Nude Fresco (Satin)
Khakis
Sepia Sand (Satin)
Hot Cinnamon (Shimmer)
Khakis
Cobblestones
Lavish Mink (Matte)
Estee Lauder Steel Orchid Palette my favorite from this set as it features pink, purple, black and nude shades, just the ones that I usually like to use. I recently created a bold makeup look using this palette and I'll be posting it in the upcoming days. I personally love the first 5 shades of this palette as they were more easy to work with being satin finish, while the rest of them were a little bit powdery and didn't have such a good color payoff. I had about 8 hours wear with them without any fall-out or creasing.
Shades:
Pink Flash (Shimmer)
Waves
Tranquil Moon (Satin)
Candy Crave (Satin)
Smoky Ember (Shimmer)
Wild Truffle (Matte)
Iridescent Violet (Satin)
Provocative Plum (Matte)
Amethyst Spark (Shimmer)
Black Chrome
Enjoy more photos…
Estee Lauder Pure Color Gloss in Praline Paradise is a light caramel peachy shade with a shimmer finish. It has a sheer-to-medium color coverage with a semi-sticky formula. It makes lips appear fuller, giving them a fresh and natural look due to its shimmer particles. I like this color for a natural look, on a every day basis. I have about 3 hours wear with this formula if I don't eat or drink.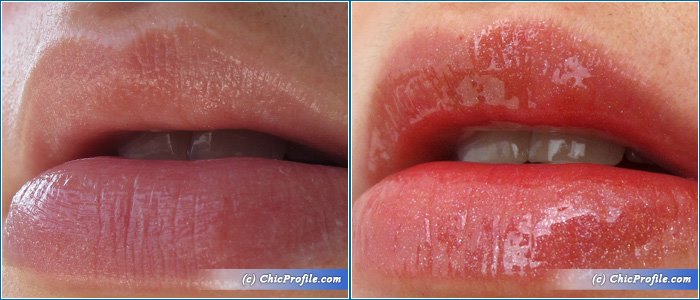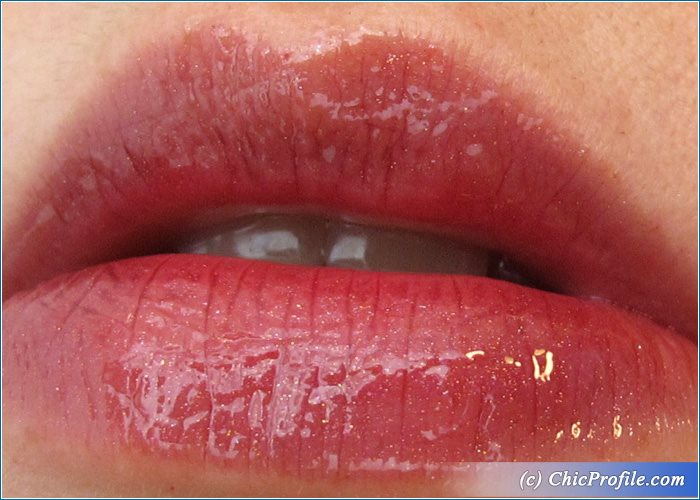 Estee Lauder Pure Color Gloss in Plum Divine is a dark cherry with cool undertones and a shimmer finish. This color is more intense, so I would wear it in the second part of the day. It gives lips a nice shine with multi gold shimmer particles but it tend to sink into lips lines. It has the same semi-sticky formula like the other shade but it delivers a medium opacity with a bit of translucency. It looks even better applied over a dark lipstick color. I had 3 hours wear with this formula without having a meal, otherwise it tends to fade quite quickly.