Hello sweeties!
Estee Lauder Pure Color Envy Liquid Lip Potion line was launched internationally back in August 2015 and includes a range of 16 permanent colors. Last month I got me two of the violet shades, so today I will share with you my impressions on Estee Lauder No.440 Savage Garden Pure Color Envy Liquid Lip Potion. First of all I would like to mention that this color is not available in Romania, at least at Debenhams they didn't have it. Usually not all the shades arrive here, but it's such a pity for this one.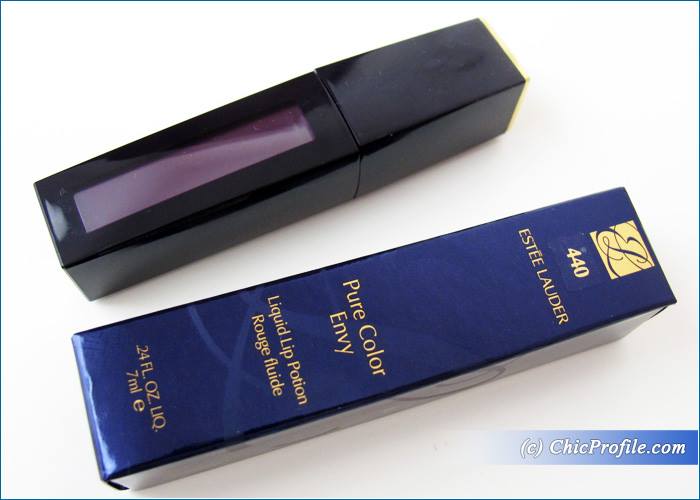 Where to buy:
Romania – Now at Douglas, Debenhams, Sephora
International – Now @esteelauder.com, Sephora, Selfridges
Estee Lauder Savage Garden (440) Pure Color Envy Liquid Lip Potion ($30.00 / £25.00 / 152.00 Lei for 7 ml / .24 fl oz) is a very dark mauve-eggplant with cool undertones and a wet shiny finish. It has an amazing color payoff, being so pigmented, rich and deep that looks opaque in just one swipe.This is the kind of color that I would describe as edgy and with an attitude and it will make you stand out in a crowd. The fact that it's so dark and heavily pigmented might scare those with fair and light skin tones, but even though I'm one of you, I still wanted to give it a try.
I can definitely make it work, paired with a more natural and simple eye makeup and let the entire look be expressed by the rich color on the lips.
It goes on so smoothly and evenly across the lips, without emphasizing lip lines or sinking into the them. The formula is creamy but feels very lightweight but it doesn't dry down completely so this is where you'll get that nice and natural shiny finish.
Your lips will feel moisturized and hydrated from beginning to end, I thing that I absolutely love, having my lips nourished throughout the wear while they are wrapped in a dark, intense color without being matte. Usually matte lip colors last the longest but they always dry out my lips terrible so I can't afford to suffer just for the sake of a long lasting color.
With Estee Lauder Pure Color Envy Liquid Lip Potion things are almost perfect, as the formula is enriched with avocado, jojoba, and sunflower oil. The way that Estee Lauder describes this product is a hybrid liquid lipstick, which definitely means a high pigmentation, long lasting formula and a decent amount of shine. Sometimes I have the impression that I'm not wearing anything on my lips, this is how lightweight the formula feels on me.
As mention before in my Estee Lauder True Liar Pure Color Envy Liquid Lip Potion review, the only minus this formula has, in my opinion, is the fact that because it will not completely dry down, it can easily migrate to teeth and be transferred on a glass of cup of coffee. Just so you know, this product is not kiss-proof so don't try kissing someone while you are wearing it, especially if you are wearing one of the darker colors like Savage Garden here.
The formula is a bit vanilla scented with no discernible taste to me.
I got about 6 hours wear with this color, which is pretty good but definitely not the 8 hours promised by Estee Lauder in the official description.
Estee Lauder Savage Garden Pure Color Envy Liquid Lip Potion is the kind of shade which will be perfect for people who want to dip their lips in the waters of intense.
The packaging is pretty classy and mysterious at the same times with a new innovating dual-sided applicator that allows you to shape and color with precise definition. A lip liner is not that necessary in this case as the rounded tip follows the curves of my lips while the other side of the applicator holds extra color to deliver more pigmentation.
Enjoy more photos…