Hello beauties!
This beauty named Estee Lauder Pure Color Envy Sculpting Eyeshadow Palette was a limited edition release part of Estee Lauder Holiday 2016 Blockbuster (quick review, photos). I can't say I really wanted to have this palette but I did want the entire blockbuster set for all the products, especially for the full size ANR serum. I bet you've seen some of the shades from this palette in previous collections and to tell you the truth they are easily dupable, but for someone who's new to Estee Lauder products or is looking for these exact shades, this palette is worth a try. It comes with two full size lip glosses as well, which you can attached to the palette and I really like this idea as it keeps the gloss in one place and it won't feel in your purse if you decide to take it with you on the go. So you can follow me right after the jump for a review and closer look at the photos and to check out the colors that you may find in the permanent collection.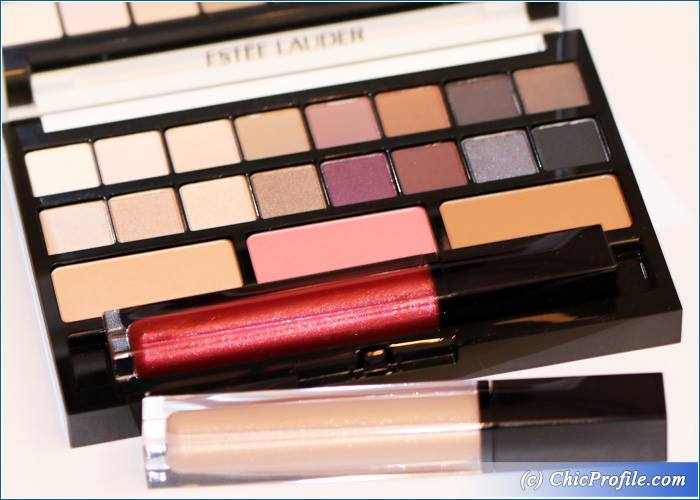 The palette features 16 eye shadows, a highlighter, blusher and a sculpting shade, but doesn't come with any applicator or brushes. The plastic compact snaps shut and it's quite sturdy, easy to hold and has a classy black and white design. It's not the most interested packaging I've seen but not the worst either so the palette comes as an average for me.
The cheek colors have a good color payoff but without being very intense or extremely pigmented and I believe the blusher will be appropriate for those with light or medium skin tones. The light peachy pink blush will give your cheek a nice, fresh pop of color but it will look very gently, more like a wash of color. You can easily build the coverage up to a medium at least. The highlighter is a nice touch to this palette, a very light peachy champagne shade which doesn't look extra shimmery. The sculpting shade would be great for those with light skin and I don't think it will make much difference for the rest if you want to use to sculpt your cheeks.
The palette offers mostly nude and brown shades with a touch of purple, gray and black while the finishes range from matte to satin and shimmer. I admit it's a easy dupable palette and features shades that can be used for day or night makeup look. It's not as colorful and vibrant as some of you out there may prefer but it leans more towards classy shades.
Being a green eyed girl I like the mauvy and purple shades and a casual natural makeup look is usually what I'm aiming for in the day. You have a couple of dark browns and black for a smoky eye makeup look or something more intense and pigmented.
The first four light shades from the top had a good color payoff, with a medium pigmentation and applied well, without any fall out or creasing. The texture was smooth, finely milded and felt very soft to the touch. I was impressed to see they adhere well onto the lid and they were easily blendable. Some of them kick a bit of excess powder in the pan when I picked the color with my brush.
The first four shades from the bottom row made quite a good impression on me. They had a good pigmentation, considering all the swatches were made on bare skin. Even though I'm talking about light colors they shown medium to full coverage and they were easily blendable.
Now the darkest shades of the palette even though they look like medium to dark or deep colors, they don't transfer so well onto the skin. As you can see from the swatches bellow some of them look uneven and patchy and it takes up to 2-3 layers of color to hide that. An eyeshadow primer is definitely a must for these shades as they perform a lot of better but what I liked was the fine and smooth texture.
I had around seven to eight hours wear with these shades but I noticed the light shades were behaving better.
I'll be reviewing the two lip gloss colors in a different article so stay tuned if you want to know more.
Enjoy more photos…