Hello beauties!
I hope you are ready to receive news about Estee Lauder Fall 2014 Collection because there are a lot of new, beautiful and luxurious items waiting for us in the next season. First of all there will be 10 new Pure Color Envy Sculpting Eyeshadow 5-Color Palettes with a luxurious and elegant packaging just like the one of Pure Color Envy Lipsticks. The new chic compacts in dark blue and gold with a magnetic close are just pure luxury for eyes offering versatile colors. 5 new Pure Color Envy Sculpting Lipsticks will be joining the collection at the beginning of fall as well as 5 new Pure Color Nail Lacquers in matte finishes.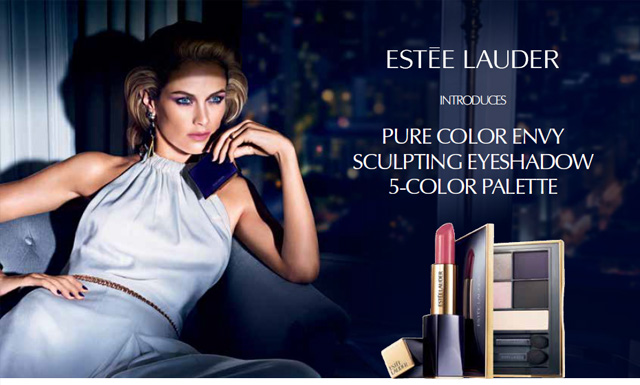 Availability
U.S. Launch Date – beginning August 2014 at Nordstrom, Macy's and all Estee Lauder counters
U.K. Launch Date – beginning September 2014 @esteelauder.co.uk
International Launch Date – September 2014 at Sephora, Douglas
Pure Color Envy Sculpting Eyeshadow 5-Color Palette – New – $50.00 / £40.00
Defiant Nude
Currant Desire
Ivory Power
Untamed Teal
Provocative Petal
Infamous Sky
Rebel Metal
Fierce Safari
Fiery Saffron
Envious Orchid
Captivate
A new collection of sophisticated color palettes designed for ultimate versatility. Dramatic, rich hues accentuated with timeless nudes, create a perfectly framed and shaped look. Lighter shades lift and illuminate. Mid-tones shape and contour. Deep tones define with a smoky allure. Now transform from deceptively innocent to seductively smoky with one superluxe palette. Each one, a mix of carefully edited modern tones and textures, from velvety mattes, creamy satins, and lustrous pearls to striking brilliance. Be the envy of the room.
Sculpt
Eyes look sculpted with high intensity color that stays true all day. Accentuate eyes with gorgeous color – highlight, illuminate, shape and contour – and with our Advanced True Vision Technology that utilizes pigments and pearls with multi-faceted color spheres to add the ultimate dimension.
Blend
This lightweight powder is ultra-fine, silky smooth and luxuriously comfortable. Shadows are designed to be applied dry
for a creamy plush look or wet for high-couture impact. A completely modern formula allows colors to glide on effortlessly
and blend to perfection. Be the artist with each palette – effortlessly create a natural, intensified or dramatic look by choosing different shade combinations.
Style
Designed to complement the luxurious Pure Color Envy Sculpting Lipstick, this new compact design is powerful, yet feminine. Its lines are contemporary, with a strong, sleek and elegant style. The striking navy mirrored compact features a chic gold trim and embossed Estée Lauder logo which reflects the signature color cues of the brand. An innovative, magnetic closure clicks the palette perfectly into place. It's a statement in pure glamour.
Pure Color Envy Sculpting Lipstick – New Shades – $30.00 / £24.00
Complete the look with Pure Color Envy Sculpting Lipstick. A collection of five NEW shades designed to intensify lips
with saturated color. Sculpt with multi-faceted pigments. Hydrate with continuous moisturization. The ultimate object of a
woman's desire.
Pure Color Nail Lacquer – New Shades – $21.00 / £14.50
Heart Beet
Diva Moment
Negligee
Arm Candy
Dark Desire
I will update this article with more photos very soon so don't forget to check back.