Hello beauties!
You already know about the limited edition Estee Lauder Deluxe Eye Palette from my unboxing Estee Lauder Holiday 2015 The Artist Makeup Collection video but today I want to give you a closer look at this item by posting a full review, swatches and close-up photos. The palette is featured in the latest Estee Lauder Artist Makeup Collection ($59.50 / £54.00) (preview, photos) which can be purchased now at any Estee Lauder counter if you also buy any Estee Lauder fragrance.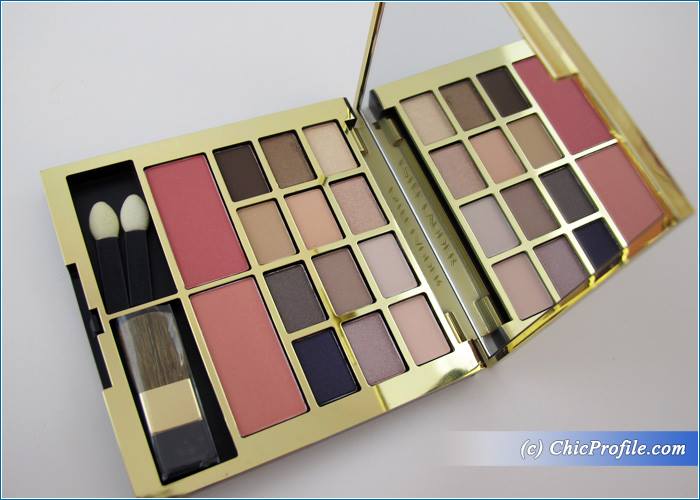 Availability
U.S. – Now at Estee Lauder counters and online @esteelauder.com
UK – Now at Selfridges, Boots, House of Fraser, John Lewis and online @esteelauder.co.uk
Estee Lauder Deluxe Eye Palette contains 12 shade of Pure Color Envy Sculpting Eyeshadow (.01 oz / 4 g each) and 2 Pure Color Blush (.08 oz/ 2.3 g each) shades. The packaging is absolutely ravishing, as the elegant golden case gives it that luxurious and elegant touch.
The palette features mostly nude, gold, bronze and earthy colors but there's also one dark violet among them. The blushes come in in soft shades of pink and peach, classical colors for a day to day makeup.
If you are into a neutral makeup this palette is a good deal for your money, and I personally would love to use the shades for a day makeup as most of them have a matte finish and a semi opaque color coverage. There are different textures here, shimmer, matte and pearl but not all the shades adhere well onto the skin or are very pigmented.
I personally love the formula of those two Defiant Nude eye shadows and Fiery Saffron as they are so smooth and silky to the touch. It's just a pleasure to swatch them and apply them, but I also like them because they have a matte finish and work best on my oily lids.
The rest of the shades are not so smooth and fine to the touch, they feel more powdery to me. Pink Mink and Captivating Cocoa are quite sheer and it's a bit difficult to build up the color so they are meant to give only a flush of gold color.
Envious Orchid is the darkest shades from this palette and the only different one, a touch of blue toned violet shade, that can be intensified for an evening makeup look.
The two blushes Pink Kiss and Peach Passion have also a medium color coverage, easily buildable for those with medium skin tones and perfect for those with fair and light skin tones like me. The texture of Peach Passion is slightly smoother than the one of Pink Kiss as it feels a little bit less powdery. Peach Passion is a warm peach with light gold pearl and a satin finish while Pink Kiss is a light rosy shade with a medium color payoff.
The eye colors apply well, blend easily but are not very intense and pigmented so you'll get more like an elegant diaphanous makeup look. They wore well on me for 8 hours, when some of the shades started to loose its intensity. I'll return with a makeup look where I used some of these colors.
Enjoy more photos…