Hello pretties!
EOS Lip Balm was well known to me since a few years back when I got one of their limited edition release, a pink one with white stripes. Recently EOS Lip Balms have become available in Romania at Douglas perfumeries so I got to try a new flavor again so I decided it's worth reviewing it. What makes EOS lip balms so special in my opinion are two things: their ingredients and the packaging.
EOS describes them as all-natural lip balms as they are 95% organic, 100% natural and paraben and petrolatum free but they also sell the promise of "bursting with moisture", not to mention the different flavors of strawberry, blueberry, peach, mint, lemon and more.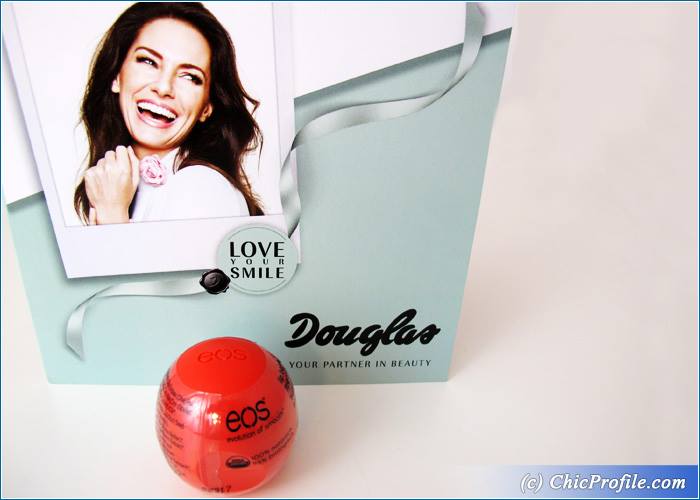 Where to buy:
Romania – Now at Douglas
International – Now at @evolutionofsmooth.com
EOS Lip Balm ($3.29 / 29.00 Lei for 7 g) is available in a range of 11 flavors and the one I got and I'll review today is Summer Fruit. I'm a bit crazy about lip balms and there's always one sitting near me on my working desk as I like to moisturize my lips during the day, with any occasion I get when I'm not wearing lipstick or lip gloss.
Being a beauty blogger gives me the possibility to try out a bunch of new lip products and there are days when I test up to 3 lip products so I have to keep my lips soft and moisturized. So after keeping my new EOS Summer Fruit Lip Balm on my desk for a few weeks and testing it everyday I can let you know on my thoughts.
The formula contains antioxidant-rich Vitamin E, soothing Shea Butter and Jojoba Oil so EOS lip balm does keep my lips moist, soft and very smooth. The thing is that I have to re-apply the lip balm quite often, comparing to other lip balms like the one from Eucerin or The Body Shop (my fav one is vanilla scented).
It has a very nice natural finish, with a non sticky, non tacky formula that feels incredibly lightweight on the lips. I like how easy it is to apply it and that it caresses my lips instantly, only that the feeling of moisturizing doesn't last too long on me so I find myself applying the lip balm pretty often.
The packaging is quite innovative and special for a lip balm. I like the rounded egg shape and it's definitely easy to hold but I wouldn't see myself carrying it with me in my purse. It's fine for me to keep it at home and apply it whenever I need to but for my small purse is not quite the ideal packaging. The twist-off closing is amazing and it captured my attention right away and even the vivid colors of all the EOS lip balms make the product look so fresh and joyful.
I had chapped lips one and used the balm to repair them and give me more comfort but for me it didn't do much, right then and their. I mean I would definitely use it (and I'm using it daily) for a lip care routine, daily moisturizing sensation but when I have chapped lips I feel that it doesn't help me too much as it doesn't repair my lips in the same day. In those cases I would definitely use something with a more rich consistency and hydrating formula that could fix your lips within hours.
EOS Lip Balm for me is a lighted formula lip balm, for a daily use when you just want to keep your lips smooth and soft, and can be used even prior applying lipstick or a matte formula lip product. The sensation of hydration lasts on me for about one hour, then I need to re-apply.
They have a fruity scented formula with a sweet discernible taste to me. I find the EOS lip balm to be ideal as a lip primer as it isn't greasy at all, as I said they feel so lightweight, adding some moisture without overdoing it.
Enjoy more photos…