Hello beauties!
One of my recent purchases is Dolce & Gabbana Fuchsia Shine Lipstick. Is a nice pink shade that would go perfect for Spring. No, is not a new shade, actually is part of the permanent range. You can find it anytime at any Dolce&Gabbana makeup counter. All the lipstick shades I own from D&G are in pink so this Fuchsia will definitely be added to my collection. Follow me after the jump for a detailed review of Dolce & Gabbana Fuchsia Shine lipstick along with lip swatches.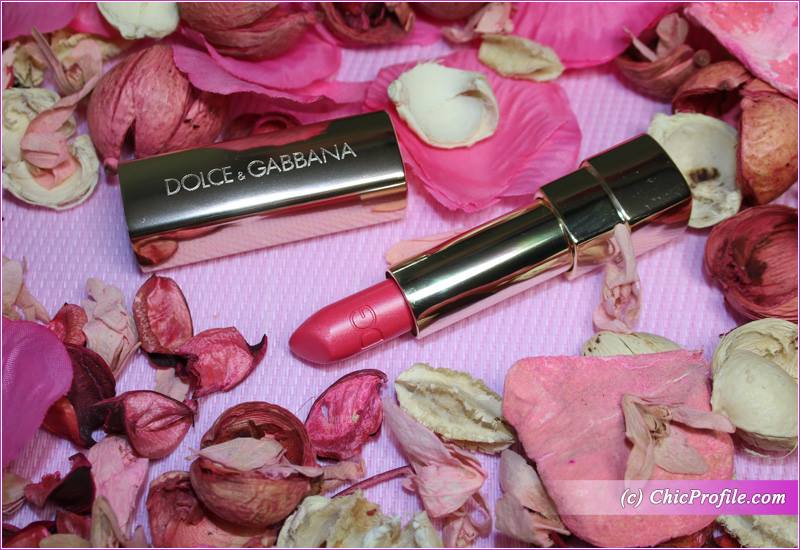 Availability
UK – Now at Harrods
U.S. – Now at Saks
Dolce & Gabbana Fuchsia Shine Lipstick Review
Dolce & Gabbana Fuchsia (150) Shine Lipstick ($35.00 /£27.00 for 3.5 g/ 0.12 oz.) is a light, soft fuchsia-pink with iridescent light pink shimmer and a satin finish. Judging by the name I would have expected a bright, true fuchsia but is more of a light, tamed version. 🙂 The thing is that it doesn't have the purple tones that any fuchsia lipstick would. It has an excellent color payoff, being easily buildable. It has a semi-sheer color coverage which looks great on the lips.
The consistency is creamy, moderate between thick and thin and glides effortlessly across the lips. It gives that beautiful shiny, fuller lips effect due to its natural glossy shine. It's a casual shade that you can wear on a daily basis for a fresh, girly and feminine look. Feels lightweight on the lips with a moisturizing feel from start to finish.
The formula is rose scented, right from the beginning when you open the lipstick. If you are more sensitive you may not enjoy this strong scent, but I personally like it. I didn't gave me any irritations or anything, it wore perfectly.
Because of the satin, glossy finish I can't say this color will last you the entire day. I got a decent five hours wear without leaving a stain behind. If you eat greasy food you may want to keep the lipstick close by and retouch it after your meal.
SHOP THIS POST