Hello beauties!
Dior presents Transatlantique Collection for spring 2014, inspired by Christian Dior passion for travel. The collection is currently available and features a couple of new products in aquatic shades for eyes and red for lips.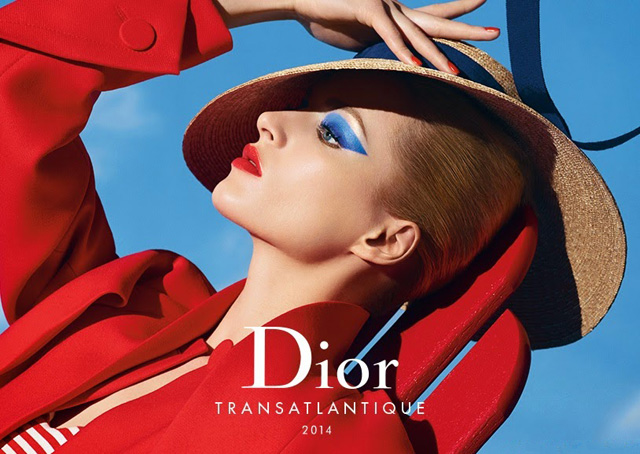 The Limited Edition Transatlantique color collection is inspired by Christian Dior's love for travel and the brand's spirit for timeless elegance and playfulness. The collection boasts classic, elegant shades contrasted by bold pops of color.
Availability
Now exclusively at Saks Fifth Avenue and online @saksfifthavenue.com
Dior Transatlantique Collection for Spring 2014
Nude Tan Golden Shimmer Powder Transatlantique – New & Limited Edition – $58.00
The elegant golden shimmer compact is embossed with a delicate rope pattern and creates absolute radiance on the skin. The finely milled iridescent pigments create a soft golden glow on the skin as if kissed by the sun. The limited edition compact is delivered with a mini kabuki brush.
Voyage 5 Couleur Eyeshadow Palette – New & Limited Edition – $60.00
This exclusive palette in a harmony of sea blues and sunset golds is named exclusively for Saks.
Rouge Dior Couture Colour & Voluptuous Care Lipstick – New & Limited Edition – $34.00
Shades:
Sunrise – warm hue of blushing pink
Sunset –  warm and fiery red
Dior Addict Gloss Mirror Shine Volume & Care – New & Limited Edition – $29.50
Shades:
Beige Songe – soft sandy shimmering beige
Rouge Defendu – pure bold nautical red
Voyage Transatlantique Vernis – New & Limited Edition – $30.00
Shades:
No.750 Captain – vivid red
No.700 Sailor – deep ultramarine
No.210 Yacht – sandy beige
Enjoy more photos…