Hello beauties!
Yesterday I went to check out the new Dior Fall 2017 launches that I've been blogging about for the past month. Dior Rouge Liquid and Dior Double Rouge lipsticks just launched at Dior Boutique along with the new Diorskin Forever products. I hope you didn't miss my LIVE SWATCHES on Instagram for all of the new products. While I did live swatches for all the six shades of Dior Double Rouge, it was really hard to decide which one to buy. I actually liked the pinks and the effect of Jungle Beige color but I didn't want something dark this time.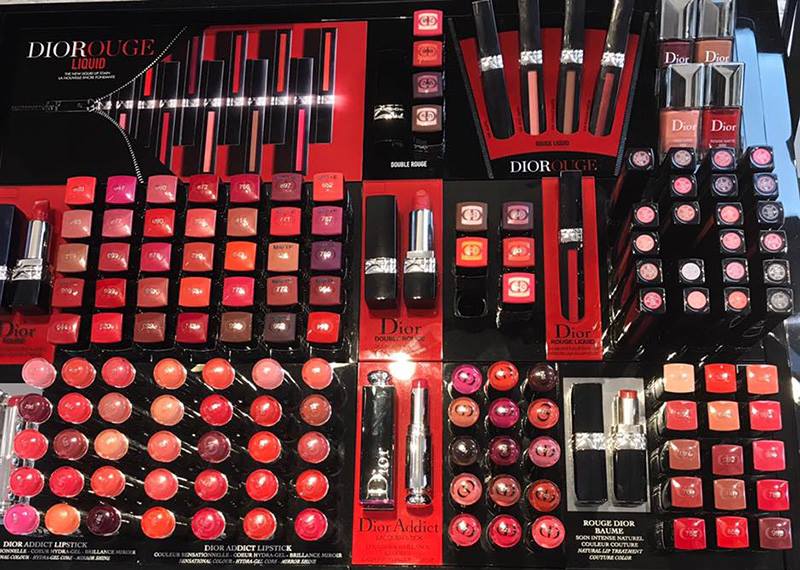 Availability
U.S. Launch Date – mid August 2017 at Neiman Marcus, Saks Fifth Avenue, Nordstrom
UK Launch Date – 29 August 2017 at Dior Boutique in Covent Garden | September at Selfridges, Harrods
Japan Launch Date – 29 September 2017
International Launch Date – October 2017
Dior Rouge Liquid and Dior Double Rouge Swatches
Both Dior Rouge Liquid and Dior Double Rouge lipsticks have the price of $35.00 / £27.50 but from what I saw the colors may vary from country to country.

I absolutely love the ombre effect of all of the new Dior Double Rouge lipsticks but some of the shades were just not for me. I guess is not hard to guess the color that I picked, but I'll be reviewing it shortly. Dior Double Rouge combines two makeup trends: matte and metal. The colors are highly pigmented in one swipe. It's so easy to apply them and you'll instantly get a matte contour with a light-catching metal heart.
Dior Rouge Liquid lipstick range is full of colors while the finishes range from matte and velvet to metallic and satin. I swatched a buch of colors as you can see bellow and again it was a hard decision to make. Actually my wallet was holding me back as I would have purchased more than just two shades. Well you see, I'm planing on taking a vacation in September so I couldn't afford to splurge on more than 5 products per total. 🙂
I choose No.375 Spicy Metal, a pink with a metallic finish and No.221 Chic Matte a nude matte. I'm actually wearing the last color on my lips right now for (she's checking the time) over 2 hours and….I'm feeling good. 🙂 I like a strong color and I'm getting used to matte lipsticks but the formula is very important to me. While most matte lipsticks I tried had impeccable color coverage, the formula was so drying for my lips that it was a pain to wear them for more than three or four hours.
My all time favorite matte liquid lipsticks are Giorgio Armani Lip Magnets so I really wish Dior Rouge Liquid will be just as good. I also liked the holiday 2016 release of Diorific Matte Fluid Lip & Cheek Velvet Colour (review, swatches) but the colors were not long lasting. The formula was lightweight, non-drying but as a lip color they didn't last that long.
So far No.221 Chic Matte looks intense with a comfortable feel but it slowly started to settle into my lip lines. I'll go have something to eat and see how the color behaves. Will I still have some of it left on my lips? I will tell you more in my upcoming reviews!
Keep an eye on my Instagram and Pinterest profiles for sneak peeks and swatches!
SHOP THIS POST
Enjoy more photos…
Dior Double Rouge Swatches from TOP to Bottom: No.510 Jungle Beige, No.999 Matte Metal, No.992 Poison Purple, No.288 Miss Crush, No.534 Tempting Tangerine, No.582 Spicy Sweet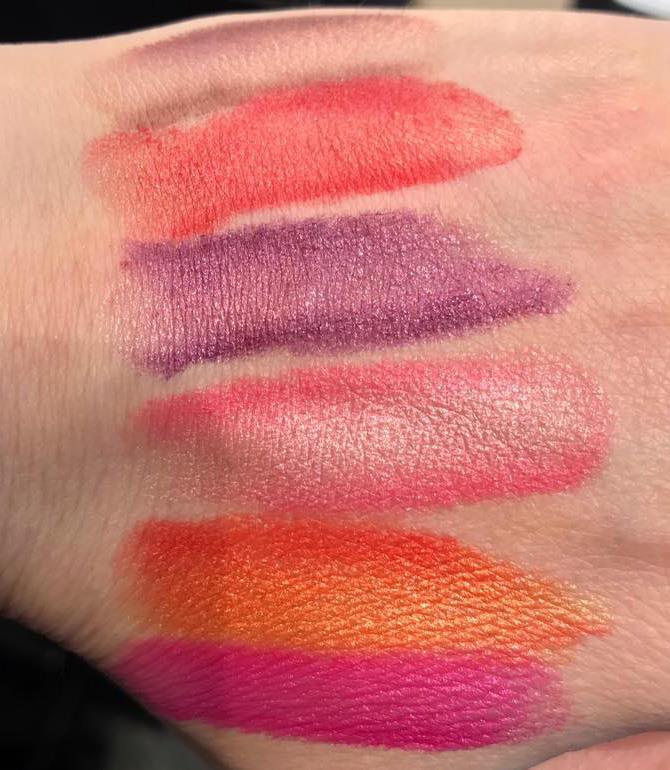 Dior Rouge Liquid Swatches in matte, metallic and satin finishes!