Hello beauties!
Fall 2016 brings with it the new Collistar Parlami D'Amore Collection which features soft shades of pink and nudes. It's easy to guess by the name itself (Tell Me About Love) that we'll be looking at a very romantic collection which couldn't be more attractive to me. I'm surprised and happy at the same time to see that a veil of romance has covered so many beauty brands this fall and the soft pink shades that we are usually seeing in the spring are making a comeback. There are passionate red and elegant plum shades as well but I'd better let you discover the entire collection by yourselves right after the jump.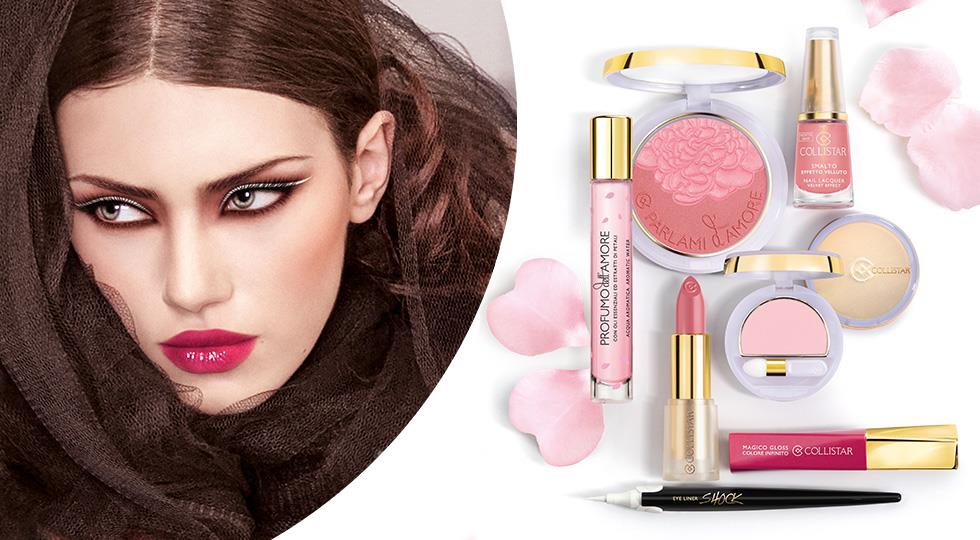 Availability
International Launch Date – September 2016 at Sephora
Collistar Parlami d'Amore Fall Winter 2016 Collection
Parlami d'Amore Blusher / Eye Shadow Duo Light & Colour – New & Limited Edition
Romantic, astonishing, irresistible. A palette that is appealing to the senses and speaks of love, seducing you in a flash, even before you see its spectacular results. The magical rose petals that blossom out of the palette pan instantly catch your eye. You will then be seduced by the exquisite bouquet of Collistar's Profumo dell'Amore. And finally, you can't help but fall for the bewitching colours and the ultra-light silky powders that gently glide over the skin: the bright blushers and eye-shadows sculpt your cheekbones and leave your complexion looking radiant.
No.1 Passion – pink tones
No.2 Love – natural tones
Silk Effect Eye Shadow – New
Impalpable and soft, this eye shadow dresses your look with a bright satin finish, for a flawless and long-lasting make-up.
No.76 Seductive Chestnut
No.77 Passionate Pink
No.78 Intriguing Nude
Shock Eyeliner White
Elegant and original by design, this eye liner has a felt applicator with a soft, longer tip, specially formulated to create thicker lines, making it perfect for high-impact make-up. It contains special polymers that allow it to adhere superbly, make it exceptionally easy to apply and provide extreme hold. Contains moisturizing and protective plant oils.
Puro Lipstick Kit
A formula ensuring: a perfect long-lasting make-up, full and smooth lips thanks to a "lifting" effect, a prolonged moisturizing, protective and anti-age action. + YOUR GIFT PROFESSIONAL LIP PENCIL Soft and easily blendable, this pencil owes its success to its extraordinary versatility. It may be used either to define the contours of the lips or as lip colour by brushing it inwards over the lips with a brush. Its waterproof formula ensures an extremely long-lasting wear.
No.69 + No.9 Passionate Pink
No.70 + No.9 Enchanting Cyclamen
No.71 + No.13 Fatale Purple
No.72 + No.14 Bewitching Ruby
Magic Gloss Infinite Colour Record Wear
A magic lip gloss • with an extraordinary shine for sensual lips • with a long-lasting wear • with a colour that adapts to the pH of the lips, in a range of extremely natural shades tailored to your look.
No.51 Intriguing Nude
No.52 Passionate Pink
No.53 Love At First Sight Azalea
No.54 Voluptous Carmine
Velvet Effect Nail Lacquer
The soft and velvety beauty of the nails. Passionate pink, beguiling orchid, charming malaga, fatale purple and bewitching ruby. These are the five introductory colours of the new Velvet Effect Nail Lacquer, whose brand new velvety texture has an incredibly sensory touch and a sophisticated finish that gets to work from the moment it is applied, leaving an extremely elegant brushstroke of intense semi-matte colour on the nails.
No.663 Passionate Pink
No.664 Beguiling Orchid
No.665 Charming Malaga
No.666 Fatale Purple
No.667 Bewitching Ruby
Profumo Dell'Amore Aromatic Water Precious Roll-On – 10 ml

The ultra-feminine act of adding a touch of perfume takes a discreet place in the range of products in the Parlami d'Amore collection. The precious roll-on format is perfect for any time of the day and it contains the seductive, romantic notes of Profumo dell'Amore, the new aromatic water enriched with essential oils and petal extracts. Petals that chase each other inside and outside the fragrance's composition, just like the stylized pattern on the packaging.
Enjoy more photos…